New Trade War Erupts Between Russia and Belarus
Publication: Eurasia Daily Monitor Volume: 11 Issue: 215
By: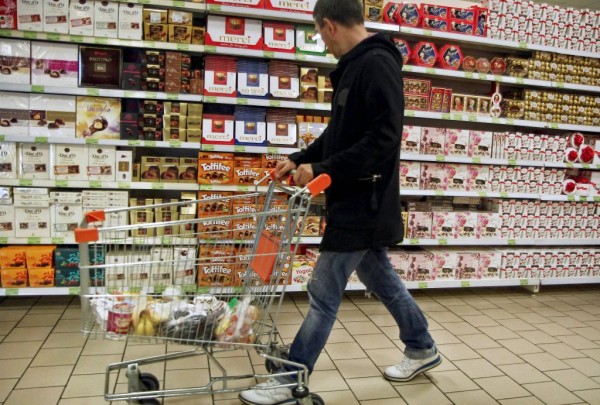 "We are beginning the new year without any problems whatsoever, even small ones, in our relations as we have settled them all," President Alyaksandr Lukashenka observed as recently as November 18, while receiving Russian Foreign Minister Sergei Lavrov (Svaboda, November 28). Yet, barely nine days later, Lukashenka disgorged an avalanche of curses directed at Russia—such harsh criticism of Russia had not been uttered by Belarusian authorities since the two countries' conflict over oil tariffs in 2010.
"The behavior of the Russian government does not just surprise—it pains me," said Lukashenka during his talk with St. Petersburg's Governor Georgy Poltavchenko. "If trade is not normalized in the nearest future, we will have to react. What kind of behavior is this?!" "We are not puppies to drag us by the scruff of the neck," added Lukashenka. He also pointed out that Russia's actions violate the letter and spirit of the Eurasian Union, which will be ushered in on January 1. This rage was all about Russia's temporary ban on exports of some agricultural products from Belarus. Angered by this ban, Lukashenka also made two politically vulnerable pronouncements that may boomerang and undercut his efforts to assert Belarus's independence: "We [meaning Russia and Belarus] are essentially one country. Why are you [Russia] doing this?" exclaimed Lukashenka. Moreover: "I do not understand what is going on and why. After all, we are Russian people and we must be able to settle our differences" (Tut.by, November 27).
Moscow blames Belarus for allegedly circumventing Russia's ban on agricultural products from Western Europe. Russia does not mind Belarus importing Western products banned in Russia, processing them, and then delivering them onward to Russia. What it objects to consists of the direct re-export and transport of Western products, ostensibly to Kazakhstan, but actually arranging their sale en route within Russia. It also objects to imports of infected products. Belarusian and Russian accounts of the conflict are incongruous. Belarusian accounts refer, for example, to a frivolous ban of meat and processed meat exports from multiple producers.
In August, Belarus exported to Russia more than 15,000 tons of pork, beef, sausages and canned meat worth $71 million; in September, exports increased by 7 percent. However, on November 24, a temporary ban was imposed on exports from nine Belarusian production units and, on November 26, from eight more producers. This was reportedly due to Russian controllers discovering coliform bacteria, salmonella, listeria and excessive antibiotics in Belarusian meat products. Belarusian controllers, on the other hand, have failed to confirm those findings. A sense of indignation was conveyed by some official statements even before Lukashenka's public display of rage. Thus, according to Alexei Bogdanov from the Belarusian Ministry of Agriculture, "if Russia does not want to accept our products, we will determine where to sell them. We export to 56 countries and always work on [diversifying] our export destinations" (Belorusskie Novosti, November 26). Nikolai Ivanchenko, a Belarusian member of parliament (MP), observed, "It is my impression that we are always in the role of petitioners and those justifying themselves… If [Russian] claims turn out to be unjustified, we have to demand compensation for losses." Another MP, Vladyslav Tsydik, called the Russian ban a "game under the rug." This is apparently an allusion at conspiracy aiming to boost prices to please Russian domestic producers. According to Belarusian Deputy Prime Minister Mikhail Rusyi, "this is a tough competition and all sorts of methods are used" (Tut.by, November 28).
The view from Russia is different. According to the popular Russian online newspaper Vzglyad, the monitoring by Rosselkhoznadzor (Russian agricultural control-and-oversight body) uncovered 11,000 tons of fruits and vegetables from Europe intended for Kazakhstan but sold in Russia. Vzglyad's informers represent interest groups that may be acting on behalf of Russian producers. Thus Dmitry Vostrikov from an unnamed "association of producers and sellers of food" accused Belarus of just repackaging meat from the European Union. Another interviewed source, Narek Avakyan, from BPS Consult, calculated that Belarus's re-export of Norwegian salmon to Russia results in $250 million in revenue, whereas Belarus's overall gain from using and abusing Russia's ban on agricultural exports from the West amounts to $50 billion, or 3 percent of Belarus's GDP (Vzglyad, November 25). How such estimates are arrived at is unclear.
Regnum, a Russian news agency that has been most consistent in castigating any inklings of Belarus's distinction from Russia, has conflated its reporting about Lukashenka's rage over the temporary ban of food exports from Belarus with his allegedly perfidious policy of "soft Belarusization" (of Belarus)—understood as a de-Russification of public life and a revision of history in order to please the West and local Russophobes. Even Lukashenka's April 2014 pronouncement "we are not Russians, we are Belarusians" elicited ire. Interestingly, the title of Regnum's article cites Lukashenka's aforementioned words—"we are Russian people and we must be able to settle our differences"—only to claim within the body of the piece that Lukashenka emphasizes his Russianness only when he wants to gain some financial benefits from Russia, such as price discounts on oil and gas. Whereas Lukashenka's official ideologues, Regnum argues, have been vigorously shaping a new Belarusian identity and an "ethnocratic" regime much like the one found in other "post-Soviet limitrophes from the cordon sanitaire built around Russia" (Regnum, November 27). The already referenced Vzglyad develops the same theme further by pointing out that on December 21, a legal congress of nationalist forces will gather in Minsk that will adopt the manifest in support of Belarus's independence. Also, the fact that Lukashenka spoke Belarusian during the celebration of the country's Independence Day (July 3) and the upcoming increase in the share of Belarusian-language broadcasting on state-run TV are castigated as a combination of treachery, duplicity and disloyalty (Regnum, November 26).
According to a Russian proverb, "just make a stupid man pray—he will hurt his forehead." It appears that Russian nationalist commentators could not find a better way to illustrate this piece of folk wisdom. A still greater sense of Belarus's distinctiveness is likely to develop as a result.