New Trends May Change the SCO
Publication: Eurasia Daily Monitor Volume: 20 Issue: 73
By: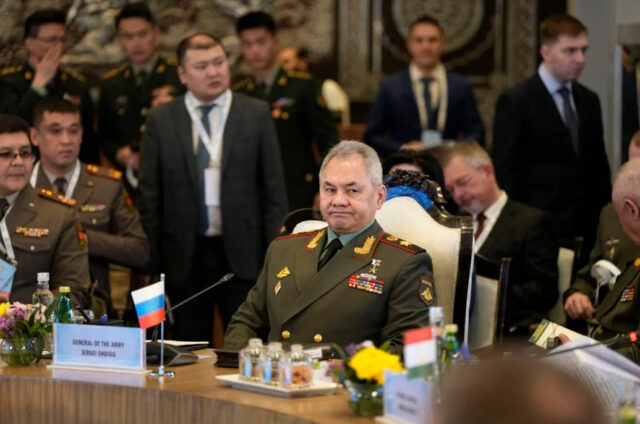 Many of the reverberations from Russia's aggression against Ukraine continue to be felt across Central Asia. One such under-examined, but crucial vibration is that of the future course of the Shanghai Cooperation Organization (SCO). Formerly, it was more or less taken for granted that the SCO represented something of a Sino-Russian condominium regarding Central Asian security (Radio Free Europe/Radio Liberty, March 28). And in this condominium Russia, adding the SCO to the Collective Security Treaty Organization and the Eurasian Economic Community, enjoyed a hegemonic standing. However, in view of the war in Ukraine, the ground is apparently shifting there.
In February 2023, Nurgali Billsbekov, then deputy chairman of the Kazakhstani National Security Committee, urged SCO members to step up cooperation in the face of growing security threats.  Even without mentioning it directly, Ukraine represents one of those threats. And in view of the fact that leading members of the Russian elite continue to make open threats against Kazakhstan's territorial integrity, it is necessary for Astana to openly call for the increased involvement of other SCO members in security to balance against Moscow (T.me/pressmfakz, April 27, 2022; August 1, 2022). At the same time, Kazakhstan is loath to lean too far toward China's "patronage" or leadership even if it continues to pursue its version of a multi-vector policy that takes into account China's multiple forms of power projection into Central Asia (The Diplomat, October 22, 2019; Radio Free Europe/Radio Liberty, May 28, 2020).
At the same time, Kazakhstan must move carefully, as it is subject to numerous forms of Russian economic pressure. Yet, if Astana is too accommodating to Moscow, for example, with regard to circumventing Western sanctions, it endangers its relations with the United States, which has already warned Kazakhstan not to help Russia (Ulysmedia.kz, April 26). Thus, these warnings implicitly, if not explicitly, raised the threat of sanctions, which has "spooked" Kazakhstan and led the national stock exchange to instruct local companies to pull back from aiding Russia.
Kazakhstan, however, is by no means alone in reassessing the many dimensions of its relationship with Russia and the viability of security organizations like the SCO. On April 27 and 28, India hosted a meeting of the defense ministers from each SCO member (Economic Times, April 28). While the focus was ostensibly on counterterrorism, with all sides acknowledging terrorism to be a threat, Russian Defense Minister Sergei Shoigu took the opportunity to lambast the West and "its enablers," including members of the Quad (or Quadrilateral Security Dialogue, consisting of India, Australia, Japan and the US), for "ganging up" on China and Russia (Theprint.in, April 28). In this heated atmosphere, it is becoming clear that India, too, must recalibrate its thinking on Russia and Central Asia. According to esteemed Indian foreign policy scholar, C. Raja Mohan, "Delhi's engagement with the SCO all these decades was premised on Russian primacy in the region and Moscow's support of India's regional interests. That may be changing" (Indian Express, April 26).
Although Russia will likely not invade India, this observation sheds light on Kazakhstan's and other SCO members' dilemma. If Russia is an unreliable or even unthinkable security patron, it is equally clear that Chinese hegemony cannot be accepted either. As Mohan has similarly observed, "If the main objective of the SCO was to promote peace in Eurasia, its ability to cope with the intra-state and inter-state conflicts among the member states is now under scrutiny" (Indian Express, April 28). Thus, the viability and utility of the SCO is now more fraught than ever and, if it fails, given the unreliability of both China and Russia as regional security guarantors, it is rather unclear what direction the other SCO members will go. Russia's aggression against Ukraine has made clear that Moscow can no longer be seen as a reliable security provider to Kazakhstan and the rest of Central Asia. This means that not only the SCO but also the CSTO, Russia's military vehicle for managing Central Asian security, will be compromised and unable to provide effective security assurances.
In the event of a security threat to any Central Asian state, neither the SCO nor CSTO provide legitimate options for carrying out security operations. Moreover, the CSTO members, like those of the SCO, are often involved in mutual threats, including the Kyrgyzstani-Tajikistani border disputes that flare up frequently or the unresolved Azerbaijani-Armenian conflict over Karabakh (The Diplomat, April 6). In this, Russia's inability or refusal to act on behalf of Armenia, as Yerevan has requested under the CSTO treaty, has engendered not more than just widespread resentment of Russia. It has also led the Armenian government to begin distancing itself from Russia, thus demonstrating both Yerevan's distrust of Russia and the CSTO and Moscow's weakening hold over the South Caucasus (Interfax, November 29, 2022).
These outcomes are directly traceable to Russia's invasion of Ukraine and reflect the international implications of the war that go far beyond Europe. Clearly, the future security structure of Central Asia is now becoming highly problematic, and the basis upon which Kazakhstan calls for cooperation is becoming ever-more fragile. While no one is certain what this upheaval will bring, such fragility is frequently the harbinger of bad news.