NEW YUSHCHENKO-TYMOSHENKO COALITION PASSES FIRST TESTS
Publication: Eurasia Daily Monitor Volume: 4 Issue: 226
By: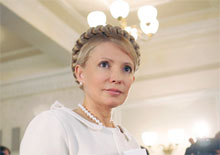 The Our Ukraine – People's Self-Defense bloc of Viktor Yushchenko (NUNS) and the Yulia Tymoshenko Bloc (BYuT) have managed to set aside their differences and create a majority coalition in parliament. NUNS accepted Yushchenko's choice for parliamentary speaker, and dissenters in Our Ukraine (NU), the biggest party in NUNS, agreed to sign a coalition deal with BYuT. The coalition then passed the first serious test for viability, unanimously approving Yushchenko's choice for speaker, Arseny Yatsenyuk, when the rest of parliament refused to back him.
Eight representatives of the liberal, business-oriented wing of NU had refused to sign the NUNS-BYuT coalition deal in mid-November. They protested against the inclusion of several Tymoshenko election promises that they said were impossible to fulfill, and against the decision by the NUNS's majority to nominate NU leader Vyacheslav Kyrylenko for speaker. They suspected him of excessive sympathy toward Tymoshenko, who may run against Yushchenko in the next presidential election (see EDM, November 26). The coalition would not control the majority in parliament if the dissenters stood their ground.
After a closed-door meeting with Yushchenko on November 28, all but one dissenter agreed to sign the deal. They did not say what arguments Yushchenko had used to persuade them. Simultaneously, Yushchenko asked NU members to change their mind and nominate Foreign Minister Arseny Yatsenyuk for speaker instead of Kyrylenko. NU obeyed, although several representatives of its nationalist conservative wing made it clear that they agreed to Yatsenyuk only grudgingly.
Unlike Kyrylenko, who often does not display flexibility in dealing with political opponents, Yatsenyuk is agreeable to compromises. Yushchenko prefers a cautious and flexible figure at the helm of parliament at a time when the coalition that backs him is very fragile, numbering just two people beyond a simple majority – 227 deputies in the 450-seat legislature. Yatsenyuk may be exactly what Yushchenko needs. He is a polite young technocrat who at various stages in his career cooperated with both the Communists and the Party of Regions (PRU) of Yushchenko's archrival, Prime Minister Viktor Yanukovych.
Tymoshenko approved Yushchenko's choice, saying that her bloc would back any candidate nominated by NUNS. The coalition accord's conditions are such that it would be impossible for her to secure the position of prime minister if a representative of NUNS' candidate did not become speaker. Tymoshenko worked hard to prove her bloc's loyalty. On November 30, the BYuT went as far as openly naming the PRU figures accused of trying to bribe several BYuT deputies so that they would not turn up at parliament to vote on speaker and prime minister. The PRU denied the allegation.
The PRU, the Communists, and the Lytvyn Bloc refused to give even a single vote to back NUNS's choice for speaker. Yatsenyuk was elected speaker in a secret ballot on December 4 by NUNS and the BYuT votes only. Every single member of the 227-strong coalition voted in his favor.
The PRU and the Communists said they would not recognize Yatsenyuk's election. They argue that the voting process, which was supposed to be secret, was personally controlled by Tymoshenko and her aides who checked the ballots of BYuT deputies at the voting booth. PRU deputy Yuriy Miroshnychenko said that the PRU might dispute the results of the vote in court. When Yatsenyuk's election was announced late on December 4, the PRU and the Communists left the assembly hall to protest procedural violations. Tymoshenko did not deny their accusations, but she said that parliament can carry on even without the two parties.
Yatsenyuk, unabashed by the demarche of the new opposition, promised equal rights to all caucuses and offered his thanks to the opposition for not disrupting the voting process. He said that his election was the first vote in parliament "without political corruption." He promised to ensure "European standards of parliamentarianism" and suggested concentrating on national priorities rather than political differences.
At 33 Yatsenyuk is the youngest Ukrainian parliament speaker ever, and the first to speak English fluently. Despite his age, Yatsenyuk has rich experience in both the private sector and the government. A lawyer and economist by education, he claims to have founded his first private business as a teenager. In 2001 he was deputy chairman of Aval, one of Ukraine's biggest banks. In 2001-2003, when the Communists dominated the Crimean government, he headed the economics ministry there. Yatsenyuk was caretaker chairman of the National Bank in 2004 while the bank's formal chairman, Serhy Tyhypko, headed Yanukovych's election headquarters. After the 2004 Orange Revolution he served consecutively as Odessa Region deputy governor, Ukrainian economy minister, and deputy head of the presidential office. Yatsenyuk has been foreign minister since March 2007.
Today, December 6, Yatsenyuk submitted Tymoshenko's nomination for prime minister to Yushchenko, who has two weeks to formally ask parliament to approve her nomination.
(Interfax-Ukraine, November 28, 29; NTN TV, November 30; Channel 5, Ukrayinska pravda, December 4, 6)