Not an Enemy: Belarus Seeks Warmer Relations With NATO
Publication: Eurasia Daily Monitor Volume: 16 Issue: 40
By: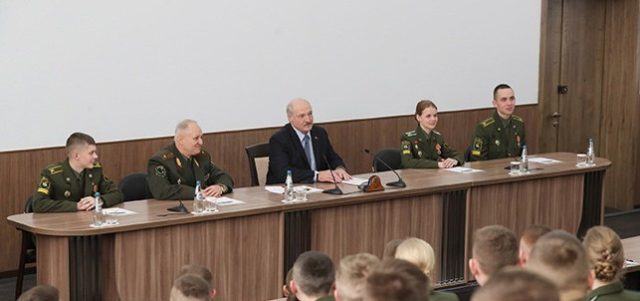 Belarus wants to expand constructive dialogue with the North Atlantic Treaty Organization (NATO) on the basis of trust, equality, transparency and mutual respect. Further development of cooperation with the Alliance is limited by institutional and ideological constraints, which include the lack of necessary NATO framework agreements, false perceptions in the West of Belarus as a political-military appendage, of Russia and concerns over the lack of progress in democratic reforms. These factors were exacerbated in 2014 by Russia's invasion of Ukraine and confrontation with the West, which created a deep crisis in the transatlantic security architecture. However, taking into consideration Belarus's significant contributions to regional security and stability, the country is increasingly subject to greater attention from NATO, a fact not overlooked in Minsk.
Recently (February 22), at the Military Academic of the Republic of Belarus, President Alyaksandr Lukashenka stated that his country is ready to engage in dialogue with the North Atlantic Alliance based on the principles of equality and transparency (Belta.by, February 22). A day earlier, the assistant minister of defense for international military cooperation, Major General Oleg Voinov gave a briefing to foreign military attachés accredited to Belarus. He declared the need for a step-by-step improvement in relations with member states of NATO, the European Union and other countries that respect Belarus's sovereignty and territorial integrity. Moreover, he expressed hope for developing dialogue based on trust and equality (Mil.by, February 21). Two weeks later, Lukashenka delivered the same message, calling for the establishment of mutually respectful relations with NATO. He emphasized, "[W]e should not look at them [as] our enemies," adding that warmer relations would eventually enhance the security of Belarus (President.gov.by, March 5).
The idea to upgrade relations with the North Atlantic Alliance is natural, considering that Belarus shares a border with three NATO member states (Poland, Lithuania, Latvia) and Ukraine, which intends to join the Alliance in the future. According to Lukashenka, neither Belarus nor its neighbors need dividing lines; therefore, Belarus and NATO should be actively talking to each other (President.gov.by, March 5).
These statements reflect a clear intention to promote relations with NATO to a more advanced level. In comparison with other member states of the Moscow-led Collective Security Treaty Organization (CSTO), including Russia, Armenia and Kazakhstan, Belarus has the least developed level of cooperation with the North Atlantic Alliance.
Belarusian-NATO relations began in 1992, when the country joined the North Atlantic Cooperation Council, transformed into the Euro-Atlantic Partnership Council in 1997. In 1995, Belarus joined NATO's Partnership for Peace (PfP) program (Mfa.gov.by, accessed March 17). The first Individual Partnership Program with Belarus was endorsed by the NATO Council in July 1997. Since then, the number of annual joint activities under the Individual Partnership and Cooperation Program (IPCP) has increased more than six-fold and now stands at around 125 from the menu of 4,000. For comparison, in 2018, Belarus together with Russia conducted 40 joint activities (exercises, staff trainings, working meetings), according to the Plan of Joint Activities. Although their level of intensity admittedly far outweighs activities with NATO (Mil.by, accessed March 17).
In 2004, Belarus acceded to the PfP Planning and Review Process (PARP) (Mfa.gov.by, accessed March 17), assigning the following forces:
a peacekeeping company;
a patrol platoon of military police;
up to 15 officers for participation in multinational staffs;
an Il-76MD airlifter;
7 medical professionals;
a mobile hospital of the Role 1+ standard (for health support of national deployed units);
a multifunctional nuclear, biological, chemical (NBC) weapons protection platoon;
a group of specialists on civil-military cooperation.
Declared personnel are regularly trained in Belarus. According to the Belarusian Ministry of Defense's official website, this includes: "field training with permanent and non-permanent personnel of a peacekeeping company of the 103rd Guards Independent Mobile Brigade, English courses and courses on the fundamentals of peacekeeping activities held at the Military Academy of Belarus." The website further mentions that "representatives of the Belarusian Armed Forces also attend language and specialized courses abroad, including those held during NATO/PARP multinational peacekeeping exercises" (Mil.by, date of access: March 18).
However, in comparison with Kazakhstan and Armenia, which have already established a peacekeeping brigade with financial and technical assistance from NATO Allies and taken part in multiple US- and NATO-led military exercises and even missions in Afghanistan and Iraq, the results of Belarusian-NATO cooperation, to date, are far from impressive.
In addition to political obstacles, the main restrictive factor today is the lack of an agreement on the protection of classified information between Belarus and the Alliance (unlike Russia, Armenia and Kazakhstan). Lithuania is the only NATO member state blocking its ratification (due to the issue of the Belarusian nuclear power plant in Astravets, close to the Lithuanian border). Political consultations between Minsk and Brussels are limited to expert and ministerial levels, while high-level contacts are still frozen. Without an official agreement, Belarus is unable to take part in a range of PfP activities and faces challenges in promoting its own initiatives to deepen cooperation with the Alliance in responding to international security threats. The Belarusian foreign ministry lists proposals such as:
conducting joint exercises on operating in a radiological threat, given the unique experience gained by Belarus to mitigate the consequences of the Chernobyl disaster;
development of a regional partnership action plan to deepen cooperation in the fight against illegal migration, smuggling of weapons and nuclear, chemical and biological materials, protection of nuclear power plants, strategic energy facilities, oil and gas pipelines leading to Europe;
creating, on the basis of the Ministry of Emergency Situations of Belarus, of a PfP training center to train specialists in the field of chemical, biological, radiological and nuclear defense;
hosting the disaster response exercise organized by the Euro-Atlantic Disaster Response Coordination Centre (EADRCC) (gov.by, accessed March 18).
Another possible proposal includes establishing an international peacekeeping training center in Belarus according to United Nations standards and similar to the Kazbrig Peacekeeping Brigade Training Center in Kazakhstan (Army.mil, July 21, 2010) or the Zat Peacekeeping Training Center in Armenia, both established by the US (Eucom.mil, November 1, 2017).
However, without restoring high-level contacts between Minsk and the Alliance, it will be difficult to overcome mutual mistrust, ideological misperceptions and possible miscalculations in the context of the ongoing military build-up in the region. Permanent consultations regarding regional security as well as confidence- and transparency-building measures in this regard seem to be the most important and promising areas for dialogue.