Obama's Cancellation of Summit Meeting with Putin Reverberates in Moscow
Publication: Eurasia Daily Monitor Volume: 10 Issue: 147
By: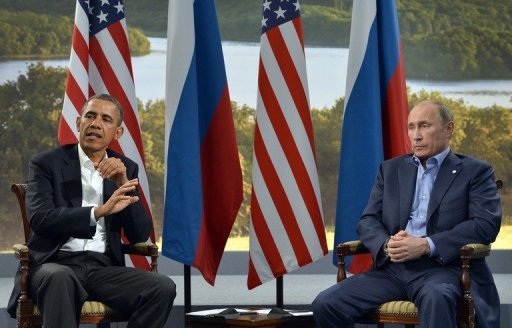 It is now official: The White House has cancelled President Barack Obama's visit to Moscow for a summit with his Russian counterpart, President Vladimir Putin, planned for September 3. Obama will still come to Russia to attend the G20 summit in St. Petersburg on September 5, but the attached visit to the Kremlin has been officially "postponed" indefinitely because of an overall deadlock in resolving sensitive issues and Russia's decision to grant fugitive National Security Agency (NSA) contractor Edward Snowden official refuge. Putin's influential foreign policy aide and former ambassador to Washington, Yuri Ushakov, told journalists: "We are disappointed by [the United States'] decision to call off the planned visit to Moscow in connection with the [situation connected to] former US intelligence services employee [sic] Snowden, which was not of our making." Ushakov added, "The US is not ready to build relations with Russia on an equal basis," but Obama's invitation to visit Russia in the future is officially still open (RIA Novosti, August 7).
Initial Russian comments implied Obama cancelled the summit under pressure from "Cold War hawks" in Congress, but that the US president himself is not inclined to seriously worsen relations with Russia and wants to continue to meet with Putin. It was suggested that the summit cancellation is a onetime event—that Congress, not the White House, was critically enraged by Snowden's asylum in Russia. Obama is being described as good-intentioned, trying to limit the Snowden fallout and prevent the freeze in relations from spreading, but weak in dealing with an entrenched Washington lobby of "cold warriors" (Interfax, August 7).
The official government daily Rossiyskya Gazeta expressed hope that the Moscow summit with Obama could be salvaged at the last moment during a meeting in Washington of Russian and US foreign and defense ministers, known as the "2+2" talks, scheduled for this week, August 9 (Rossiyskya Gazeta, August 9). The 2+2 meeting, bringing together US Secretary of State John Kerry and Defense Secretary Chuck Hagel and their Russian counterparts, Foreign Minister Sergei Lavrov and Defense Minister Sergei Shoigu, will indeed go ahead as planned. Deputy Defense Minister (former career diplomat) Anatoly Antonov expressed hope that the 2+2 talks will be "constructive" and will cover a wide range of issues of mutual interest, including those where the two sides are at loggerheads, like ballistic missile defense (BMD) (RIA Novosti, August 8).
The Kremlin and the White House in Washington seem to be in damage-control mode, trying to present business as usual after an unprecedented in recent history nuclear superpower summit cancellation. The previous summit breakdown happened more than 50 years ago when, on May 1, 1960, a US U-2 spy plane was shot down over the Urals by a Soviet missile and its pilot, Francis Gary Powers, was captured. A summit between Soviet leader Nikita Khrushchev and US President Dwight Eisenhower scheduled for May 16 in Paris broke up in mutual acrimony and a planned visit by Eisenhower to Russia was called off. Later that same year, Khrushchev visited the US uninvited, heading the Soviet United Nations delegation, to famously shoe-bang the table at a UN debate on October 12, 1960. The Cold War was in full swing. The Cuban missile crisis—the closest the world ever came to all-out nuclear war—was only three year away. Today, some commentators in Moscow see the situation in bilateral relations as almost as bleak. A popular Moscow tabloid believes the Snowden affair was just a pretext to cancel the visit and that Obama wanted to personally snub Putin, denying him an impressive photo opportunity and "demonstrating his [Obama's] petty vindictiveness" (Moskovsky Komsomolets, August 8).
Sergey Rogov insists "a crisis in relations is happening, the 'reset' is over and the coming 2+2 meeting in Washington will probably be fruitless, since their task was to prepare a summit that has been cancelled." Rogov is the director of the Moscow-based Institute of US and Canadian Studies—a state controlled and financed think tank, created during the Cold War to provide the Kremlin, the defense ministry and the intelligence community with qualified advice on the United States. "If Snowden would have promptly left Moscow, a crisis may have been avoided despite differences over Syria, Iran, BMD, arms control and human rights," Rogov believes. "The Chinese got rid of him [Snowden] swiftly; we could too, but did not or did not want to and must face the consequences." A leading defense analyst and former Duma Deputy Alexei Arbatov—the son of the late first director of the Institute of US and Canadian Studies, Georgy Arbatov (1967–1995)—insists Moscow does not want any more nuclear disarmament. The 2+2 meeting in Washington will cover a wide range of US-Russian disagreements, but will hardly bring any breakthroughs, according to Arbatov, "since Putin gave an order—no more agreements with America." Only "in a year or two," Arbatov believes, the political climate may change, providing an opportunity for Moscow and Washington to begin negotiating in earnest and possibly reach definite compromises (Nezavisimaya Gazeta, August 8).
Today, Russia rejects any further nuclear disarmament and has fully crystallized its policy on Syria to assist the regime of Bashar al-Assad in winning the civil war with the help of Iran and Lebanon's Hezbollah at virtually any cost in Syrian lives. Putin does not want any Western lectures on human or gay rights in Russia, or on free elections. But relations with Washington are still very important for any Kremlin leader, since summits with US counterparts provide status and legitimacy. One of Putin's main policy objectives is the massive rearmament program, worth over $800 billion until 2020, to refurbish the mothballed Russian military with modern weapons. Russian defense industry officials have told Jamestown that without Western electronic components, special materials and know-how it is impossible to produce new weapons, especially modern radars, guidance, and command and control systems. The present Russian defense industry is a lean shadow of its Soviet Cold War predecessor, and its capability to back-engineer Western and US technology is severely limited. The real nightmare today in Moscow is that the Obama administration may follow up the summit cancellation with Cold War-style punishing technology transfer controls. Such imposed limits could destroy Putin's disarmament program, aimed at rebuilding a potential to counter the US, before it achieves anything. The hope in Moscow is that the summit cancellation is indeed a onetime event.