A One-Armed IS Warlord and the Problem of Militant Returnees in Georgia
Publication: Terrorism Monitor Volume: 16 Issue: 1
By: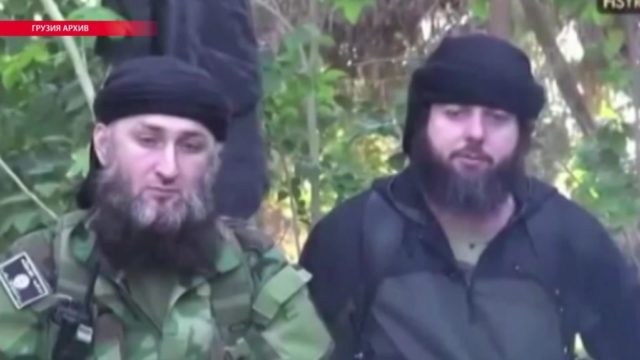 On November 22, 2017, Ahmed Chataev, the leader of a Russian-speaking faction of Islamic State (IS), was killed, along with two other militants, during a siege by Georgian special forces of an apartment block in Tbilisi. Following a 20-hour skirmish, according to Georgian officials, Chataev blew himself up rather than be captured (Tabula, December 1, 2017).
The incident highlights an ongoing concern for Georgia—as IS has lost territory in Syria and Iraq, foreign fighters from Georgia and the North Caucasus are returning home. In what is a predominantly Christian country, the Georgian Muslim minority already faces challenges to integration. Now, returning militants are bringing with them the risk that local Muslim communities will be targeted for radicalization. More broadly, the presence of Caucasian militants has implications for European states and could also legitimize Russia's aspirations to bolster its soft and hard power influence over its small southern neighbor.
The Man With One Arm
Chataev began his jihadist training in the 1990s, joining the Chechen insurgency during the interwar period and training at a camp connected to the noted Saudi-born jihadist Amir Khattab (Novaya Gazeta, June 4, 2016). He lost his arm while fighting in the Second Chechen War, earning him the nickname "Ahmed-one-arm."
In 2003, Chataev was granted asylum in Austria. Although he was arrested multiple times between 2008 and 2011—in Sweden, Ukraine and Bulgaria—his refugee status prevented his extradition to Russia (Kavkazskii Uzel, December 2, 2017). In 2010, Chataev moved to Georgia, where he married a local Kist woman and settled in the Pankisi Gorge, a Muslim region in the eastern part of the country. [1]
In August 2012, during fighting between Georgian armed forces and North Caucasian insurgents in the Lopota Gorge, the Georgian Ministry of Internal Affairs used Chataev as a negotiator to establish a dialogue with the fighters, or so he claimed. When shooting broke out, he was left severely wounded and lost his foot. A few days later, he was found in the forest and arrested for possession of explosives.
Despite being an important witness to the Lopota incident, he was released later that year and left Georgia (Expert Club, November 15, 2012). Then, in February 2015, he resurfaced in Syria as a commander of Jamaat Yarmuq, an IS-aligned predominantly North Caucasian group that was involved in the siege of the Kurdish town of Kobani.
By then, Chataev was by wanted by the United States, Russia and Turkey. Russian security officials believed he was responsible for recruiting militants and accused him of plotting terrorist attacks in Russia and Western Europe (Kavkazskii Uzel, December 2, 2017). Meanwhile, Turkish media named him as the organizer behind the July 2016 Ataturk Airport suicide bombing, although Turkish officials never confirmed his involvement (Yeni Safak, July 3, 2016; Militant Leadership Monitor, July 1, 2016).
Despite this, Chataev managed to sneak back into Georgia, presumably slipping past the Georgian security services. The more troubling alternative, which was suggested by opposition politician Givi Targamadze, is that Georgian officials allowed Chataev to return (Tabula, December 1, 2017).
A New Path for Caucasian Jihad
Officials estimate that 50 Georgian citizens have fought for various jihadist groups in Syria and Iraq (Civil Georgia, November 28, 2015). The majority are ethnic Kists, but Adjaran Georgians and Azerbaijanis are also among that number (VoA, 18 January, 2016). Despite this relatively small number of fighters, at least four Georgian citizens have emerged as prominent field commanders, securing their place in the elite of global jihad (Kavkazskii Uzel, December 11, 2017).
As the shootout at the Tbilisi apartment block where Chataev was killed demonstrates, the return of these militants has already commenced. Indeed, Chataev was not the first returning jihadist to gain media attention—in November 2015, IS militant David Borchashvili was arrested upon his arrival at the Tbilisi airport (Tabula, November 23, 2015).
Returning jihadists not only pose an immediate threat to public safety in Georgia, but they are also well positioned to radicalize members of the local Muslim community. Political disenfranchisement and economic hardship have created fertile ground for recruitment and radicalization within Georgia's Muslim community. Meanwhile, the experience of the Soviet-Afghan War suggests that returning veterans of jihadist conflicts can increase the capabilities of domestic Islamist groups. [2]
The most immediate concern for security officials, however, is just how close Chataev came to achieving his objectives. Audio recordings recovered from his personal computer indicate that he intended to carry out terrorist attacks against diplomatic missions in Georgia and Turkey (State Security Service of Georgia, December 26, 2017).
Whatever the extent of Chataev's plans, there are potentially huge implications if an internationally focused jihadist cell can set up operations in Georgia. Centrally located, Georgia is a potential transit route for thousands of North Caucasian and Azerbaijani jihadists from the theater of war to European destinations. Simplified visa regimes with neighboring countries allow international militants to travel uninhibited, and Georgian jihadists could potentially benefit from a visa-liberalization scheme that permits Georgian citizens to visit European Union member states visa-free for up to 90 days.
Security Dilemma for Georgia
The clash in Tbilisi reveals fundamental weaknesses in Georgia's security apparatus. Despite Chataev's lengthy record, his group was able to infiltrate the country, rent an apartment in the capital and obtain weaponry sufficient to resist heavily armed security forces.
Further information emerged after five Pankisi Gorge residents accused of assisting Chataev's group were arrested on December 25 (State Security Service of Georgia, December 26, 2017). Georgian officials claimed that the militants had entered through the "green corridor"—the mountainous part of the Georgian-Turkish border used by North Caucasian militants and smugglers—and retrieved weapons hidden for them in the forest (Pirveli, December 5, 2017).
Incidents such as these reveal gaps in Georgia's border security. Mountainous, forested terrain makes the borders with Russia and Turkey porous and difficult to control, particularly in summer when the snow has cleared. Such conditions favorable to jihadists' movement heighten the risk of domestic terrorism. Indeed, the Georgian faction of IS has threatened attacks on local authorities and members of the moderate Muslim clergy (Jam News, November 24, 2015).
Furthermore, the transit of foreign fighters is a key element in Russia's diplomatic rhetoric toward Georgia. Russia's military doctrine allows Russian armed forces to launch operations abroad to protect Russian citizens. Therefore, the presence of Caucasian militants could serve as a pretext for further Russian involvement in Georgian national security and domestic policy. Russia could pressure Georgia to create a joint counterterrorism center, thereby legitimizing the presence of the Russian security apparatus in Georgia. [3] This would have the added advantage for Moscow of coming at a significantly lower cost in terms of resources and political capital than a military intervention.
The presence of Caucasian jihadists in Georgia is a complex issue for domestic and international security policy. The latest incidents indicate that the Georgian government can react effectively to immediate threats from militants—as they appeared to do in the showdown with Chataev—but it must work to build the capabilities necessary to anticipate and neutralize threats before they erupt into public shootouts.
NOTES
[1] Kists are ethnic Chechens living in the Pankisi Gorge.
[2] Cilluffo, F., Cozzens, J. and Ranstorp, M. (2010). Foreign fighters. Washington, DC: Homeland Security Policy Institute. p. 28
[3] A joint Russian-Georgian Counter-Terrorism Center was supposed to have been created in Georgia in return for the withdrawal of Russian military bases from Batumi and Akhalkalaki, but plans were put on hold after the Russian-Georgian war in 2008.