One Year After Regime Change: Kyrgyzstan's Recent Past is Full of Ambiguity
Publication: Eurasia Daily Monitor Volume: 8 Issue: 68
By: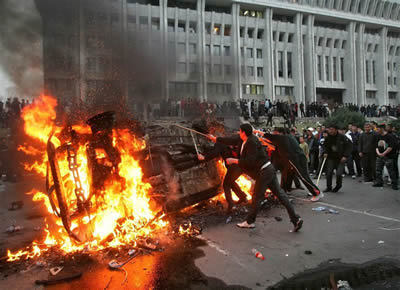 As Kyrgyzstan marks the first anniversary of the April 7, 2010 regime change after a year full of dramatic changes, ambiguity about the country's recent past prevails. The public and political leadership still grapples with interpreting the meaning of April 7 as well as the ethnic violence in June 2010, in southern Kyrgyzstan. Instead, rumors triumph while competing political factions prefer to use this uncertainty for their own purposes.
Many questions remain unanswered regarding the April 7 regime change: who ordered opening fire on civilian demonstrators? Who carried out the shooting? So far, no comprehensive investigation has taken place. While an investigation by Memorial, the Russian human rights organization, argues that former President Kurmanbek Bakiyev's elite squad "Alfa" did not shoot at civilians, an interpretation shared by many in the government, this raises even more questions. Meanwhile, a range of conspiracy theories are flourishing.
Public disagreement and lack of understanding over what caused the ethnic violence in Osh and who is to be held accountable is even more pronounced. Finnish Member of Parliament (MP) Kimmo Kiljunen has led an international group of investigators to "kill all rumors" and present an impartial perspective on the violence in Osh. After months of work, Kiljunen delivered the report to the Kyrgyz government for their reviews before making it available to the wider public (www.24.kg, April 4).
The Kyrgyz authorities, however, preferred to see the report published after the first anniversary of the April 7 regime change, probably fearing its potential controversy. The new deadline for the report's publication is now at the end of April. To date, the Kyrgyz government neither admits responsibility for the June 2010 violence, nor provides a comprehensive explanation of what happened.
Similarly, Kyrgyz authorities have been blocking the work of the Police Advisory Group (PAG) mandated by the Organization for Security and Cooperation in Europe (OSCE) to function in southern Kyrgyzstan. In July 2010, the OSCE announced that it would dispatch 52 policemen to southern Kyrgyzstan to monitor the local situation. But after encountering strong resistance from Kyrgyz authorities, PAG proceeded quietly and reduced the mission's mandate. According to Kyrgyz human rights activists, only 37 PAG members have so far been dispatched while their activity on the ground has been limited.
Promoting an open debate about both April 7 and the June violence threatens the very foundation and legitimacy of the current political system in Kyrgyzstan. Such a discussion might reveal weakness and erroneous decisions by some incumbent government officials and MPs, while the country's judicial system is unable to absorb all the legal proceedings that might follow if both events are deconstructed and real perpetrators named.
Instead, ambiguity about what happened during 2010 is mutually perpetuated by Kyrgyzstan's political leadership. Since there is no clear consensus on what took place one year ago, each political faction represented in the parliament interprets the meaning of the regime change for their own benefit. Parties and politicians that comprised the opposition before April 7 – Ata Meken and Social Democratic Party of Kyrgyzstan (SDPK) – prefer to closely associate the "revolution" with their achievements. Those who were linked to Bakiyev's regime – Ata-Jurt in particular – regard April 7 as a source of instability and prefer to see the return of stronger presidential power.
To a large degree this ambiguity is perpetuated because of the overall uncertainty about who in Kyrgyzstan today holds the locus of control, whether it is the Social Democrats or Respublika. Or, does Ata-Jurt have stronger support base? Yet another powerful player – former Prosecutor-General Kubatbek Baibolov – has recently emerged as a possible game changer in the presidential election to be held at the end of this year. Baibolov was sacked by President Rosa Otunbayeva for an alleged conflict of interest, instantly turning him into the loudest critic of the president, SDPK, and Respublika (www.akipress.kg, April 6). Baibolov's connection with Ata-Meken, a party currently with a parliamentary minority, has been apparent.
In such an environment, competition over presidential power will inevitably be fierce. A recent physical brawl inside the parliament's premises between the leader of the Ata-Jurt party and an MP from Respublika party, Sadyr Japarov, has once again shown that infighting and competition are intensifying within the ruling coalition (www.24.kg, April 5). Although both MPs had their noses bleeding, only the presidential election will determine which of those parties prevails. There is a reason that April 7 is not an official holiday in Kyrgyzstan.