Opportunities and Challenges for China's Plans in Afghanistan
Publication: China Brief Volume: 21 Issue: 19
By: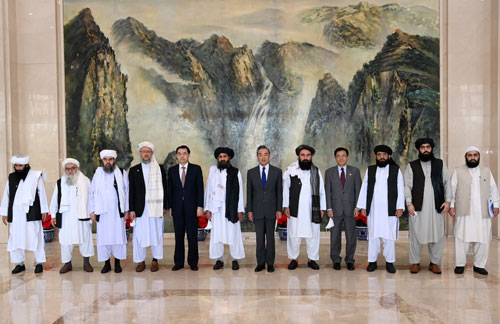 Introduction
In a September meeting between China's Ambassador to Afghanistan Wang Yu and Afghanistan's acting Foreign Minister Amir Khan Muttaqi, China declared that its first batch of humanitarian aid will reach Afghanistan before the arrival of winter. (The News, September 28). The emergency humanitarian aid is worth approximately $31 million and includes three million COVID-19 vaccine doses, food, medicine and other winter supplies (Global Times, September 8). China is the first foreign country to pledge humanitarian assistance to Afghanistan since the Taliban captured Kabul on August 15. The aid pledge from Beijing came days after the Taliban declared China as their "main partner" in rebuilding and developing Afghanistan. Taliban spokesperson Zabihullah Mujahid said "China will be our main partner and represents a great opportunity for us because it is ready to invest in our country and support reconstruction efforts" (Express Tribune , September 2).
China has been a neutral player during the American military presence over the past two decades in Afghanistan with Beijing generally enjoyed good relations with the U.S-backed Afghan government. Now, after the withdrawal of U.S. forces, the Taliban are China's top choice to safeguard its strategic interests in the war-wracked country. China's primary interests in Afghanistan are preventing Uygur separatists from taking refuge there and developing ties with al Qaeda or ISIS, and extending the Belt and Road Initiative (BRI) into Afghanistan and beyond.
Growing China-Taliban Romance 
The China-Taliban romance goes back further than this summer with the Taliban's emergence as the dominant force in Afghanistan following the U.S. decision to exit Afghanistan by the end of August. Rather, both sides developed backdoor contacts in the past, through China's closest friend and strategic partner, Pakistan (Express Tribune, November 2, 2019). Pakistan is believed to have covertly brokered all peace consultations between China and the Taliban. In October 2018, the late Pakistani religious scholar and stalwart Afghan Taliban supporter, Maulana Sami Ul Haq, called on China to play a greater role in the Afghan peace negotiations. Popularly known as "Father of the Taliban", Maulana invited Beijing to play the role of arbitrator to the Afghan conflict (SCMP, October 2, 2018). He stressed the importance of increased Chinese engagement because of its large stakes in the region, and asked that China not leave matters related to Afghanistan solely to the U.S.
Even a month before Kabul fell and President Ashraf Ghani fled Afghanistan, the Taliban expressed their good will and friendly inclination toward China. The Taliban opened the door to Chinese investment in post-US Afghanistan by addressing China's biggest concern over Uygur separatists, who had taken refuge under the previous Taliban regime in Afghanistan during the late 1990s. Taliban spokesman Suhail Shaheen reportedly said: "China is a friendly country that we welcome for reconstruction and developing Afghanistan." (SCMP, July 9). The Taliban has also taken pains to stress that they will not permit Afghan territory to be used against China by other countries.
In July, a nine- member Taliban delegation led by deputy leader Mullah Baradar Akhund visited China on Beijing's invitation and held a meeting with Foreign Minister Wang Yi in the northeastern city of Tianjin. Wang expressed hope that the Taliban would play an important role in peace and reconstruction of the war-wracked country, and assured the delegation of China's assistance in this regard (Express Tribune, July 28). Days before the formation of an interim government by the Taliban, China promised to keep its embassy open in Kabul and to strengthen relations with the new government (Daily Times, September 3).
China's Master Plan for Afghanistan
China sees strategically located Afghanistan as a trade hub connecting the Middle East, Central Asia and Europe. China, which also shares a small border with Afghanistan, has already strengthened its position through mega investments in neighboring countries such as Pakistan and Iran. China has a master plan worth billions of dollars for Afghanistan through the extension of the China-Pakistan Economic Corridor (CPEC) — the BRI's flagship project. China has long held ambitions to extend the BRI in to Afghanistan, and Beijing has made several offers to Kabul to join CPEC since its launch in 2013. However, the U.S-backed Afghan government did not join BRI for fear this might antagonize Washington. Even as the U.S. was getting set to depart, Beijing was in discussions with the former Afghan government about extending CPEC into Afghanistan (The News , July 5). In May, Chinese foreign ministry spokesperson Zhao Lijian revealed that Beijing and Kabul were having consultations through diplomatic channels on the CPEC extension plan. Zhao commented that "we notice that Afghanistan is importing and exporting goods through Gwadar and Karachi ports. High-speed highways are also being extended to Afghanistan" (Express Tribune, May 24).
Terrorist Threat to China's Big Plans for Afghanistan 
The Tehreek-e-Taliban Pakistan (TTP) or Pakistani Taliban, the umbrella organization for the various Pashtun militant groups operating along the Af-Pak border, have been involved in targeting Pakistan security forces, Chinese nationals and Chinese projects underway through CPEC in Pakistan. The TTP is a hanging sword over China's mega development schemes across the Af-Pak region.
In Afghanistan, the TTP has a local presence of 6,000 trained fighters largely in the eastern districts of Nangarhar province, near the border with Pakistan per the 28th report of the UN Analytical Support and Sanctions Monitoring Team. The UN report warns that "a reunification took place in Afghanistan between TTP and certain splinter groups in the period from December 2019 to August 2020" (Dawn, July 27).
On April 21, a suicide car bombing in the parking lot of a four star hotel in Quetta, Pakistan that killed five people and injured 13 others. The TTP claimed responsibility for the terrorist attack, which apparently targeted the Chinese ambassador, who was staying in the hotel, but was not in the building when the explosion occurred (Express Tribune, April 21).
On July 14, 13 people were killed including nine Chinese nationals and four Pakistanis as a result of a bus blast at the site of  a China-funded hydroelectric project in Pakistan's northwestern Khyber Pakhtunkhwa province (Dawn, July 15). No terrorist group has yet to claim responsibility for the attack, but investigations carried out by Chinese and Pakistani authorities found that TTP and Uyghur separatists were involved in the bombing. Both Pakistan and China have asked the Taliban to break off their ties with TTP, and have launched a massive crackdown on the TTP and Uyghur separatists in the area (Express Tribune, July 28). However, the Afghan Taliban see the TTP not as their issue, but as a problem for Pakistan to address. Kabul wants Islamabad to reach a political settlement with the group, which has killed thousands of Pakistanis in hundreds of deadly attacks. Pakistan is in talks with the TTP, which have been facilitated by the Taliban in Afghanistan, and is considering amnesty for the group provided they renounce violence (Dawn, October 1). China has yet to respond to this development.
Could China's involvement in Taliban-led Afghanistan be mutually beneficial?
Given the Taliban's ostensible commitment to the safety of Chinese investment projects, and its promise not to provide safe haven for Uygur separatists, there appears to be, to borrow from China's foreign policy lexicon, potential for "win-win" cooperation between China and Afghanistan under Taliban rule. China is already the largest foreign investor in Afghanistan with its $3 billion Aynak copper mine project, oil and gas exploration projects and infrastructure projects; progress on these projects has stalled but could accelerate as the security situation improves (SCMP, July 9).
Some experts, however, are skeptical that a win-win situation will materialize for China in Taliban-led Afghanistan, as they believe China will not be able to fully implement its big plans due to the uncertain security environment in post-U.S. Afghanistan. Michael Kugelman, an expert on South Asia at the Wilson Center in Washington D.C., said: "Beijing has not been a major economic player in Afghanistan, largely due to the security situation. With the violence and instability sure to increase, that's unlikely to change. The U.S. withdrawal, and the destabilization that follows, means that Afghanistan's neighbors-including China-will be increasingly likely to act covertly to safeguard their interests." [1]
"China is investing heavily in infrastructure projects in Afghanistan's broader neighborhood, with the hopes of preparing the grounds for eventually expanding BRI into Afghanistan. But no matter what it does outside Afghanistan, bringing its investments into the country will be much more difficult, given the reality of an incredibly insecure investment environment. This is why China, like other countries in the region, would benefit in a big way from a peace agreement in Afghanistan–one that has been, and will continue to be, highly elusive," Kugelman said. [2]
Conclusion 
China has been keen to extend its BRI program in to Afghanistan, particularly given the geopolitical importance of its central strategic location. However, the security challenges in Afghanistan may preclude China from implementing its sweeping plans, despite big promises. The TTP will continue to threaten China's CPEC extension plan due to the Taliban's reluctance to launch a massive crackdown on the group.
China's key security interest in Afghanistan is to check Islamic militants' push towards Xinjiang in Northwest China where Uyghur fighters could develop and strengthen their ties to ISIS or al-Qaeda in Afghanistan. For that purpose, the Taliban could be a promising security guarantor and strategic partner in China's master plan for Afghanistan. However, at the same time, there are risks involved in China's so-called partnership with the Taliban, which could be complicated by the Taliban playing the Uygur separatist card, or the TTP card.
Another issue that could challenge Beijing's hope for a reliable partner in Kabul is that the real key to a stable Afghanistan is the formation of an inclusive government representing all ethnicities and sectarian groups in Afghanistan. The Taliban have formed a government which is not inclusive and with no representation of women or ethnicities other than Pashtuns. The infighting between different factions within the Taliban movement and the resistance from anti-Taliban groups, particularly in northern Afghanistan, could lead to chaos and anarchy in already the strife-torn country. This demonstrates that in order for China to extend its BRI program, it needs a peaceful, inclusive and stable Afghanistan.
Syed Fazl-e-Haider is a contributing analyst at the South Asia desk of Wikistrat. He is a freelance columnist and the author of several books including the Economic Development of Balochistan (2004). He has contributed articles and analysis to a range of publications including Dawn, The Express Tribune, Asia Times, The National  (UAE), Foreign Affairs, Daily Beast, New York Times, Gulf News, South China Morning Post, and The Independent.
Notes
[1] Author's interview with Michael Kugelman, the deputy director and senior Associate for South Asia at the Wilson Center in Washington, D.C.
[2] Ibid.