Opposition UNM Party Hurting From Saakashvili's Distance
Publication: Eurasia Daily Monitor Volume: 13 Issue: 164
By: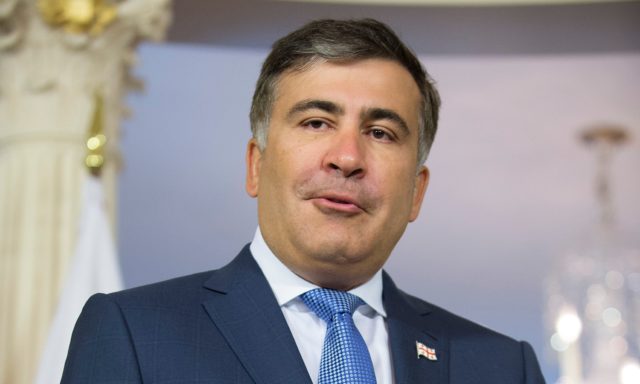 Late on the evening of October 4, a car was blown up next to Tbilisi's Freedom Square. Givi Targamadze, a high-ranking member of Georgia's United National Movement (UNM) party, along with his driver, survived; four passersby were injured, one seriously (Civil Georgia, October 4). Targamadze implied that the recently formed Georgian State Security Service was behind this terrorist attack, pointing to its deputy head, Ioseb Gogashvili, and the founder of the ruling Georgian Dream party, Bidzina Ivanishvili, as organizers (Tabula, October 4). Targamadze used the car bomb as a rallying cry to call for high voter turnout in the country's October 8 parliamentary elections. The Ministry of Interior, meanwhile, swiftly identified a man easily recognizable on several pieces of publicized CCTV footage as the suspect in hiding, declaring the case "an attempted murder in aggravating circumstances" (Civil Georgia, October 7).
The October 4 bombing topped a series of factors that created a political environment almost certainly contributing to UNM garnering only 27.11 percent of the vote in the elections. Georgian Dream–Democratic Georgia (GDDG), on the other hand, received 48.67 percent and is likely to increase its lead to a constitutional majority in the majoritarian single-mandate districts runoffs in two weeks (see EDM, October 11). An "Assessment of the Pre-election Environment," jointly issued by a group of Georgian non-governmental democracy and civil rights watchdogs, lists an array of violations building up in the four months leading up to the election. These violations, one could argue, conditioned the relatively low voter turnout of 51.63 percent on October 8. Parties and candidates were largely "able to conduct their election campaigns in a competitive environment"; but an atmosphere of fear may have created enough voters who were possibly intimidated into voting for the ruling party or abstaining entirely to pre-determine the election's outcome (Transparency.ge, October 7).
Cases of political violence and intimidation have been piling up for months. Disseminations of illegally acquired recordings of private conversations have become a matter of course in Georgia (see EDM, September 14), but none have been investigated so far. On May 22, UNM leaders and activists in a local by-election in the village of Kortskheli were beaten up (Civil Georgia, June 2). In addition to the Kortskheli incident, Georgia recently witnessed an attempted shooting of a parliamentary candidate and an assault on ruling party members—which was preceded by an ambush of UNM activists. Between September 2 and October 1, there were "3 cases of alleged political dismissals; 11 cases of intimidation; 12 cases of abuse of administrative resources; 8 cases of interference with campaigning; 6 cases of violence; 4 cases of possible vote buying; 2 cases of vandalizing party offices; 37 cases of destroying campaign materials, 4 cases of using hate speech; [and] 8 cases of campaigning by unauthorized individuals," according to the International Society for Fair Elections and Democracy (Isfed.ge, accessed October 13). In most instances, the target was the opposition, primarily UNM.
On election day, irregularities and partially violent disruptions of voting were reported in the precincts of Djikhaskari, Ubisi, Ganmukhuri, Kutaisi and Zugdidi; while in Marneuli, due to a stone-throwing assault on the precinct, the voting results had to be canceled. In Adjara, UNM bemoans that the annulling of 24,677 ballots cost it a victory in this region (Rustavi 2, October 10). Besides UNM, the Republican Party, the Labor Party, the parties led by Paata Burchuladze and Nino Burjanadze, and initially even the Alliance of Patriots of Georgia (APG)—which cleared the 5 percent threshold to enter the legislature—have accused the ruling party under Ivanishvili's tutelage of manipulating the election results. UNM's leader, Mikheil Saakashvili—the governor of Ukraine's Odesa region and Georgia's former president—called on UNM members to abstain from the second-round runoff elections and to boycott the parliament, so as to not legitimize the electoral fraud alleged to be as high as 10 percent of all votes (Tabula, October 10). But in his declaration, Saakashvili temporarily caused a rift in his party. International observers such as Frank-Walter Steinmeier, perhaps the most distinctly Russia-friendly of German government ministers, immediately declared the elections fair, as did the United States' Ambassador Ian Kelly (iPress, October 10). Lacking sufficient documentation to prove election fraud (iPress, October 12), UNM's Political Bureau voted to join the parliament and fight for as many of the remaining 49 majoritarian seats as possible (Netgazeti, October 12).
The pro-Western Georgian opposition fears that with the nationalist APG as a partner, GDDG will more openly pursue a Eurasianist and hard conservative political agenda in the next parliament. With a constitutional majority in sight, for which 46 seats are lacking, GDDG leaders Irakli Kobakhidze and Gia Volski announced plans to change the presidency from a popularly elected office to a position appointed by the parliament, thus further weakening Georgia's already shaky system of checks and balances (Primenews, October 10). Furthermore, the ruling majority plans to rewrite the constitution to include a definition of marriage as strictly a union between a man and a woman (Tabula, October 12). Considering Georgia does not allow for civil unions, this would be another hit to the country's civil liberties. GDDG also eyes moving the seat of parliament from the second-largest Georgian city of Kutaisi. And UNM fears new advances in what it claims are the ruling party's efforts to neutralize the last remaining major government-critical TV station, Rustavi 2. Finally, Georgian Dream continues to show little or no will to openly confront Russia's occupation of Georgian territory (see EDM, October 6)—a policy position likely to strengthen if GDDG manages to expand its executive power with added unchecked dominance in the legislative branch.
Perhaps as a result, some leaders of the defeated Western-oriented parties—the former Girchi, State for People, the now dissolved Free Democrats, and the Republican Party—called on voters to cast their ballots in the second round in such a way as to prevent GDDG from obtaining a constitutional majority, thus effectively urging support for UNM (iPress, October 12). Such an ironic and possibly belated about-face by yesterday's foes of UNM is almost certainly driven by fears of further election fraud.
Saakashvili remains in Odessa, and leading a boycott (however reasonable) from afar would have been difficult. In his absence, UNM demonstrated agility by quickly mobilizing to take part in the upcoming runoff races to avert even more devastating results in the election. As a result, Saakashvili was forced to publicly drop his call for a boycott (iPress, October 13). It remains to be seen whether UNM's decision to initially overrule its still highly popular leader will make Saakashvili appear weak, and whether it will cost the party any votes in the runoff elections.