OSH STILL TENSE, BUT SITUATION BECOMING CLEARER
Publication: Eurasia Daily Monitor Volume: 2 Issue: 117
By: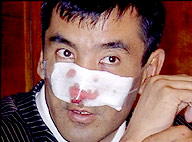 After the June 13 civilian clashes in Osh between hundreds of parliamentarian Bayaman Erkinbayev's opponents and supporters, in which seven people were hospitalized, the city has apparently divided into two conflicting halves. The following day (June 14), 500 people gathered at the central square in Osh to oppose the shootings and demand Erkinbayev's resignation. Osh Mayor Mamsadyk Bakirov openly accused Erkinbayev of shooting peaceful protestors. Bakirov claimed that 12 people were injured and that Erkinbayev must be prosecuted for the crime (see EDM, June 14).
Erkinbayev claims that Usen Sydykov, head of the presidential administration, organized the riots against him (Akipress, June 14). He also thinks that the current conflict in Osh is nothing more than an attempt to redistribute his property among people possessing money and power (Gazeta.kg, June 15). He denies the accusations that his supporters opened fire first.
Sydykov, in turn, says that criminal groups trying to give a political veneer to the events triggered the Osh turmoil. To Radio Azattyk he recites: "We are not enemies to ourselves to undermine stability in the country, the provision of which, we think, is our main, primary goal" (Kabar, June 16).
Edil Baisalov, head of the Coalition for Democracy and Civil Society, told Voice of America, "The question now is who will be the mayor of the largest city after Bishkek, our southern capital Osh." Baisalov insists that the recent Osh events are not something atypical for counties in transition, but rather this type of "skirmish takes place in any Russian provincial city almost every week." He does not deny the fact that Erkinbayev is connected with drug dealings. Baisalov also emphasized that it is the people, not the state, who have challenged this incredibly influential politician in Osh, once supported by the regime of former president Askar Akayev. Baisalov summed up the situation: "Now the country's future is in the hands of the peoples of Kyrgyzstan, who will elect a strong president on July 10 who will finally restore order and will lead our country with confidence, in accordance with the law" (Gazeta.kg, June 15).
Meanwhile, the National Security Service detained three suspects in the June 10 murder of Jyrgalbek Surabaldiyev. Kyrgyz parliamentarians have promised millions of soms to anyone helping the investigation.
Surabaldiyev's daughter, Elvira Surabaldiyeva, claims that her father was murdered by members of the interim government for economic reasons: "My father was offered a deal: to hand all his enterprises to a number of people occupying quite high positions, but he rejected it" (Akipress, June 14). Elvira believes that the real criminals in the government will get away with the crime by imprisoning contract killers. She also said that her family has been continuously persecuted by security forces and threatened since March 24. Surabaldiyeva also announced that she would sign all necessary documents to give her father's property to the state in one year. Surabaldiyev was a prominent businessman who owned auto dealerships and ceramics factories; he represented part of Akayev's team in parliament.
Tashtemir Aitbayev, head of the National Security Service, thinks that the assassination was not merely motivated by economic interests, but also has political connotations (Akipress, June 15).
Contract murder is not a new phenomenon for Kyrgyzstan. A year ago a series of assassinations took place within several days in Bishkek. These crimes were motivated by economic rivalries between criminal groups. Mounting criminality confirms that the professionalism and efficiency of Kyrgyzstan's law enforcement structures deteriorated during Akayev's rule.
Meanwhile, international interest in the Andijan riot is increasing. The UN High Commissioner for Refugees sent four representatives to Bishkek to investigate the Andijan massacre in neighboring Uzbekistan. The representatives will visit the Uzbek refugee camp in Jalalabad to interview refugees. Uzbekistan's government is blocking an international inquiry into Andijan (Fergana.ru, June 15). On June 6 the U.S. Peace Corps announced it was stopping its activities in Uzbekistan. The Uzbek government had recently refused to extend the visas of 52 U.S. volunteers, including a regional director, and 126 U.S. volunteers were evacuated from the country, says Peace Corps spokesman Gaddi H. Vasquez (Fergana.ru, June 15).
U.S. National Security Council Spokesman Sean McCormack told reporters that U.S. Secretary of State Condoleezza Rice had sent an official letter to Uzbekistan's President Islam Karimov in which she insisted on an international investigation into Andijan (RIA-Novosti, June 15). McCormack added that official Washington is actively seeking international support to begin an inquiry. But both Karimov and Russian Foreign Minister Sergei Lavrov denied the need to conduct an international investigation in Uzbekistan.
UNHCR spokesman Jennifer Pagonis stated that Uzbekistan is putting pressure on its refugees in Kyrgyzstan. There are more and more relatives coming to the camp to persuade the refugees to return to Uzbekistan and this, according to the spokesman, is not done voluntarily (Kabar, June 15). Some Jalalabad residents object to granting legal status to Uzbek refugees because of the possibility that they might belong to radical religious groups (Kabar, June 15). Pagonis emphasized that each case much be thoroughly examined before any of Uzbek refugee is denied legal status.