Otunbayeva Open to Military Cooperation with the US and Russia
Publication: Eurasia Daily Monitor Volume: 8 Issue: 56
By: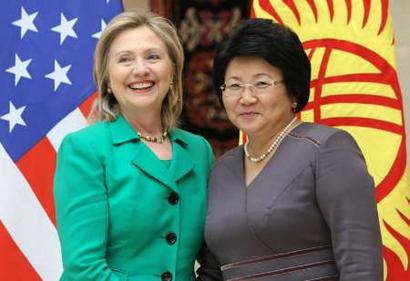 Shortly after her recent visit to Washington, Kyrgyzstan's President Roza Otunbayeva announced that two military training centers funded by the US and Russia will soon be opened in Kyrgyzstan (www.akipress.kg, March 15).
According to the Kyrgyz president, the US center might be located in Batken oblast, while the Russian facility will be opened in Osh. Both training centers will belong to Kyrgyzstan. As an example of such cooperation, Otunbayeva mentioned training centers in Koi-Tash and Tokmok, both financed by the United States and providing military training for Kyrgyz conscripts.
Otunbayeva emphasized that Kyrgyzstan has equal partnership relations with both Russia and the US. "We are ready to receive instruction in the fight against terrorism, we have no experience in these matters," the president said. She reiterated that the plans to construct the two bases are not a result of geopolitical competition. Otunbayeva presented the prospects for these facilities as a product of close collaboration on security issues with Washington, Brussels, and Moscow (www.ng.kg, March 16). "Russia is our strategic partner and ally and helped us significantly during the events of June [2010]," the president referred to the ethnic violence that cost the lives of around 450 people (www.akipress.kg, March 15). Otunbayeva also implicitly referred to Obama's "reset" policy that helped the US and Russia boost bilateral cooperation and ease their competitiveness in Central Asia.
The idea to build a special training facility in Batken has been discussed since former president Kurmanbek Bakiyev's reign. During his visit to Bishkek in March 2010, the then-Commander of US Central Command, General David Petraeus, pledged $5.5 million investment for the construction of the Batken center. Negotiations on the construction of the center began in August 2009, shortly after Bakiyev first requested the closure of the US military base at Manas only to change his mind a few months later.
Training at the Batken anti-terrorist center will be conducted under the auspices of the US International Military Education and Training (IMET) program. According to Kyrgyz military analysts, the prospective anti-terrorist center will include advanced medical facilities with no equivalent in the entire region (Author's interview, March 2010). Overall, such military to military collaboration between Washington and Bishkek has taken place since 1996 (www.ng.kg, March 22, 2010).
Perhaps as a response to Bakiyev's plans to build the Batken base, Russian Deputy Prime Minister Igor Sechin and Defense Minister Anatoliy Serdyukov visited Bishkek in July 2009 to discuss the possibility of opening a second Russian base (in addition to its airbase in Kant). However, Bakiyev reportedly rejected the offer and the second Russian base never reached any firm conclusion, further antagonizing the Kremlin.
After Bakiyev's ouster, the idea of a Russian military facility in southern Kyrgyzstan resurfaced. In September 2010, Serdyukov and his Kyrgyz counterpart Abibilla Kudayberdiyev met in Bishkek to discuss the possibility of opening a Russian military training center in Osh.
According to Jamestown sources, along with Kyrgyz security officials, Bakiyev preferred to see military training facilities constructed close to Uzbekistan's border. The former president rationalized the need for such a base in terms of Kyrgyzstan's need to counteract any spillover of terrorist organizations operating in Afghanistan. There is, however, a widely held view among the Kyrgyz military that Tashkent is developing its military forces with the aim of one day acquiring Kyrgyzstan's water reservoirs and protecting the ethnic Uzbek population living in Osh and Batken by military means.
The "Tashkent threat" is not openly discussed and often referred to as a necessity to maintain a military battalion in the southern part of the country to respond to "local conflicts." The terminology assumes that such conflicts would be initiated by Uzbek troops. The June 2010 violence once again reminded military officials of the importance of such a base. Kyrgyzstan's military officials would certainly seek to avoid any repetition of such violence. But they are equally concerned about the scenario of Uzbekistan's armed intervention should instability in southern Kyrgyzstan become Tashkent's concern.
Shortly after his US and EU visit, Prime Minister Almazbek Atambayev traveled to Moscow on March 17-18. In preparation for the visit Atambayev asked the Kyrgyz parliament to rename one of the mountain peaks in Kyrgyzstan after his Russian counterpart Vladimir Putin.