Palestinian President Abbas visits Ankara
Publication: Eurasia Daily Monitor Volume: 6 Issue: 138
By: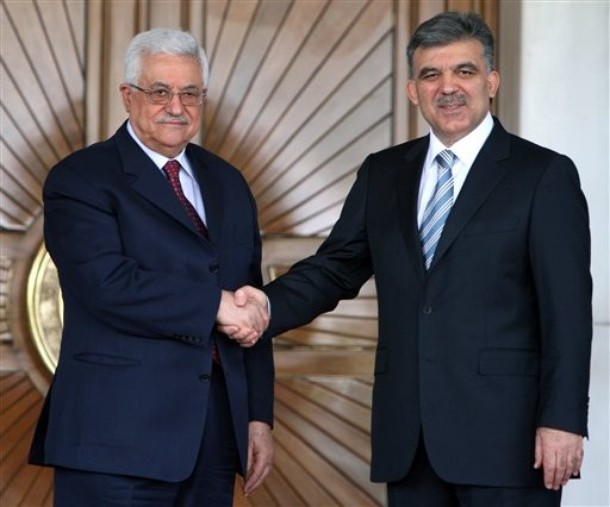 On July 16-17, the Palestinian President Mahmoud Abbas visited Turkey to hold talks on Middle East peace initiatives and discuss bilateral relations with Turkey. Abbas met President Abdullah Gul, Prime Minister Recep Tayyip Erdogan and Foreign Minister Ahmet Davutoglu. This came amidst speculation that he had supported the Greek Cypriot position on the Cyprus issue. On July 8-9, Abbas met the Greek Cypriot leader Dimitris Christofias. The two leaders supported each other's stance on international issues. Citing Greek media sources, the Turkish press maintained that Abbas had expressed his support for the Greek Cypriot position on the Cyprus issue (www.ntvmsnbc.com, July 9). Some Turkish media outlets interpreted this attitude as a betrayal and disrespect for Turkey's earlier support for the Palestinian cause. "Abbas stabbed [Turkey] in the back," one nationalist newspaper claimed (Yeni Cag, July 10).
The Turkish foreign ministry summoned the Palestinian Ambassador, Nabil Maarouf, following such news coverage on the issue. Maarouf told Turkish officials that he had investigated the reports by contacting Abbas' spokesperson and other Palestinian officials. Maarouf said that "Abbas did not make those statements. As a matter of fact, this issue was not even on the agenda. [Palestinians] were never involved in the Cyprus issue and will maintain this attitude" (www.mfa.gov.tr, July 10). On the same day, Maarouf issued a separate statement in which "he reiterated his remarks at the ministry, [and added that] Abbas' visit to Cyprus was planned one year ago" (Today's Zaman, July 13). Nonetheless, a statement issued by Christofias after meeting Abbas read: "I wish to warmly thank President Abbas and the Palestinian Authority for their firm and consistent stance in supporting the struggle of the people of Cyprus and the position of the Republic of Cyprus both within the Organization of Islamic Conference and the Arab world in general, as well as internationally" (www.mfa.gov.cy, July 9).
Nationalist media outlets continued their criticism of Abbas, ahead of his visit (Yeni Cag, July 14). Abbas therefore tried hard to diffuse tensions in Ankara. During his joint press conference with Gul, Abbas firmly denied these claims, and described the media reports as groundless. He also responded to another allegation about himself, which was raised by Fatah sources last week. A Fatah official claimed that Abbas was involved in a conspiracy with Mossad and the CIA, which resulted in the killing of Yasser Arafat (www.israelnationalnews.com, July 14). These reports also led to an intensive debate in the Turkish media, ahead of the visit by Abbas (Milli Gazete, July 16). He reiterated his rejection of those accusations in Ankara, arguing that the document that allegedly supported those claims was circulating on Israeli websites (Hurriyet, July 18).
Gul emphasized Turkey's official position that the two-state solution should be the basis of the efforts to resolve the Palestinian issue. He reiterated Ankara's support for an independent Palestinian state, which would have East Jerusalem as its capital. He called on Israel to stop building new settlements and lift the blockade to allow for the reconstruction of the Gaza Strip and the flow of humanitarian aid (www.tccb.gov.tr, July 17).
In response to one question, Gul expressed Turkey's objection to a plan suggested earlier by the E.U.'s Foreign Policy Chief Javier Solana. Solana maintained that if both sides could not reach a solution within a designated period, the U.N. Security Council should endorse the two-state solution and open the way for the recognition of Palestine by the international community (Jerusalem Post, July 12). Gul noted that Turkey would not support efforts for the resolution of the problem which were not approved by all sides. Gul maintained that imposing a non-consensual solution would not prove beneficial and might be harmful. Turkey is ready to support a roadmap toward a Palestinian state, provided that it comes as a result of consensus, Gul added (www.tccb.gov.tr, July 17).
Abbas also exchanged opinions with Davutoglu on the Middle East. They discussed specific areas in which Turkey could help the Palestinian administration. It was announced that Turkey will release part of the $150 million aid which it had pledged at the Paris conference to relieve the financial burden of the cash-strapped Palestinian authority. Abbas solicited Turkey's help for building Palestinian state institutions and constructing infrastructure for education and health services as well as creating jobs. Toward this end, Turkey pledged to build a university hospital, a new industrial zone and a conference hall. Moreover, Turkey will help with the infrastructure of Palestinian television and support the foundation of a diplomatic academy in Palestine (Anadolu Ajansi, July 17).
Davutoglu also emphasized another important pillar of Turkey's policy toward the Palestine issue: a permanent and sustainable solution to the problem can only emerge as a result of a consensus between the Palestinian factions. He asked Abbas to conclude the talks on the formation of a national unity government soon, and confirmed Ankara's support for the dialogue between Palestinian groups mediated by Egypt. Turkey and the Palestinian authority also reportedly agreed to form a joint committee to discuss developments within the peace process (www.cnnturk.com, July 18). In a related development, Egyptian diplomatic sources mediating the talks between Hamas and Fatah reportedly asked the parties to reach a consensus on a unity government by August 25. Since the talks reached deadlock because of the parties' refusal of an earlier proposal, the Egyptian side suspended their mediation efforts (Cihan, July 19).
Turkish officials managed to put the unpleasant news stories aside and "talk business" with Abbas, in an effort to make a contribution to achieving peace in the Middle East. Official statements demonstrated once again the underlying principles of Turkey's approach to the Palestinian issue. In Ankara's view, third parties should only play a facilitator role and refrain from excluding the major stakeholders. It is for these reasons that Turkey seeks to interject itself as peace broker between the Israelis and Palestinians on the one hand, and among the Palestinians on the other. Although those policies frequently lead to the criticism that Turkey is following a pro-Hamas position, Ankara appears determined to maintain dialogue with all parties and refuse any call to exclude Hamas.