Parliamentary Campaign Begins in Kyrgyzstan
Publication: Eurasia Daily Monitor Volume: 7 Issue: 165
By: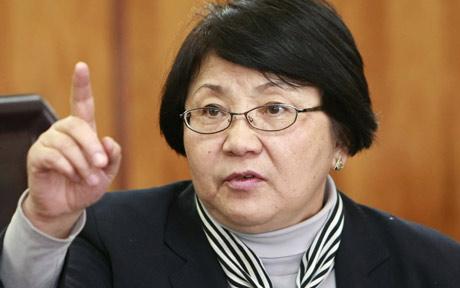 As the Kyrgyz parliamentary campaign officially began on September 10, concerns mounted that major political parties will choose to use forceful methods to prevail over their competitors. Tensions are rising especially among parties that aspire to a majority in parliament and those that might fail to overcome the robust 5 percent threshold nationwide or the 0.5 percent threshold in each electoral district. However, if political parties choose to lead peaceful campaigns, Kyrgyzstan's upcoming elections might yet become the most free and fair in the country's history.
Apart from the major parties such as Ata Meken, Social Democratic Party, and Ar-Namys, whose leaders are well known nationally, several new parties were formed following the April 7 regime change. Young political activists have particularly been keen to form new parties and compete in the elections, among these are Aikol El formed by former NGO activist Edil Baisalov, the April 7 Youth Movement, initiated by the young entrepreneur Choro Suerkulov, and several other political formations.
To date, 28 political parties have registered to participate. Only a small portion of candidates proposed by political parties are known to the wider public and the overwhelming majority of candidates are loosely recognizable. According to the Kyrgyz media, 30 percent of all registered candidates are unemployed and often party leaders' extended family members compose the core of the candidates' list. "Each [party] list includes fathers, mothers, children, grandmothers, grandfathers, livestock, and household equipment," a local online entertainment outlet joked (www.skazki.akipress.kg, September 3).
Kyrgyz President, Roza Otunbayeva, has warned that she will cancel the elections should political parties decide to succumb to violence. "If we must face the question of the country's integrity and unity, we will enforce a state of emergency and elections will be terminated," Otunbayeva explained (www.akipress.kg, September 8).
The president's fears are shared by many in Kyrgyzstan. In the worst-case scenario Kyrgyz experts warn that political parties might engage their informal armed groups to challenge their competitors. The parliament would be fragmented, with each party leader pursuing its own interests. Choosing a prime minister and appointing a ministerial cabinet might take months.
However, despite this rather pessimistic overview, Kyrgyzstan's long-term future offers some hope. Recent political campaigning has been conducted in a relatively uncensored environment. Aside from a few Kyrgyz-language newspapers promulgating radical ethno-nationalist views, the overall debate in the media has been based on the idea that any further form of violence in the country should be prevented.
Both opposition forces and NGO's were granted open access to the media, to voice concerns over the upcoming elections. Several media outlets play an important role in staging debates among experts and politicians, contributing to a rapidly evolving culture of civic engagement. Such freedom of expression in Kyrgyzstan is on a level never seen in neighboring countries. Thanks to this evolving culture of political participation, there is a strong possibility that the elections will be free and fair, marking a new regional achievement. Potentially, this may only strengthen the existing, emerging, or future political forces.
In a best case scenario, Kyrgyzstan's street-riot politics will be absorbed into parliament and Members of Parliament (MP's) will push for greater checks and balances within government. Yet, even in a best case scenario major political forces can always choose to stir up civic clashes, possibly ethnic based, to challenge opponents by using physical force in order to pursue their own interests.
Optimism about the upcoming elections is shared by some NGO activists. "There is enough basis to expect that elections will be fair in Kyrgyzstan," suggested the head of the NGO Coalition for Democracy and Civil Society, Dinara Oshurahunova (www.24.kg, September 7). Along with other local NGO's, the coalition gave positive feedback on the work of the central elections commission. However, like many other experts in the country, Oshurahunova, notes that voters distrust most political parties, convinced that no one would be able to bring better governance to Kyrgyzstan.
Interethnic peace, economic recovery, and good governance are, perhaps, the most pressing issues facing Kyrgyzstan today. In this environment, when no one central political power is masterminding the elections, both old and new political parties will need to rely more on their campaign messages addressing these problems, rather than the sheer charisma of their leaders. Whether these competing political parties are prepared and able to accomplish that, will become clear in the coming month.