Parliamentary Election In Kazakhstan: Who Will Come In Second?
Publication: Eurasia Daily Monitor Volume: 8 Issue: 223
By: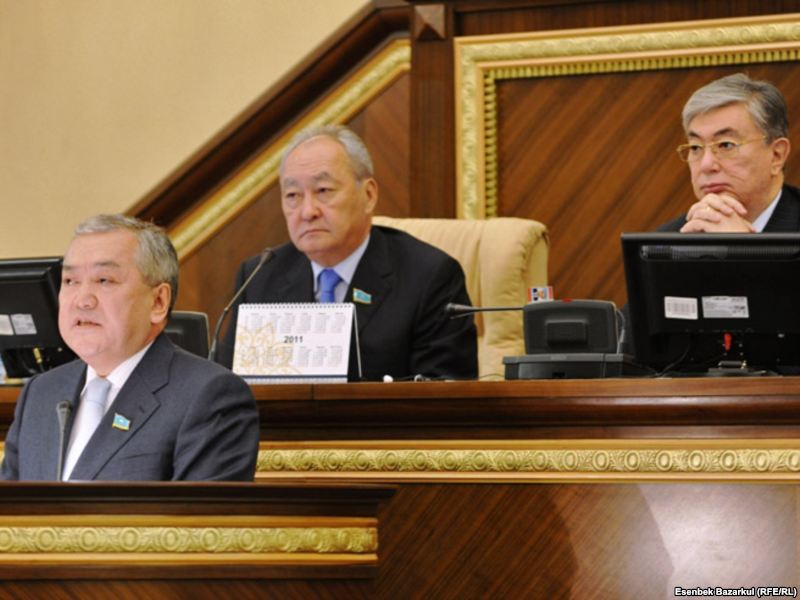 A total of eight political parties have registered for the upcoming parliamentary election in Kazakhstan on January 15, yet the outcome is already fairly clear. President Nursultan Nazarbayev's party, Nur Otan, currently the only political party represented in parliament, is expected to win by a wide margin.
In the last election, in 2007, Nur Otan won over 88 percent of the votes. As no other party cleared the seven percent threshold to win seats, the Mazhilis, the lower chamber, became a one-party parliament. Nur Otan held 98 of the 107 seats. The other deputies were chosen by the People's Assembly.
However, following the electoral debacle of Russian Prime Minister Vladimir Putin's United Russia party, which lost its two-third majority in the December 4 State Duma election, observers in Kazakhstan wonder whether Nur Otan might not find itself in a similar position next month. A survey conducted by the Institute of Political Solutions in November found that 88.5 percent of the people questioned trust Nazarbayev, but only 51.4 percent said they would vote for Nur Otan.
Even so, public opinion polls in Kazakhstan, an oil-producing country and Central Asia's leading economy, are not necessarily an indicator of a likely election outcome. "Everyone understands that the main thing is not how voters vote, but how the votes are counted," says Mukhamedzhan Adilov of the weekly opposition newspaper Respublika (Respublika, December 2)
Kazakhstan has never held an election that has been judged free and fair by Western observers.
Kazakh commentators are therefore mainly speculating about which party may come in second to hold a nominal opposition presence. According to a 2009 election law change, two political parties must be represented in the country's parliament. If a party wins the second largest proportion of votes, but fails to pass the seven percent threshold, it will still be allocated parliamentary seats. This change was adopted in preparation of Kazakhstan's 2010 chairmanship of the Organization for Security and Cooperation in Europe (OSCE) to burnish the country's poor democratic credentials.
Out of the eight participating parties, seven are pro-government. Only the All-National Social Democratic Party (ANSDP) is considered to be an opposition party, albeit a weak one. ANSDP is often mentioned as a possible second together with Ak Zhol, a party representing big business interests, originally also an opposition party. The survey of the Institute of Political Solutions found that Ak Zhol and the Communist People's Party were in second and third position with 2.8 percent respectively. ANSDP would receive just 1.2 percent.
Nazarbayev's billionaire son-in-law Timur Kulibayev, head of the sovereign wealth fund Samruk-Kazyna, is seen as close to Ak Zhol. Azat Peruashev, became leader of the party last July after quitting the ruling Nur Otan party, while his predecessor was appointed chairman of the Agency of Government Service.
The other participating parties are Auil, Adilet, the Party of Patriots, and Rukhaniyat.
The parliamentary election was supposed to be held in August 2012, but was called early instead after members of the Mazhilis asked Nazarbayev to dissolve the lower house. Elections in Kazakhstan are often moved up from their actual scheduled date, so it did not come as a surprise when Nazarbayev complied with the request in mid-November. The president said that an election campaign in the middle of next year would distract the authorities from tackling a looming economic crisis.
Sultan Akimbekov, director of the Institute of World Economics and Politics, offered another explanation saying the new date was chosen to fall between Russia's election to the Duma and the presidential election in March (Tsentr-Azii, November 29).
Others allege it is connected with health problems of Nazarbayev, who they say will seek treatment abroad after the New Year following the election (Respublika, December 5 and 6).
Registration of the parties was completed on December 5. The party candidates will now be registered until December 15. The election campaign will start December 16.
Nur Otan has presented a list of parliamentary candidates with 127 names, many more than there are seats in parliament. Among them are Dariga Nazarbayeva, the president's eldest daughter, as well as a number of political heavyweights, such as the Almaty mayor and several regional governors. They also include university presidents, well-known singers, and former Olympic champions. But only 48 of the Nur Otan deputies of the last parliament are on the list.
The excitement about the election appears to be limited. No real changes in the legislative and political process are expected. "These are common early elections, which we have regularly and are becoming quite banal," says Andrei Chebotarev, director of the research center Alternativa. (Central Asia Monitor, December 2).
More interesting will probably be the aftermath when a new government will be put in place. Nazarbayev's political adviser, Yermukhamet Yertysbayev, has already narrowed down the list of possible candidates for prime minister to three. The first one, he said, is the current head of government, Karim Masimov; the second is deputy Prime Minister Umirza Shukeyev; and the third one is Kulibayev.