Party Congress Reshuffle Strengthens Xi's Hold on Central Military Commission
Publication: China Brief Volume: 18 Issue: 3
By: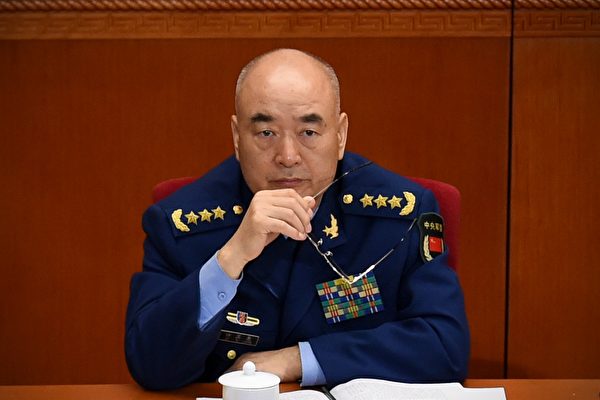 Xi Jinping has introduced major institutional changes to strengthen his control of the PLA in his roles as Party leader and chair of the Central Military Commission (CMC), driven by rampant military corruption attributable to the neglect of civilian control by Hu Jintao during his term as CMC chair from 2004 to 2012. Xi, for instance, dismantled the four General Departments that presided over the PLA: the General Staff Department (GSD), General Political Department (GPD), General Logistics Department (GLD) and General Armament Department (GAD, reorganizing them into 15 new CMC agencies, because he believes the old departments had "concentrated too much power in themselves" and served as major venues for corruption. [1] Xi's primary responsibilities are running the party and the state. He is therefore likely to delegate functional responsibilities to military professionals in order to make the PLA "capable of fighting and winning wars." These responsibilities logically fall on the shoulder of the new CMC appointed at the 19th Party Congress, held in October 2017. The CMC's new structure and personnel both reflect Xi's determination to root out corruption, consolidate his personal control, and reinvent the PLA as a more responsive, flexible war-fighting organization.
The New Central Military Commission
Unlike the previous CMC, where Xi's predecessor Hu Jintao continued to exert influence through the two uniformed CMC vice-chairs he appointed in 2012, Xi himself appointed all the members on the current CMC (see Table 1). These appointments are likely based on five considerations: personal relationships, promoting professionalism, boosting "jointness" through service representation, strengthening political control, and enhancing Xi's control of the CMC by reducing its size.
First, members of the new CMC are likely to be people whom Xi knows well and trusts personally to ensure political loyalty, mainly in terms of running the PLA and implementing Xi's military policy. General Zhang Youxia, the newly appointed CMC vice-chair, for instance, has strong personal ties with Xi because their fathers were partners in commanding a major PLA column in the late 1940s. Admiral Miao Hua, the newly appointed director of CMC Political Work Department (CMCPWD) and a new CMC member, rose through the ranks of the 31st Group Army (GA) headquartered in Fujian, and became acquainted with Xi during the latter's 17 years there (1985-2002).  Air Force General Xu Qiliang, the other CMC vice-chair, came to know Xi when he served as commander of the 8th Air Corps in Fujian from 1988 to 1993.
The potential influence of personal relationships, however, must be qualified. Xi would have left himself politically vulnerable had he appointed Zhang Youxia as CMC vice-chair on the basis of personal ties alone. In addition to his ties with Xi, Zhang is also a decorated veteran of China's 1979-1988 war with Vietnam. The credibility he derives from combat experience in an army where it is sorely lacking translates into political capital for Xi.
Hu Jintao appointed Xu Qiliang as commander of the PLA Air Force (PLAAF) and a CMC member in 2007, elevating him to CMC-vice chair in 2012. More than likely, Xi decided to appoint Xu to another term not because of their Fujian acquaintance, but because Xu won Xi's trust by faithfully implementing Xi's reorganization of the PLA. [2]
Table 1: Profiles of Members of New CMC
Name
Current position
Previous position
DOB
Specialty
First Service Unit
Major Service and Command Experience
Xu Qiliang
CMC vice chair
CMC vice chair
1950
Combat pilot
26th Aviation Division of PLAAF stationed in Shanghai
Commander of 8th Air Corps; PLAAF chief of staff; commander of Shenyang MR Air Force; deputy chief of GSD; and PLAAF commander
Zhang Youxia
CMC vice chair
Director of  CMCADD and CMC member
1950
Infantry
14th GA headquartered in Kunming
Fought in 1979 Sino-Vietnamese War as a company commander and in 1984 Sino-Vietnamese border conflict as a regiment commander; commander of 13th GA; deputy commander of Beijing MR; commander of Shenyang MR; and director of GAD
Wei Fenghe
Defense minister-designate and CMC member
Commander of  PLARF and CMC member
1954
Strategic missile
54th Base of Second Artillery stationed in Luoyang
Commander of 53rd Base of Second Artillery; deputy chief of GSD; and commander of Second Artillery
Li Zuocheng
CMCJSD Chief and CMC member
Commander of PLAA
1953
Infantry
Guangxi Provincial Military District
Fought in 1979 Sino-Vietnamese War as a company commander; commander of 41st GA; and commander of Chengdu MR
Miao Hua
CMCPWD Director and CMC member
PLAN Political Commissar (PC)
1955
Political work
31st GA headquartered in Xiamen
PC of 12th GA and PC of Lanzhou MR
Zhang Shengmin
CMCDIC Secretary and CMC member
PC of CMCLSD
1958
Political work
47th GA headquartered in Xi'an
PC of a Second Artillery base; PC of Second Artillery Command College; and PC of CMC Training and Management Dept.
Sources: Baidu Encyclopedia and other China-based internet sources.
Another important qualifier is that interactions between military officers and civilian officials at local and provincial levels are horizontal, inter-agency ones that are limited and formalistic, and do not involve vertical authority relationship of superiors and subordinates. Personal acquaintances developed in these interactions may play a role in Xi's appointment of senior officers, particularly if Xi's knowledge of the senior officer corps is limited. However, these limited interactions do not translate into durable personal ties and entrenched personal networks in the PLA for Xi; the majority of Xi's appointments are not based on such ties.
A second consideration in the appointment of CMC members is the promotion of functional and technical expertise-based military professionalism. Xu Qiliang, for instance, is a trained combat pilot who served in the Nanjing and Shenyang Military Regions (MR), PLAAF headquarters, and the PLA General Staff. Zhang Youxia commanded battles against the Vietnamese forces in both 1979 and 1984, and served in the Chengdu, Beijing and Shenyang MRs. General Li Zuocheng, the newly appointed chief of the CMC Joint Staff Department (CMCJSD) and a new CMC member, is also a decorated hero of the Sino-Vietnamese War of 1979 with experience in the Guangzhou and Chengdu MRs. General Wei Fenghe, a reappointed CMC member and China's defense minister-designate, worked his way up through the ranks of the PLA Rocket Force (PLARF). All four have extensive service, staff, and command experience.
A third consideration, related to military professionalism, is enhancing "jointness" through diverse service representation in the CMC. Three of the six uniformed CMC members—the two vice-chairs and the defense minister—work full-time in the CMC running the PLA as a whole. The other three are part-timers who represent the staff agencies they head. As a result, at least on a nominal basis, none of the six members represent the specific services in which they previously served. However, four of the CMC's six uniformed members have clear ties to a specific service: Zhang Youxia and Li Zuocheng the PLA Army (PLAA), Xu Qiliang the PLAAF, and Wei Fenghe the PLARF. Political officers such as Admiral Miao Hua and General Zhang Shengmin, the newly appointed secretary of the CMC Discipline Inspection Commission (CMCDIC) and a new CMC member, whose skill sets are not service-specific and whose services in the PLA Navy (PLAN) and PLARF were relatively brief, may be less representative of a specific service.
In another important chance in service representation, PLA service chiefs, who gained seats on the CMC in 2002, are no longer members. The fact that services are now restricted to force construction rather than operations may have made their presence on the CMC unnecessary, as it could have served to exacerbate inter-service rivalry over resources. On the other hand, the PLA may now find more challenging the task of providing "joint" advice at the strategic level in its top decision-making council.
Enhancing political control of the PLA by the CMC chair is clearly another major consideration for Xi's reinvention of the CMC. First, the new CMC members who head the CMCJSD and CMCPWD are much less powerful than their predecessors, who headed GSD and GPD prior to the dismantling of the four general departments. Unlike their predecessors, they can no longer issue orders to the PLA. The primary role of these senior officers and the agencies they head, which have been substantially downsized and downgraded, is now to provide senior staff support to the CMC chair and vice chairs in making decisions. This change has clearly enhanced the power of Xi, the CMC chair, to control the PLA.
Moreover, unlike the previous CMC, the directors of the CMC Logistics Support Department (CMCLSD) and the CMC Armament Development Department (CMCADD) no longer serve on the CMC. The two departments have been downsized and downgraded, with major components of their predecessor agencies, the GLD and GAD, transferred to the newly established CMC Joint Logistics Support Force and PLA Strategic Support Force (PLASSF), respectively.  Although the two department heads continue to provide senior staff support to CMC leadership in areas such as budgeting, armament development, and procurement, exclusion from the CMC has clearly curtailed their power.
Finally, the exclusion of the chiefs of CMCLSD and CMCADD and PLA services from the CMC has reduced the number of uniformed CMC members from ten to six, which is likely to centralize the chair's power by reducing the voices from within the PLA that attempt to influence CMC decisions. The change has made CMC deliberation on policy less contentious and reduced the power of service chiefs, since they can only serve for one term of five years if they do not become CMC members. This lowers the chance that locality or personality-based cliques will form, or that the chiefs to become "lords of their own estates" ("一方诸侯").
The number of political officers in the new CMC has also increased. Only one of the 10 uniformed members of the previous CMC was a political officer: the director of the GPD. In the new CMC, two out of six, or one-third of the uniformed members, are political officers: the director of the CMCPWD and the secretary of CMCDIC. It is likely that Xi made this change to strengthen his hold on the PLA: the CMCPWD and CMCDIC control the vital functions of personnel appointment and discipline inspection, respectively. It will be a challenge for these political officers to successfully balance Xi's effort to weed out corruption and consolidate control of the PLA with their desire to safeguard the interests of the PLA, subject as they still are to its incentive structure.
Conclusion
A revamped CMC has major implications for party leader's control of the PLA. A much smaller CMC, for instance, implies that top military decision processes will be much more centralized within the top leadership than before. The smaller size may also enable a more agile and responsive CMC leadership for operational command and control of PLA forces. Exclusion of service chiefs from the new CMC, however, may make provision of "joint" advice at the strategic level in the CMC a major challenge.
Dr. Nan Li is a visiting senior fellow at the East Asian Institute of the National University of Singapore. He is the editor of Chinese Civil-Military Relations (Routledge, 2006).
Notes
 See Nan Li, "Xi Jinping and PLA Restructuring," East Asian Policy, Vol. 8, No. 4 (December 2016).
Xu, for instance, has served as the standing deputy head (常务付组长) of the CMC Leading Small Group to Deepen National Defence and Military Reforms since 2014.