PLA Personnel Shifts Highlight Intelligence's Growing Military Role
Publication: China Brief Volume: 12 Issue: 21
By: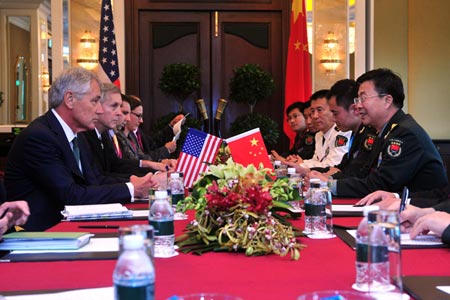 The latest round of top-level People's Liberation Army (PLA) personnel selections reinforces an emerging trend in how the Chinese military manages intelligence. First, ever since the departure of General Xiong Guangkai in December 2005, the PLA has started rotating operational staff through the deputy chief of the general staff slot for intelligence and foreign affairs. Second, intelligence experience seems to be taking on greater significance in the PLA writ large as a small diaspora of intelligence personnel have taken up posts outside their system. These developments simultaneously indicate the PLA is trying to maintain tighter political control of the intelligence apparatus and make intelligence more operationally oriented. The result probably is a redirection of military intelligence resources from informing civilian leadership decisions on foreign affairs toward those of PLA officers.
With intelligence chief General Ma Xiaotian moving to become commander of the PLA Air Force, Ma became the latest deputy chief of the general staff to have a career after taking the intelligence portfolio and to have an operational background. His immediate predecessor, Zhang Qinsheng, now serves as the deputy chief of the General Staff with the operations portfolio and had been seen as a potentially odd choice to replace General Xiong. At the time, Zhang had served in a variety of senior operational and staff positions as well as penned a number of articles on different PLA priorities (Wen Wei Po, December 20, 2005; Outlook Weekly, December 9, 2002; PLA Daily, January 30, 2001; January 14, 1997). Although Ma's replacement, former political commissar Wang Guanzhong, is not as operationally experienced as his two predecessors, Wang's service in the Central Military Commission's (CMC) General Office for the last 16 years should give him a high-level, detailed knowledge of the PLA and its senior decision-making tempo. Wang also rose through the ranks of the Investigation and Research Office (diaoyanju), an experience that probably gave him a fairly sophisticated knowledge of the state of the PLA (People's Net, October 23).
Choosing an outsider to the intelligence system to lead it helps the PLA keep its intelligence organizations focused on military priorities and more directly under control. Previously, career defense attachés like Xiong dominated the principal military intelligence department, the Second Department of the PLA General Staff Department (2PLA). This led to a focus on foreign affairs rather than military priorities, lending 2PLA the moniker of "China's CIA" (Chien Shao [Hong Kong], January 1, 2006). During the 1990s, President Jiang Zemin came to rely on Xiong and even tried to install him as Minister of State Security (South China Morning Post, March 18, 1998). As PLA modernization pushed the military to rely ever more heavily on intelligence for operations as part of informatization (xinxihua), Xiong's continuing presence through 2006 probably inhibited 2PLA's adherence to the rest of the PLA's modernization program because he lacked the operational experience. His successors, however, could not turn the intelligence apparatus into their private reserve and had the experience to tie military intelligence more closely to military needs.
Senior PLA intelligence personnel also have been spreading out, suggesting this experience is being valued in the PLA as it was not previously. The first to make the jump was Assistant Chief of the General Staff Chen Xiaogong, who moved to become one of the PLA Air Force deputy commanders in 2009. This transfer may have been politically motivated to prevent the emergence of another Xiong, because, after his stint in the party's Foreign Affairs Office, Chen was rumored to be close with Hu Jintao (People's Net, October 23; "Personnel Changes in PLA Ranks: Chen Xiaogang," China Brief, February 9, 2009; Ming Pao, January 21, 2009). Since then, Chen's successor at 2PLA, Yang Hui, was promoted to be chief of staff of the Nanjing Military Region. At the same time, the last signals intelligence leadership, including both the commander and the political commissar, also moved on. The commander, Wu Guohua, became deputy commander of the Second Artillery, and the political commissar, Wang Yongsheng, became a vice president at National Defense University (Global Times, August 5, 2011).
Information is at the heart of the PLA's modernization program, so the rising importance of intelligence posts relative to their previous stature within the military should not be surprising. According to the PLA Daily and other writings on informatization, the challenges of fighting under informatized conditions require more efficient and effective means of collecting, processing and distributing intelligence. This also means integrating intelligence deeper into PLA operations transitioning away from a top-down intelligence distribution system (PLA Daily, October 28, 2008). Consolidation of this personnel trend at lower levels—such as operational rotations for mid-career intelligence personnel or new emphasis on intelligence-related education—would be the most important sign that intelligence is taking on greater relevance for the PLA at all levels.