PLA Puts Political Work Online
Publication: China Brief Volume: 12 Issue: 3
By: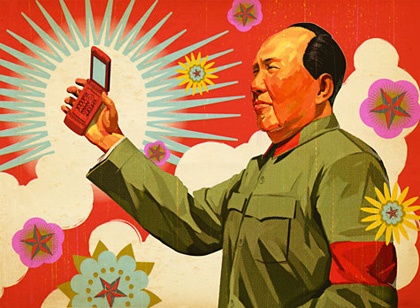 Much attention has been given to the controls and restrictions placed on Internet users within China, which have increased, especially in the wake of efforts by online activists to rally citizens to the streets ("China's Adaptive Approach to the Information Counter-Revolution," China Brief, June 3, 2011). Regardless of the increasing restrictions on online activity, no other population in China is subject to as many Internet restrictions as members of the People's Liberation Army (PLA). According to the "Regulations on Routine Service of the PLA," military personnel are "banned from watching or listening to political programs from overseas media, and soldiers cannot open their own websites or blogs, or publish political information online" (Global Times, June 1, 2011). The effects of restrictions and controls like these are complimented by an equally important, but often less discussed, element found in the efforts of the PLA's General Political Department (GPD) to use modern communications technology to carry out political work (zhengzhi gongzuo), or political indoctrination, online. For China's military personnel who increasingly carry mobile phones and surf the Internet, the CCP sees an opportunity to use the constant link created by these technologies to facilitate political indoctrination [1].
In the wake of a year filled with high profile Internet-aided unrest domestically and abroad, the PLA's GPD is increasing the use of modern techniques and technologies to facilitate the political work system. This adds an ideological component—vital in the delicate political climate of the leadership transition this year—to the CCP's growing menu of domestic and international security missions. To this end, last year, the Chinese military underwent a tech-savvy upgrade composed of new-version online political work platforms at the national and local levels, revamped major Chinese national security websites, new smart phone apps, micro-blogs and other communications technologies. Combined, these approaches aim to enhance the image of China's military, propagate official news, transmit ideology lessons, squelch rumors, boost morale and motivate military personnel. A discussion of recent tech-savvy upgrades provides a glimpse into the CCP's ongoing efforts to adapt to an increasingly networked China, stay ideologically and politically dominant, and maintain control of the Chinese military.
The PLA's Revamped Political Work Website
Last November, top officials from the Central Military Commission (CMC) attended the launch ceremony of the "New-Version Political Work Website of the Chinese People's Liberation Army," the first major upgrade since the site launched in 2005. The overhaul increased the number of channels from 47 to 61, added streaming radio and TV, a mobile phone newspaper and "beautified" visual effects. Politburo member and CMC vice chairman General Xu Caihou attended. Xu used the network's video system to "hold dialogues" and "extended greetings to" members of the PLA Air Force's radar station in Gan Bala, Tibet, and personnel in the Shenyang Military Region. Reports in Chinese explain the political work network has become an "advanced political and ideological assistant, learning helper, cultural amusement companion, and everyday friend." The revamped website was used to demonstrate how modern communications technologies are enabling China's top military and political leaders to connect with military personnel as remote as a mountaintop radar station. The ability to connect basic-level soldiers with top-level leadership through virtual meet-and-greets and provide them with personalized political education is meant to boost morale and to create a more ubiquitous, focused system of indoctrination. Daily political work lessons, such as China's highest leadership extolling "socialism with Chinese characteristics" or the "great rejuvenation of the Chinese nation" can be easily and quickly accessed on the PLA's upgraded political work website. The network also will occupy an important position in disseminating political work specific to military building as it seeks to "actively occupy the network information dissemination high ground, strengthen the network of information related to military control and management, effectively carry out online public opinion guidance work, and conscientiously grasp the struggle for dominance and guidance in the network ideological domain" (PLA Daily, November 10, 2011; China Daily, November 10, 2011). A November 2011 report about the Internet's significance in military political work in the Xinjiang Military District describes the political work network as the military base-camp's "never closed school, never closed office, never tired teacher" (PLA Daily, November 29, 2011).
Local Micro-Blogs on the Rise
The emerging role of micro-blogs within the Chinese military has similar aims as the overhaul of major national defense-related websites. Last November, a micro-blog geared toward new enlisted members gained popularity among Chinese youth joining the military. After only a month of being operational, the "Liaoning Conscript Micro-blog" had more than 160 officially sanctioned posts about joining the military, answered over 1,000 questions, and generated a following of more than 24,000 "fans." A deputy chief of staff from the Liaoning Military District said, "the youths of the new generation have become the main part of those joining the army, and they are more accustomed to gaining information through the Internet." Through the Internet and mobile phones, the "Liaoning Conscript Micro-blog" can "post information for and offer services to the youths of military age whenever and wherever possible" (PLA Daily, November 15, 2011). Besides publishing information about recruitment, micro-blogs are being used to perform "damage control," dispelling rumors and speculation about what it is like to join the PLA and the life of a soldier. Micro-blogs also are enabling the PLA to garner popular support as it builds a fan base among youngsters.
Major Overhaul of National Security Online Platforms
Chinese military online platforms have also been overhauled to improve the PLA's image and facilitate political indoctrination. Last August, the CMC in conjunction with the GPD launched an upgraded version of China Military Online, an online version of Liberation Army Daily. Also that month, after two years of a "trial operation," the website of the Ministry of National Defense (MND) became fully operational (China Daily, August 1, 2011; People's Net, August 1, 2011). The new features of China Military Online include increasing the main page from four to eight screens long, the number of sections from 13 to 85, and its article columns from 325 to 1,233. The page views of China Military Online have reportedly reached 20 million in 2011. The revamped MND website contains a comprehensive storehouse of information about China's military including "authoritative and up-to-date defense information," defense expenditures, national defense white papers, and the Ministry's routine press conferences (China Daily, August 1, 2011). Last year, the website reported at least 10 million hits. The MND also released a mobile phone application with "comprehensive coverage of key military issues, as well as breaking news from the PLA Daily" (China Daily, August 9, 2011). The facelift of major national defense websites is meant not only to "help the ministry to form a new public image" and give China's military a more "open and modernized" image, but also to enhance the breadth and depth of propagandizing all military personnel with news and other relevant information from official sources. These websites also could be used by commanding officers, political commissars and rank-and-file troops to view morale-boosting messages. One of the first such slogans came from an infantryman in September 2011 during a recent training drill in the Nanjing Military Region and was published on China Military Online: "Without hardships and strain, there is no precious gain; he who dares to fight and give his all is a real man" (PLA Daily, September 24, 2011).
PLA Reserve Units, Militia and Modern Communications Technologies
PLA reserve units and the Chinese People's militia also are using modern communications technologies to enable the political work system to penetrate every level of the Chinese military. A June 2011 article discussing the implementation of a recent round of political work regulations in China's border regions is used to "discuss innovative methods," including a move to use mobile phones among PLA reserve units to create information dissemination channels and achieve results: "wherever the mission is, propaganda work follows" (China's Defense, June 13, 2011). In April 2011, over the course of three days at Jintan Militia Training Base in Jiangsu Province, militia cadres reportedly used "innovative tools" to grasp political work teachings. They "revised and rejuvenated" the municipal people's national defense education website, started militia political work education columns and militia online communication forums, and organized cadres to go online to answer questions and eliminate misunderstandings among the militia. Cadres also organized each village and county militia emergency response team at a local online video conferencing meeting to watch films like "How is the King of the Gun Made" and "A Life with the History of Being a Soldier." The report also said, in the future, the entire city's grassroots militia members' cell phone numbers would be entered into a database, which will allow "mobile information platforms" to periodically send political and ideological messages. Official Chinese sources reported the Jintan training was an example of a successful foray into using modern communications technologies to aid the political work system and the activities "effectively invigorated the militia's political education situation" (China's Militia, April 28, 2011).
Conclusion
Last year, the CCP's efforts to censor Internet activity, especially in light of an online-aided wilted Jasmine revolution, received widespread attention. In the run up to the major leadership transition in late 2012, and as members of the PLA face a growing menu of responsibilities—many falling under the banner of "diversified military tasks"—CCP leadership must ensure its political primacy. To meet the challenges of an increasingly connected world, the CCP is not only censoring and restricting, but also using modern communications technologies to generate the degree of ideological dominance it believes necessary to effectively control its military. From revamped websites to smart phone apps to micro-blogs, the GPD's enhanced tech-savvy and growing online presence continues to advance its primary mission—maintain the absolute leadership of the party—from Beijing to the barracks [2].
Notes:
In this article, China's military, Chinese military, China's Armed Forces or Chinese Armed Forces refers to the People's Liberation Army (PLA), PLA reserves, the People's Armed Police (PAP), and the militia. Information Office of the State Council "White Paper on China's National Defense in 2002," December 9, 2002. Available at: https://english.peopledaily.com.cn/features/ndpaper2002/nd3.html.

Song Shilun and Xiao Ke, eds., Zhongguo junshi baike quanshu [The Chinese Military Encyclopedia],

Beijing: Military Science Press, 1997, p. 376.