PLA Steps Up Military Diplomacy in Asia
Publication: China Brief Volume: 11 Issue: 8
By: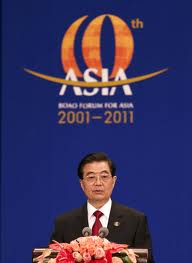 Against the backdrop of an uptick in confrontations over the past two years that punctured China's "charm offensive" in Asia, the People's Liberation Army (PLA) has apparently been tasked to undertake damage control. China's increased assertiveness in territorial disputes with its neighbors has lead to a pushback from fellow Asian powers. Followed by a lull in aggressive Chinese behaviors that U.S. officials described as "a temporary, tactical retreat from the assertive stance" (See "China's Maritime Strategy Is More Than Naval Strategy," China Brief, April 8), the 2010 White Papers for National Defense and Foreign Affairs (sections were leaked to the Hong Kong press earlier this year) reveal that Beijing is keenly aware of the fundamental changes in its regional security environment (Wen Wei Po [Hong Kong], January 11). Seemingly in response, Beijing has moved to assuage its neighbors' concerns about the PLA's growing military capabilities and intentions. Indeed, a string of recent high-level PLA delegations, covering six Asian countries in the span of two months, may serve as evidence of Beijing's increasing use of the PLA as an instrument of statecraft to achieve regional security objectives and to reshape perceptions about China's military rise.
Since mid-March, the PLA had organized five military delegations to visit Vietnam, Nepal, Philippines, Indonesia, Burma (aka Myanmar)—and Kazakhstan to participate in the defense ministers' meeting for the Shanghai Cooperation Organization. These delegations were all headed by senior officials from the Central Military Commission (CMC) or PLA General Department levels. They included one vice chairman, two CMC members and members from all four PLA General Departments, Navy, Air Force and military regions. The organization of these visits were unprecedented (China Review News, May 2).
In mid-April, Chinese Communist Party (CCP) Politburo Member and CMC Vice Chairman Guo Boxiong completed a four day visit to Vietnam. Guo met with Vietnamese Defense Minister General Phung Quang Thanh, and the Vietnamese Communist Party Secretary Nguyen Phu Trong and Prime Minister Nguyen Tan Dung. After the meetings, the two sides issued a joint news release. The heads of the two militaries reportedly agreed to continue developments in high-level military exchanges, strengthen strategic communications, and actively develop joint patrols of borders, namely, increasing the scope of joint patrols along the Gulf of Tonkin. Furthermore, the two sides agreed to continue exchanges of mid-to-high level military officers to China for short term training, and also establishing a direct hot line between the two defense ministries (China Review News, May 2).
In mid-March, PLA Chief of Staff Chen Bingde visited Nepal. Chen's visit is the highest level military delegation from China to visit in 10 years, and also the first to Kathmandu after the establishment of a new government there. During the meeting, China pledged more than $19 million in military aid to Nepal and signed agreements that included funds for equipment and infrastructure for the Nepalese army. Chen met Nepalese Army Chief General Chatraman Singh Gurung during his three-day trip, as well. Also in mid-March, Deputy Director of the PLA General Political Department Jia Tingan visited Burma and the Philippines (China Review News, May 2).
Moreover, PLA Deputy Chief of Staff General Ma Xiaotian attended the defense conference "Jakarta International Defense Dialogue 2011" hosted by Indonesia from March 23-25. Finally, Chinese Defense Minister Liang Guanglie attended the Shanghai Cooperation Organization Defense Minister Summit, which also took place in mid-March, and signed several agreements with the four other defense ministers present (China Review News, May 2).
On balance, the apparent Asia-focus of China's recent diplomatic maneuvers dovetails President Hu Jintao's public pronouncement at the 2011 Boao Forum about putting Asia first in China's external relations. For some analysts, this may be seen as an indicator that the Asia First camp, which is the school of thought that seeks to compete with the United States and undermine American influence in Asia, may be gaining currency in China's domestic foreign policy debate (China Review News, May 2). Whether these recent efforts signal a return to 'smile diplomacy' or rather a shift toward propaganda warfare remains to be seen. Nevertheless, the efficacy of the PLA's military diplomacy and its increased role constitutes just one part of an expanding presence that China manifests as a global power. While Beijing has shown that it is increasingly adept at waging military diplomacy, its successful rise will depend much more on its actions.