Poland: Ukraine's Crucial Hinterland
Publication: Eurasia Daily Monitor Volume: 19 Issue: 25
By: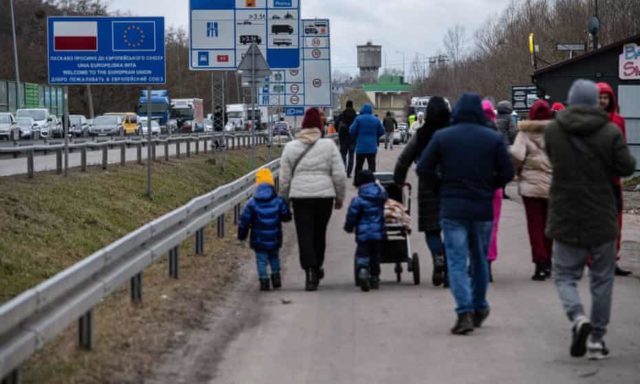 The Russian war of aggression in Ukraine and fast-mounting tensions between Moscow and the West have spotlighted the strategic significance of Poland. As important as Poland's political-military potential and capabilities may be, certainly it is this country's geostrategic position that has currently proven most valuable to Ukraine as well as the United States. The US Embassy in Kyiv has relocated to eastern Poland, and the Central European republic is hosting incoming deployments of military units and equipment from the North Atlantic Treaty Organization (NATO). Poland's geographical vicinity to the conflict zone boosts the importance of the country from both military and humanitarian perspectives. The first is vital for the security of NATO's eastern front and efforts to support embattled Ukraine, the latter is related to the necessity of providing assistance to Ukrainian civilians fleeing their homes as a result of the Russian escalation.
As with the Polish reaction to the events in 2014, Warsaw views the ongoing Russian large-scale military operation in Ukraine as a threat to the Polish state's national security. As a result, the government has for months been pursuing intensified diplomatic efforts to internationalize the issue. Meaningfully, President Andrzej Duda and his Lithuanian counterpart, Gitanas Nausėda, paid their last visit to Kyiv on February 23 (Prresident.gov.ua, February 23)—the day before the Kremlin announced its attack. Unsurprisingly, Poland was also among the group of countries that called for an emergency consultative meeting of the North Atlantic Council on the basis of Article 4 of the NATO alliance's founding treaty (Twitter.com/BBN_PL, February 25).
On February 24, President Duda invited Ukrainian Foreign Minister Dmytro Kuleba to a briefing with the ministers and senior military officials at the Polish National Security Bureau (Prezydent.pl, Feb 24). What is more, Poland hosted an extraordinary summit of the Bucharest Nine (B9) in Warsaw today, February 25. Earlier reports suggested Turkey would participate, but it leadership ultimately did not attend. However, on February 24, the B9 held an online defense ministerial that notably involved US Secretary of Defense Lloyd Austin (Twitter.com/MON_GOV_PL, February 24). President Duda appealed to his B9 counterparts and other NATO allies to provide Ukraine with further military aid and political assistance, as requested by Ukrainian President Volodymyr Zelenskyy earlier this morning (Twitter.com/ZelenskyyUa, February 25); and the Polish head of state declared that Moscow's elites only understood "the language of force" and so this language would need to be adopted by the Western countries (President.pl, February 25).
The feeling of the increasing gravity of the situation is widespread across Polish society. Movements advocating solidarity with Ukraine, street protests against the Russian reinvasion, and various other pro-Ukrainian activities are being organized non-stop and on a mass scale by Polish non-governmental organizations (NGO), local authorities and ordinary people. But the situation has already had a negative impact on society as well. Large groups of people, fearing the ongoing tensions, have begun acting hastily, besieging gas fuel stations and withdrawing large sums of cash from banks (Bankier.pl, February 24, 25).
In addition to its international diplomatic activities, Poland continued its efforts on the ground. Prime Minister Mateusz Morawiecki informed on Friday that the country would be closing its airspace to all Russian aircraft (RFM24, February 25). And yesterday, the Polish Ministry of Defense informed that it had heightened the standing alert for selected units of the regular and Territorial Defense Forces (Gov.pl, February 24). Bearing in mind the specificity of the latter, the Territorial units are being prepared to provide assistance to the civil services (Wp.mil.pl, February 24). Indeed, Poland is girding its institutional system for a mass influx of migrants and wounded Ukrainians. Several days preceding the start of the Russian reinvasion of Ukraine, Poland's Ministry of Interior and Administration was working with the voivodes (government representatives in the Polish regions, known as "voivodships") on providing shelter/accommodation for expected refugees. This cooperation has now reportedly intensified (Twitter.com/MSWiA_GOV_PL, February 24). The Ministry and the Office for Foreigners are running a special website and hotline for Ukrainian refugees (Gov.pl [1] [2], accessed February 25). And Poland has opened eight reception points at the border, where refugees will receive detailed information about their stay in Poland, including addresses of temporary accommodations in Poland, a hot meal, water, basic medical assistance and a place to rest (Gov.pl, accessed February 25). Minister for Families and Social Policy Marlena Maląg announced that all legal matters involving residency or work permits for Ukrainian citizens will be handled with minimal administrative obstacles and placed "at the head of the line" (Business Insider—Polish service, February 25).
The Council of Ministers dropped all COVID-19-related restrictions for Ukrainian refugees entering Poland, completely abolishing the quarantine obligation for this group of people (Adam Niedzielski Twitter, Feb 24). As declared by Health Minister Adam Niedzielski, 120 Polish hospitals, which are expected to provide care for a few thousand Ukrainians, are on stand-by if the situation deteriorates, while a special ambulance transportation system was prepared to bring the wounded from the Polish-Ukrainian border to nearby healthcare facilities (Wirtualna Polska, February 24). Finally, the Government Security Center has been sending text messages to every Ukrainian cell phone that has connected to the Polish mobile service alerting them of Poland's readiness to accept war refugees and noting where to find more detailed information (Twitter.com/RCB_RP, Feb 25).
Both Polish and Ukrainian government institutions informed on Thursday that the situation at the border was stable and traffic had not intensified (Facebook.com/DPSUkraine, Twitter.com/MSWiA_GOV_PL, February 24), but the situation might change quickly as the war heats up further. Indeed, by late Friday evening, Polish authorities informed that they had accepted 35,000 Ukrainian refugees (Twitter.com/MSWiA_GOV_PL, February 25). Hence, Poland, due to its socio-economic and military-industrial potential as well as geographical vicinity will need to be prepared to become Ukraine's hinterland—not only in a military sense but also in terms of humanitarian assistance. As the crisis drags on, however, this role will likely increasingly depend on external European support.