Police and Authorities Struggle to Control Unrest in Moscow
Publication: Eurasia Daily Monitor Volume: 9 Issue: 94
By: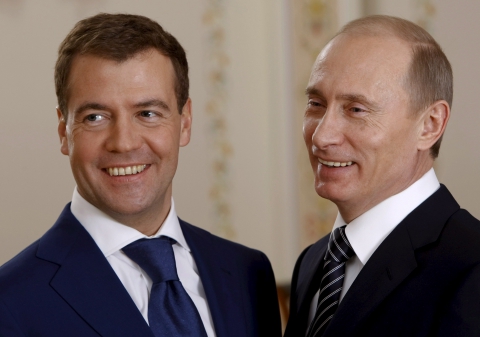 The forming of the new cabinet and presidential administration in Moscow after the inauguration of Vladimir Putin for a third six-year term as president on May 7, seems to have turned out to be much more time-consuming than previously anticipated. On May 14, prime minister designate – former president Dmitry Medvedev – officially presented Putin with a draft presidential ukaz (decree), outlining the new cabinet. The exact list of new appointments is being kept as a tight secret, fueling rampant speculation in the Moscow press (Lenta.ru, May 16). It has been announced that Putin will take at least until next week to consider the proposal and to consult the future appointees. The postponement of appointments has created intense legal havoc. It has been at least ten days since Putin and Medvedev have changed positions and yet key advisers and aides have not. The present post-inaugural power transfer seems to be the most drawn-out and cumbersome since Putin came to power in 2000 (Kommersant, May 16).
The rearrangement of Putin's and Medvedev's clientele of loyalists to new positions within the maze of corrupt government departments and state-owned corporations may indeed be a daunting task. Putin's decision to skip the May 18 to May 19 G8 summit at Camp David, Maryland and a meeting with President Obama (sending Medvedev instead) has been officially explained by the need to finalize Cabinet appointments and the drawn out process of political appointments seems to support this justification. It is also possible the final cabinet appointments were deliberately postponed to create a pretext for Putin to skip the G8. Putin and Medvedev have been drawing up the list of Cabinet appointments for several months. The absence in Moscow of Medvedev, sent to Camp David, while Putin is reportedly spending time on vital consultations seems to clearly indicate – everything has been already settled and the "consultations" are a mere formality, since the president cannot indeed rewrite the draft Cabinet structure, with the prime minister away (Kommersant, May 16).
Pundits in Moscow argue, however, that Putin's decision not to go to Camp David was a way to snub Obama, to show Russia's growing independence and overall disregard for the community of leading democratic nations. The other opinion is that Putin is too preoccupied personally coordinating attempts to suppress anti-government protests in Moscow and the situation seems so threatening, he cannot even risk being abroad for several days on a transatlantic visit (Kommersant, May 16). In fact both arguments may be true.
Public protests in downtown Moscow have continued non-stop since May 6, when OMON riot police brutally dispersed a mass anti-Putin rally in the center of Moscow. From May 6 to May 9 riot police mobilized from all over Russia continued to brutally attack civilians in Moscow's streets, arresting pedestrians for merely wearing a white ribbon – the color of the anti-Putin protest movement. Prominent protest leaders – anti-corruption activist Alexey Navalny and leftist Sergei Udaltsov – were jailed on May 9 for 15 days on trumped up charges of "resisting police." Starting from May 9 until May 16 the police presence on Moscow streets decreased. Some 4,000 OMON officers from all over Russia were reportedly sent home from Moscow (Interfax, May 11).
On May 10, some young protesters organized a permanent opposition camp in the Chistye Prudy Boulevard close to the Novaya Gazeta headquarters in downtown Moscow. Authorities did not send in the OMON to evict them until the early morning of May 16. In a demonstration of mass popular support for the protest camp on Chistye Prudy, a group of prominent Russian writers, journalists, poets, pop musicians and TV personalities organized on May 13 a demonstration that gathered up to 20,000 individuals that marched from Pushkin Square in downtown Moscow down the boulevard ring to Chistye Prudy. The police did not intervene, while the authorities seemed increasingly unsure as to what to do next. This week after a handful of Chistye Prudy residents complained about the permanent protest camp, a local judge ruled an eviction that was forcibly implemented by riot police outside dew procedure, without prior warning and without any possibility to appeal. Moscow city authorities announced no other opposition encampments will be allowed (Interfax, May 16).
The protest camp anyway moved to another downtown square adjacent to the US embassy. The OMON again went into action, arresting activists, taking away food and allegedly stealing a box with 250,000 rubles ($8,200) of public donations to sustain the camp. But again the police action was not decisive – the camp on Barrikadnaya was not fully dispersed, while the local municipal council of the Presnya district of Moscow, controlled by opposition parties after last December elections, announced it will designate a place on its territory and allow a permanent opposition "Summer Freedom Festival" from May 17 till September 15. Again the authorities seemed at a loss as what to do next (Interfax, May 17).
The ruling United Russia party rose to the challenge by passing a resolution "demanding the capture and punishment of the perpetrators of the May 6 riot" (Kommersant, May 14). A grand political show trial is possible. But in Russia, the notoriously corrupt and brutal police force is universally hated by all fractions of society, so United Russia will surely not gain any political points. Additionally, special legislation is being run through the parliament, designed to become a law by June 12, aimed at effectively banning any public opposition activity by increasing 1000 fold fines for disturbing order during rallies and marches – envisaging up to 1.5 millions rubles ($50,000) for organizers and 900,000 rubles ($30,000) for participants. Anyone ever convicted of a misdemeanor will be permanently denied the right to organize public events. The Duma is planning to approve this draconian legislation on May 18. All opposition fractions plan a walkout and public figures predict the protest movement will not be deterred (Interfax, May 17).
Putin's regime is beginning to visibly crack: If it cannot control the streets of Moscow, its authority will begin to universally crumble and, as unrest spreads, the ranks of the OMON regime defenders will begin to wear thin. Gennady Zuganov, the leader of the biggest Duma opposition Communists fraction, predicted that as the euro crisis batters the world economy, in the fall massive discontent will engulf Russia, the police will lose control and the regime will fall (Interfax, May 16). It is clear a revolution is indeed brewing in Russia and Putin may in the future skip many other foreign engagements.