Policemen in Chechnya Killed in Attacks
Publication: North Caucasus Weekly Volume: 10 Issue: 18
By: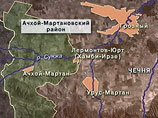 A police officer in Chechnya was killed and three others seriously wounded May 3 when militants opened fire on the cars in the republic's Achkhoi-Martan district, RIA Novosti and The Associated Press (AP) reported on May 4. AP quoted Chechnya's Interior Ministry as saying that the policemen had been driving two vehicles into a village when three attackers opened fire with Kalashnikov rifles and then escaped.
On May 2, a policeman was killed in a bomb blast outside the village of Shuani in Chechnya's Nozhai-Yurt district, Interfax reported. According to the news agency, an explosive device made from a 122-mm shell detonated as a convoy of five district police cars was passing by. On May 1, an interior ministry serviceman was severely wounded in an explosion outside the village of Belgatoi in Chechnya's Shali district. According to Itar-Tass the blast took place as two armored personnel carriers were crossing a small bridge over an irrigation canal. According to the news agency, the device used in this incident is also thought to have been made from a 122-mm artillery shell.
Interfax reported on May 5 that police detained a member of an "illegal armed group" in the village of Alkhan-Kala in Chechnya's Grozny district and two brothers in the village of Bamut in the Achkhoi-Martan district who had helped militants. A law-enforcement source told the news agency that another rebel accomplice, who had stored ammunition for members of an "armed group" led by militant leader identified as "Saidov," was detained in Grozny's Staropromyslovsky district.
Two militants were killed in a special operation in Grozny's Zavodskoi district on May 3.
In neighboring Ingushetia, a man was killed in the Barsukinsky district of the city of Nazran on May 2 when unidentified attackers opened fire on his car. RIA Novosti quoted an Ingush Interior Ministry spokesman as saying that attackers were driving in a car with tinted windshields and no license plate and opened fire with automatic weapons, killing Anzor Uzhakhov. Two other people in the victim's car, including his brother, were unhurt.
A fire broke out in a building housing the Culture Ministry of Ingushetia and two theaters in Nazran on April 30, thirty minutes after a concert by local pop singers, Itar-Tass reported on May 1. No one hurt in the blaze, which fire crews were able to prevent from spreading to other premises. The news agency reported that law-enforcers were not ruling out arson.
In Dagestan, two officers of the federal narcotics control service (FSKN) were wounded in a shootout with drug dealers in Makhachkala on May 4. A drug dealer was reportedly also wounded in the incident.
Meanwhile, unidentified attackers threw a grenade at the house of Magomedgadzhi Aydiev, the head of Dagestan's Novolaksky district, on May 3. While no one was hurt in this incident, the Regnum News Agency noted that Aydiev's car was attacked by gunmen in September 2008, that an attempt was made on the life of a former Novolaksky district head, Tamerlan Omaev, in July 2007, and that another former head of the district, Arsen Khaidakov, was shot to death in July 2004. The news agency noted that substantial funds have been allocated to the district, which borders Chechnya, under a republican program to repatriate Chechens deported in 1944.
On May 1, an improvised explosive device detonated near an armored vehicle carrying prison officials as it was leaving the Dagestani town of Khasavyurt. Interfax reported that no one was hurt in the incident.