Poroshenko Starts to Mend Fences with Russia
Publication: Eurasia Daily Monitor Volume: 6 Issue: 198
By: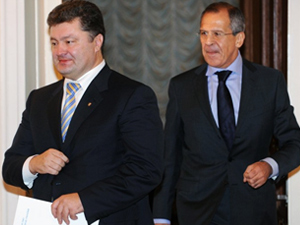 Ukraine's Foreign Minister Petro Poroshenko visited Moscow on October 23. Appointed earlier this month, Poroshenko views rapprochement with Russia as one of his main goals, and he made a point of saying what Moscow wanted to hear during his meeting with Russian Foreign Minister Sergei Lavrov and in his comments afterwards. He could not offer anything specific though as it is unclear how Ukraine's foreign policy will be transformed when President Viktor Yushchenko steps down next year. Although Poroshenko's peacemaking intentions were appreciated in Moscow, he was not told anything specific. It is still not clear when a new Russian ambassador will arrive in Kyiv or whether President Dmitry Medvedev will meet Yushchenko.
Relations with Russia reached their nadir after the Georgian war last year. While Yushchenko voiced his unconditional support for Georgia, Moscow accused Kyiv of selling arms to Tbilisi and alleged that Ukrainians were spotted fighting on the Georgian side. The relations were further exacerbated by the harsh statements which Medvedev made this past August. He accused Yushchenko of intentionally spoiling bilateral relations and made it clear that a new Russian ambassador would not be sent to Kyiv until after the January 17, 2010 presidential election in Ukraine. Moscow refused to organize a meeting between Medvedev and Yushchenko at the CIS summit in Moldova earlier this month and Medvedev even tried to avoid shaking hands with Yushchenko at the summit (UNIAN, October 9).
Mutual recriminations continued ahead of Poroshenko's visit. Russian Deputy Foreign Minister Grigory Karasin accused Yushchenko of violating the basic agreements on the Black Sea Fleet (BSF) base in Sevastopol by making border crossing rules more complicated for Russian ships and sailors (Izvestiya, October 22). Yushchenko, addressing the intelligentsia in Kharkiv, said that problems with Russia were unavoidable as "any country developing as a democracy will have problems in relations with a great empire." Yushchenko noted that Russia has difficult relations with nearly all its neighbors (Interfax-Ukraine, October 22).
Against such a background, mending fences was not an easy task for Poroshenko. He attempted to circumvent problems as best as he could, by playing down the differences. Poroshenko told Lavrov that Yushchenko, parliament, the cabinet and the opposition were all interested in strategic partnership with Russia, so there was no need to "reset" bilateral relations. Poroshenko also declared that there was no urgency to revise the BSF agreements according to which the BSF is stationed in Sevastopol until 2017, and Lavrov agreed with him (Ukrainska Pravda, October 23). It is feared in Ukraine that the Russian navy will not leave Sevastopol after 2017, and the head of the Russian movement to support the navy, Mikhail Nenashev, confirmed after Poroshenko's visit that Moscow will seek the prolongation of the BSF agreements (UNIAN, October 25). However, this problem will be left to a Ukrainian president elected in 2015 to solve, consequently Poroshenko apparently decided not to vex Russia.
Poroshenko also dismissed the possibility of stationing U.S. air defense systems in Ukraine. He said the United States has not officially raised this issue with Kyiv (Rossiyskaya Gazeta, October 26). Earlier, he had rejected the suggestion made by the U.S. Assistant Secretary of Defense Alexander Vershbow that U.S. early warning systems could be stationed in Ukraine (Segodnya, October 9). Poroshenko also said that the issue of joining NATO, a special concern for Moscow, was not on the Ukrainian agenda (Kommersant-Ukraine, October 26).
After meeting with Lavrov, Poroshenko downplayed both Ukraine's role in the conflict with Georgia, saying that Ukrainians did not participate, and Medvedev's accusations against Yushchenko of spoiling bilateral relations (Ekho Moskvy, October 23). He said that Lavrov had agreed that the mutual blacklists of unwanted visitors should be gradually scrapped (Interfax-Ukraine, October 23). This had been declared also by Poroshenko's predecessors, though little has changed in this respect. Poroshenko himself had been blacklisted by the Russian authorities and denied entry to Russia in early 2007.
Despite his efforts to please Moscow, Poroshenko was not told when a new Russian ambassador would be sent to Kyiv to replace Viktor Chernomyrdin, or whether Medvedev would agree to meet Yushchenko to discuss bilateral problems face-to-face. "We declared the need to organize this meeting," said Poroshenko. "Now the ball is in the Russian court." Asked about the ambassador, Lavrov only said that the ambassador designate, Mikhail Zurabov, was "getting prepared for his departure to Kyiv." He has kept saying this for months. Poroshenko admitted afterwards that a lack of trust was the main problem in bilateral relations (Kommersant-Ukraine, October 26).
Poroshenko can personally win trust in Russia as he apparently plays according to rules accepted in Moscow. The official newspaper Rossiyskaya Gazeta said on October 26 that Poroshenko pleasantly surprised many in Russia. The Russian charge d'affairs in Kyiv Vsevolod Loskutov, noted that Poroshenko's visit was successful and constructive (Ukrainski Novyny, October 26). More progress is expected at a meeting between Russian Prime Minister Vladimir Putin and Ukrainian Prime Minister Yulia Tymoshenko, which is scheduled for November 19 in Yalta, as the two have apparently managed to establish very good relations.