Pre-Election Political Competition Intensifies in Kyrgyzstan
Publication: Eurasia Daily Monitor Volume: 7 Issue: 181
By: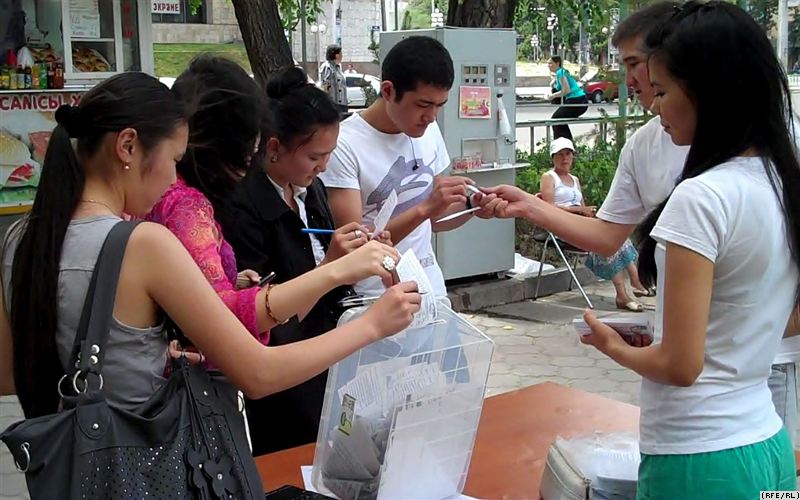 Earlier forecasts suggesting that Kyrgyzstan's electoral campaign season would turn violent have proved to be wrong. Twenty-nine political parties contesting the October 10 elections have conducted civilized and often creative campaigns. A recent report by the Office for Democratic Institutions and Human Rights (ODIHR) confirms that except for few cases, all political parties had equal access to mass media. Despite a shortage of staff at the Central Elections Commission, few complaints about preparations for the elections were filed (https://www.osce.org/documents/odihr/2010/10/46497_en.pdf). OHDIR's assessments were widely supported by the local NGO community.
This seeming balance, however, has been disturbed days before the elections. The Kyrgyz Prosecutor-General's Office accused Ata-Jurt political party, of spreading inter-ethnic hatred. The indictment came almost two weeks after Kamchybek Tashyiev gave an interview to an online newspaper asserting that if any ethnic minority group felt equal or superior to the ethnic Kyrgyz, the country is doomed to fail.
Although Tashiyev's views are perhaps tacitly supported by other politicians, he was widely criticized by the national media and NGO activists. Public loathing of his comments reached its peak on October 6 when roughly 200 protestors gathered outside the Ata-Jurt office (www.akipress.kg, October 6). Reportedly, the protesters were members of families that suffered during ethnic violence in June in southern Kyrgyzstan.
Since allowing ethno-nationalist rhetoric to slip, Tashiyev and his fellow party members have apologized on numerous occasions and have tried to emphasize that the party treats all ethnic minorities equally (EDM, October 5). Since Ata-Jurt has readily retracted its own discriminatory statements, some observers in Kyrgyzstan deem the government's prosecution of the party, as well as public protests against the party, as politically motivated. The Prosecutor-General's Office's decision to hold Ata-Jurt accountable might also denote hidden competition, in which the major political parties are using indirect ways to challenge each other.
Ata-Jurt, in turn, was one of several parties, including Ar-Namys and Zamandash, to sign a statement claiming that the Social Democratic Party of Kyrgyzstan (SDPK) led by the flamboyant, Almazbek Atambayev, has used unlawful methods against its competitors. The SDPK was "generally preparing to disrupt the elections and move them to February of next year," according to the joint statement. Although SDPK rejected such accusations, the possibility that the party has indeed used dirty tricks during the election campaign remains open to speculation. Along with Ata-Meken Party, led by Omurbek Tekebayev, SDPK hopes to gain considerable support on October 10. Although Ata-Meken and SDPK cannot prevent each other from winning seats in the parliament, they may steal votes that would go towards other parties. According to Kyrgyz political observer, Valentin Bogatyrev, SDPK derives the bulk of its support in northern Kyrgyzstan and only one third of its supporters are located in southern areas (Carnegie Endowment discussion, September 28). By contrast, Ata-Jurt, Bogatyrev asserts, is better known in the south than in Bishkek. Ar-Namys and Zamandash will most likely earn equal support in the northern and southern parts of the country.
According to National Democratic Institute's (NDI) recent telephone opinion polls, 87 percent of respondents nationwide are planning to cast their votes on October. Despite such a potentially high voter turnout, almost one-fifth of Kyrgyz voters remain undecided. NDI data shows that Ata-Meken would gain 15 percent, Respublika party 14 percent, Ar-Namys 13 percent, SDPK 12 percent, and Ata-Jurt 11 percent. These predictions are consistent with the UN Development Program and other observers' findings.
Meanwhile, ODIHR reports that all competing parties comply with the gender and ethnic minority requirements set by the country's electoral code: one third of all candidates must be women and one fifth must represent ethnic minorities. "National minorities and women are represented in election commissions at all levels," the ODIHR report states.
Most voters in Kyrgyzstan, however, are convinced that the real battle begins after October 10 when the election winners will need to converge in coalitions while others find their place in the country's political arena. At least three political parties will have to form a majority coalition. Given the intensifying animosity among contesting parties, no other political party, except for Ata-Meken, would be willing to join SDPK in the parliament.