Premier Wen's "Southern Tour": Ideological Rifts in the CCP?
Publication: China Brief Volume: 10 Issue: 18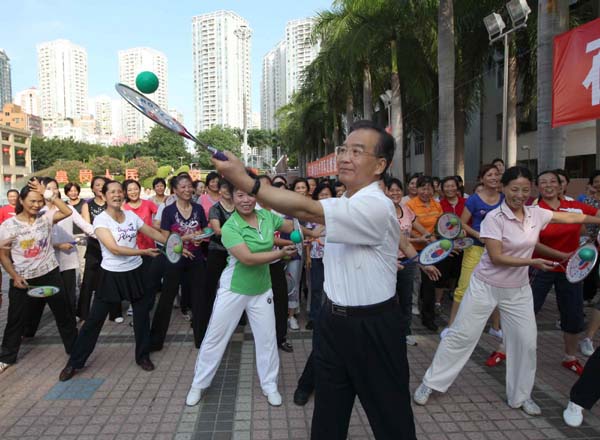 Two years before he is due to retire from the Chinese Communist Party's Politburo, Premier Wen Jiabao has issued his boldest-ever call for liberalization. While in the Guangdong boom town of Shenzhen in late August, the premier raised national eyebrows by playing up the pivotal role of political reform within the country's reform and modernization program. "Not only do we need to push forward reform of the economic structure, we must also push forward reform of the political structure," Wen said on the eve of the 30th anniversary of the establishment of the Shenzhen Special Economic Zone (SEZ) (Xinhua News Agency, August 21).
Wen's unusually strong words have aroused controversy particularly because President Hu Jintao skirted the sensitive issue of political reform while marking the official celebration of the SEZ's 30th birthday on September 6. The stark contrast between the Wen and Hu speeches—and, in particular Wen's single-minded championship of political liberalization—has raised a host of questions about key issues in elite Chinese politics. Is the progressive-minded premier engaged in a struggle with an "anti-reform" faction within the CCP? Is there an ideological split between the Premier and the President? Equally importantly, will Wen really go about picking up the threads of political reform, and if so, will he succeed?
Without the "guarantee" of political reform, Wen said in his August speech, "the fruits of the reform of the economic structure may be lost, and it will be impossible to realize the goal of modernization." Dragging one's feet on reform or retrogressing, he warned, "can only lead eventually to the road of perdition" (Xinhua News Agency, August 21; People's Daily, August 22). A little over two weeks later, while speaking to Shenzhen cadres and guests from Hong Kong and Macau, President Hu praised the SEZ for "being brave in making changes and innovation and for not being fossilized [in thinking]." Yet while Hu pledged the CCP authorities' continued support for Shenzhen's "bold explorations," the Party General Secretary urged officials in the go-go city to "resolutely uphold the road of socialism with Chinese characteristics as well as the socialist theoretical system with Chinese characteristics." Hu added that Shenzhen must "continue to liberate its thinking and uphold the reform and open door policy to acquit itself of being a pacesetter in implementing the scientific theory of development and in promoting social harmony" (Xinhua News Agency, September 6; China News Service, September 6). In other words, Shenzhen must focus on economic—not political—reforms, and such endeavors must not deviate from "socialism with Chinese characteristics."
In order to discern the significance of Wen's speech, it is instructive to compare the series of liberal pronouncements made by the premier in recent years and his Shenzhen talk. At a National People's Congress press conference in early 2007, Premier Wen became the first senior cadre to openly advocate the adoption of pushi jiazhi, or "universal values." "Democracy, a [fair] legal system, freedom, human rights, egalitarianism… are not unique to capitalism," Wen indicated. "They are values that all humankind is jointly going after." In April this year, Wen published an article in People's Daily eulogizing the CCP's liberal icon, the late Party Chief Hu Yaobang. The premier, who had worked under Hu from 1985 to 1987, praised his former boss's "superior working style" as well as "lofty morality and openness [of character]". The Wen article also sparked speculation that he might try to rehabilitate the reputation of another late party chief Zhao Ziyang, who was sacked for supporting no-holds-barred, "Westernized" political reforms (Xinhua News Agency, March 15, 2007; People's Daily, April 15, 2009; New York Times, April 15).
While these opinions constituted a departure from the party's conservative mainstream, Wen had refrained from criticizing his colleagues. The Shenzhen fusillade is remarkable because it amounted to a warning to—and a rebuke of—cadres who have failed to implement the edicts of illustrious reformers such as Deng Xiaoping. "Staying put and regressing will not only doom the attainments of 30 years of the reform and open-door policy—and the valuable opportunities of development—but also suffocate the vitality of socialism with Chinese characteristics and go against the wishes of the people," Wen said. Moreover, parts of Wen's speech—especially the caveat about enemies of reform shepherding the nation down a "road to perdition"—were repetitions of what late patriarch Deng Xiaoping said during his famous "tour of the south" in 1992. While visiting the Shenzhen and Zhuhai SEZs, the chief architect of reform delivered a stern warning to the CCP's conservative faction (Xinhua News Agency, February 19, 2009; People's Daily, February 19, 2009).
Who, then, is Wen targeting? At the very least, mid- to senior-ranked cadres who have cast aspersions on the premier's pro-reformist edicts. Following Wen's favorable assessment of pushi jiazhi, a number of crypto-Maoist academics and commissars in influential units such as the Chinese Academy of Social Sciences (CASS) slammed the premier for introducing "dangerous" Western ideas. Take, for example, well-known CASS Marxist scholar Hou Huiqing, who made a thinly veiled attack against Wen in a 2008 article in the Journal of the Chinese Academy of Social Sciences. Hou asserted that people who praised "universal values" were "challenging mainstream socialist ideology" and "submitting themselves to the strong-willed discourse of the West." At the same time, CASS President Chen Kuiyuan noted, "we must not engage in blind worship [of the West] and we must not extol Western values such as so-called universal values" (Chinaelections.org, June 28, 2008; Journal of Chinese Academy of Social Sciences, March 19, 2009). In a recently circulated Internet article, commissar Zhang Qinde, a retired official at the Policy Research Office of the CCP Central Committee, went so far as to single out Wen for having committed "six major errors." These included fomenting "capitalism with Chinese characteristics;" encouraging "bourgeois liberalization" or wholesale Westernization; and even "fanning the flames of the Zhao Ziyang Faction" (Ming Pao [Hong Kong], June 9; Maoflag.Net [Beijing], April 23).
There is speculation that Wen's Shenzhen speech is emblematic of an ideological rift between the premier and President Hu, who as party general secretary is in charge of the party and country's overall political orientations (Apple Daily [Hong Kong], August 31; Asiasentinel.com, August 30; Frontline [Hong Kong monthly], July 2010). For the past few years, Hu, together with Politburo members Li Changchun and Liu Yunshan—who have direct control over the party's ideological and propaganda apparatuses—has been trying to enrich what he calls the party's "socialist theoretical system" by reviving orthodox values such as "sinicizing and popularizing Marxism" (See "Chinese leaders revive Marxist orthodoxy," China Brief, April 29). For example, in a late 2008 speech marking the 30th anniversary of the inauguration of the era of reform, Hu said the CCP "never copies the political system and model of the West"—and that it must avoid the "deviant path" of capitalist values. (Xinhua News Agency, December 18, 2008; People's Daily, December 19, 2008). And in his Shenzhen speech, Hu called on local cadres to "push forward the construction of the system of socialist core values, firm up beliefs in socialist ideals with Chinese characteristics, and to popularize patriotism, collectivism and socialist ideas" (Xinhua News Agency, September 6; People's Daily, September 6).
The belief that Wen may not see eye to eye with his conservative Politburo colleagues is supported by the fact that several of Wen's speeches over the past year have not been fully reported by the state media. For example, in reporting on Wen's activities in the SEZ last month, Shenzhen Television exorcized Wen's remarks about political liberalization. At the height of labor unrest in Guangdong and other provinces earlier this year, the premier told Hong Kong-based Pheonix TV that the incidents reflected "deep-seated contradictions" in Chinese society. Not a single official media picked up Wen's seminal remark. Given Wen's rank and prominence, the decision to underplay his speeches could only have been made at the very top of the party hierarchy (Yazhou Zhoukan [Hong Kong weekly], September 5; HKreporter.com, August 30).
In light of conservative party leaders' negative views about reform, it is doubtful whether, having made a bold call for liberalization, Premier Wen is willing and able to follow this up with concrete policies. Several avant-garde academics and thinkers have given Wen high marks for re-hoisting the flag of political reform. Zhou Ruijin, a liberal theorist and former deputy chief editor of People's Daily, praised Wen for "directly and comprehensively raising the goal of political reform." "While some people are blindly optimistic about 'the China model,' Wen has the wisdom of seeing the danger of freezing reforms," he said. According to liberal party elder Du Daozheng, who was once close to Zhao Ziyang, the premier is capable of taking substantive measures to realize his goals. Wen was "genuinely and resolutely committed to implementing the Deng Xiaoping line," Du indicated. "He is firmly, clearly and unyieldingly pushing forward reform and the open-door policy" (Yazhou Zhoukan, August 30; Sina.com, August 28).
Other heavyweight intellectuals, however, gravitate toward the view that Wen is just paying lip service to high-minded goals. Well-known writer Yu Jie, who recently published Wen Jiabao: China's Best Actor in Hong Kong, believes that the premier is merely trying to burnish his liberal credentials for the history books. "Wen Jiabao is not Zhao Ziyang," Yu pointed out after reading Wen's Shenzhen speech. "There is thunder but no rain. It is unrealistic to see Wen as the star who can save China" (Apple Daily, September 1; BBC News, August 16). Moreover, it is important to note that like his predecessor, former premier Zhu Rongji, Wen's portfolio consists entirely in economic matters. He has little say on matters relating to ideology, culture or propaganda.
In public statements the past year, senior officials and media commentators have largely steered clear of the controversial issue of political reform. The exception is a series of articles distinguishing between "two kinds of political reform" and "two kinds of democracy," namely, the dubious, capitalist-style variety in the West versus socialist political and democratic norms. For example, in an early September commentary entitled "Don't confuse two kinds of democracy," Guangming Daily lambasted liberal cadres for "failing to distinguish between socialist and capitalist democracies" and for "having arbitrarily imposed Western concepts on the reality of China's political development." In an apparent dig at Wen, the Guangming Daily commentator noted that those who talk about political liberalization in Shenzhen should first clarify the question of "who will be running the show" after such reforms have run their course (Guangming Daily, September 5; Newcenturynews.com, September 5). In other words, conservatives are arguing that both Deng- and Wen-style political reform may result in the CCP losing its stronghold on power.
Instead of political reform as defined by liberal leaders such as Deng Xiaoping and Hu Yaobang, mainstream cadres, including President Hu, have been focusing on administrative streamlining and, more recently, "innovation in social management." In an early September article, the Xinhua News Agency cited Hu's ideas about social management, which included "safeguarding and improving people's livelihood" and "promoting social equality and justice." Moreover, the main thrust of social management is not large-scale political change but ways and means to foster socio-economic harmony by defusing contradictions among China's disparate classes and interest groups (Xinhua News Agency, September 4; Legal Daily, July 2). The possibilities that the CCP leadership may revisit political reform is also affected by the fact that preparations for large-scale personnel changes at the upcoming 18th CCP Congress have begun and honchos of various factions are preoccupied with pushing the promotion prospects of their protégés. Even assuming that Wen is totally committed to resuscitating reform, the odds that the 68-year-old premier—who appears to be a minority of one within the CCP's top echelon—can do much in this regard are slim.