PRESSURE ON AKP MOUNTS AMID FEARS OF ETHNIC VIOLENCE
Publication: Eurasia Daily Monitor Volume: 4 Issue: 196
By: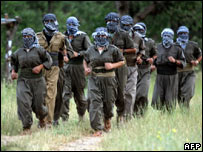 The public pressure on Turkey's ruling Justice and Development Party (AKP) to launch a cross-border military strike into northern Iraq has continued to mount. Further public protests have erupted following the October 21 ambush by militants of the Kurdistan Workers' Party (PKK) in which 12 Turkish soldiers were killed, 17 wounded, and another eight taken prisoner.
On October 22 tens of thousands of Turks staged protest marches across Turkey. Today (October 23) the normally restrained center-right daily Milliyet blacked out its front page in tribute to the slain soldiers (Milliyet, October 23). Turkish television reported a continuing military build-up in the southeast of the country, and TV stations showed long convoys of military vehicles heading for the border with Iraq (CNNTurk, HaberTurk, NTV, October 22-23). On October 22, 13 of the largest NGOs in Turkey, including all the main trade union confederations and business associations, issued a statement calling on the government to do whatever was necessary against the PKK (Hurriyet, Sabah, October 23).
As the United States attempted to apply pressure to the Iraqi Kurds to head off a Turkish incursion by cracking down on the PKK presence in northern Iraq, Turkish Prime Minister Recep Tayyip Erdogan warned that a military operation could be imminent. Speaking at a debate at Oxford University in Britain, he announced that Turkey could take military action within days unless Washington and the Iraqi authorities did something to rein in the PKK (Sabah, Hurriyet, Milliyet, October 23). On October 23, Turkish Foreign Minister Ali Babacan held a series of talks in Baghdad in a last-ditch attempt to find a diplomatic solution (NTV, CNNTurk, October 23).
Few Turkish commentators now doubt that, unless substantive measures are taken against the PKK presence in northern Iraq, some kind of military action is virtually inevitable. In the business daily Referans, Cengiz Candar, one of the most experienced Turkish commentators on foreign affairs and a long-time proponent of dialogue with the country's neighbors, admitted that some kind of cross-border operation appeared unavoidable but warned that ultimately a solution to the problem of the PKK could only be achieved by a long-term, cool-headed strategy — not a simple emotional response (Referans, October 23).
The final decision about whether to launch a military operation is expected to be taken at a meeting of Turkey's National Security Council (MGK), which is scheduled to be held tomorrow (October 24). Both Erdogan and Babacan will have returned from their foreign trips in time for the session (NTV, October 23).
Several of the protestors who marched on October 22 carried placards calling for the closure of Harbur, Turkey's border gate with Iraq. Northern Iraq currently transits 10% of its electricity, 70% of its bottled water, and a substantial proportion of its imported foodstuffs through Harbur. But there are concerns that, although they might eventually prove more effective in pressuring the Iraqi Kurds to clamp down on the PKK than a military operation, economic sanctions would be too slow to defuse public anger in Turkey (CNNTurk, October 23).
Given that the PKK's 23 year-old insurgency has cost over 35,000 lives – including those of more than 5,000 civilians – there have to date been remarkably few instances of ethnic clashes away from the battlefield. This is even more remarkable as large numbers of impoverished Kurds and Turks now live in close proximity to each other in the shantytowns that surround all of the metropolises of western Turkey. On October 23, in a protest march in the southeastern city of Adana, a group of high school students skipped classes to carry a placard proclaiming, "We are happy to sit together, Turks and Kurds, at the same desk" (Radikal, October 23). However, others were not so tolerant. Today mobs of Turkish nationalists trashed offices belonging to the pro-Kurdish Democratic Society Party (DTP) in six cities across Turkey. In the western city of Bursa a group of Turkish nationalists attacked and looted stores belonging to ethnic Kurds (Radikal, October 23).
Politicians and civic leaders have issued a string of calls for people to try to restrain their emotions (NTV, CNNTurk, October 23). Yet there is little doubt that in recent years, Turkish nationalists have felt an increasing threat from a more assertive Kurdish culture resulting from the easing of restrictions on the expression of a Kurdish identity, which has combined with a sense of impotence in the face of continuing PKK attacks to produce an unprecedented rise in ethnic tensions in Turkey. Also today Professor Nevzat Tarhan, one of Turkey's leading psychiatrists, warned the public of the dangers of the response to the October 21 attack spilling over into ethnic violence. "One of the objects of terrorism is to produce such a response in a society," he said. "At the moment society is in shock. If the wrong response is given we'll play right into the terrorists' hands. The perfect infrastructure has been created for those who would like to stage some provocations" (NTV, October 23).
Amid the discussions about the possible timing and extent of a cross-border military operation into northern Iraq, there is a real fear in Turkey that, if the authorities are not seen to be responding adequately to the attack of October 21, there are elements who might try to take matters into their own hands.