Prime Minister Altankhuyag's Visit to Tokyo: Fleshing out the Mongolian-Japanese Strategic Partnership
Publication: Eurasia Daily Monitor Volume: 10 Issue: 174
By: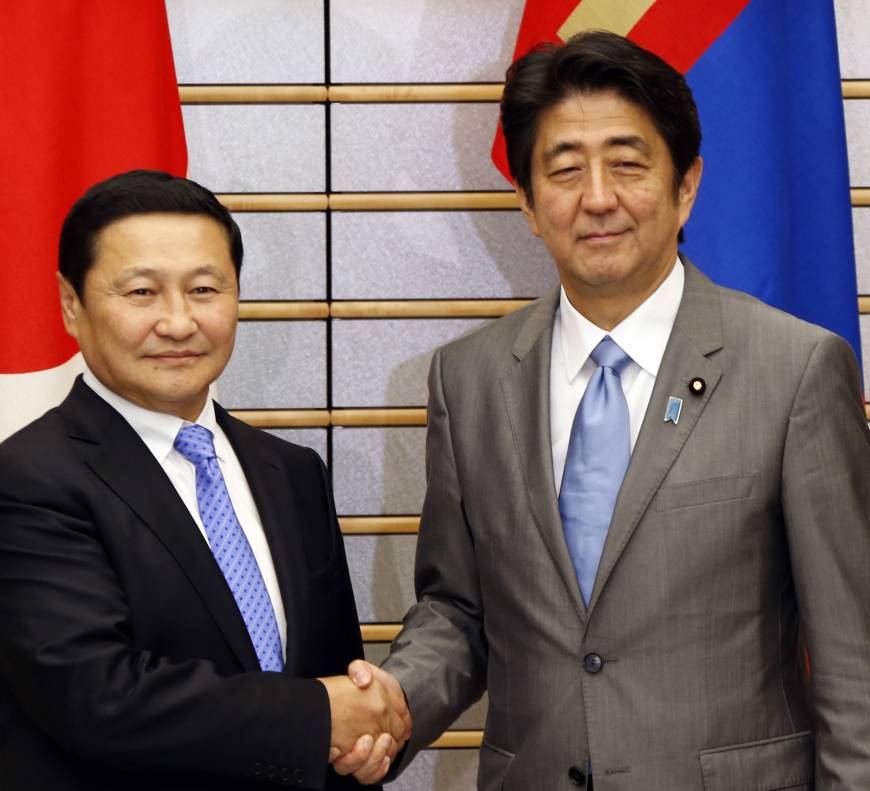 Mongolian Prime Minister Norov Altankhuyag's September 11–14, 2013 trip to Japan, his first overseas visit since becoming head of government in 2012, underscored the new vibrancy in Mongolian-Japanese relations. This visit reciprocated the very successful one of Japanese Prime Minister Shinzo Abe to Ulaanbaatar in March 2013, where both sides pledged to boost their bilateral relations to a higher level of strategic partnership cooperation (The Mongol Messenger, April 5). Altankhuyag's delegation included Economic Development Minister Nyamjav Batbayar, Mining Minister Davaajav Gankhuyag, Environment and Green Development Minister Sanjaasuren Oyun, head of the Mongolia-Japan parliamentary group and Democratic Party Secretary General Dondogdorj Erdenebat, members of parliament Oktyaber Baasankhuu and Dolgorzuren Sumiyabazar (a former professional wrestler who had competed in Japan), and the mayor of Ulaanbaatar Erdene Bat-Uul. The Mongolians returned home with significant Japanese loan guarantees, but the goal of formalizing a free-trade agreement, announced during the Abe visit, was not realized.
One of the main purposes for the trip was to sign a five-year medium-term program of bilateral cooperation to enhance their strategic partnership through specific projects. According to a joint statement released with the action program, the two countries agreed to "energetically proceed with and soon conclude the economic partnership negotiations" (japantimes.co.jp, September 14). After the signing ceremony, Prime Minister Abe in a joint press conference noted that the program was in response to initiatives he had brought to Mongolia in March: "Thanks to this program, bilateral strategic partnership cooperation will strengthen" (The Mongol Messenger, September 20). Economic Development Minister Batbayar explained that the partnership will combine Japanese high technology and financial power with Mongolia's mineral wealth and young workforce.
Altankhuyag's delegation also met with representatives of the Japan-Mongolia Economic Committee and Itochu Corporation's Vice President Yoichi Kobayashi. In that meeting, Altankhuyag noted that since the Abe visit to Mongolia, bilateral relations and cooperation have been accelerating. The Mongolian leader signed a Memorandum of Understanding (MOU) on cooperation between Mongolia's Development Bank and Japan's Bank for International Cooperation (JBIC). The MOU gives Mongolia special drawing rights and guarantees Mongolian bonds for the purchase of Japanese equipment. Another significant development was a cooperation agreement between the two banks to sell this year as much as $600 million worth of "Samurai" yen-denominated bonds. The bonds would serve as a mechanism for foreign investors to invest in Mongolia's giant state-owned Tavan Tolgoi (TT) coal deposit and surrounding rail, power, and water projects. Investors could choose to be repaid in coal. This, then, is another indication that the western portion of the TT site will not be put up for international bid as originally announced. News of these agreements resulted in a sudden strengthening of the Mongolian tugrik, which has been declining sharply versus the US dollar this year. But Mongolian-based financial houses quickly spread the word that the entire program was still pending and the implementation timetable was unknown, which stopped to some extent the tugrik's gains (frontier.mn, September 26).
The Mongolian prime minister also held talks with Japan International Cooperation Agency (JICA) President Akihiko Tanaka and the Chairman of the Japan Business Federation, Hiromasa Yonekura. JICA will be working to implement the "Erch" ("Power" in Mongolian) Initiative proposed by Prime Minister Abe in March. The Initiative called for improving the investment and business environment for Japanese companies and for designing mid- to long-term cooperation and development projects, financed with Japanese loans, to improve living conditions, build infrastructure, and elevate human resources training. Also discussed were the "UB Street" project, which involves constructing a highway along the capital's Tuul River; a sewage system in its outlying ger (tent) districts; an Ulaanbaatar metro; a soft loan to implement the "New Soum" (county) plan, training experts in environment and mining; and cooperation in industrial development projects, e.g. the establishment of a refinery at Darkhan City as well as metallurgy and coking coal reprocessing factories in Darkhan and Selenge provinces (The Mongol Messenger, September 20). Such cooperation plans are based on JICA's priority areas for country assistance policy in Mongolia dating from the 1990s (Japan has been Mongolia's most generous partner in development assistance). In response, Altankhuyag expressed both gratitude to Japan for its past cooperation and hope for additional Japanese development assistance loans, technical cooperation and feasibility studies (jica.go.jp, September 13).
While in Japan, Altankhuyag and his wife were received by Emperor Akihito. And the Mongolian head of government also met Japanese Minister of Foreign Affairs Fumio Kishida and Banri Kaieda, the president of Japan's Democratic Party. Moreover, Mongolia's prime minister again offered up his country to broker talks between Pyongyang and Tokyo regarding the issue of Japanese citizens kidnapped several decades ago and never released (japantimes.co.jp, September 14).
Furthermore, Altankhuyag held separate consultations with the Secretary General of the Japan-Mongolia Friendship Association of the Liberal Democratic Party (LDP), Motoo Hayashi (who was in Mongolia in late August to meet with Mongolian President Tsakhia Elbegdorj—see, infomongolia.com, August 27), and Hidehisa Otsuji, the deputy head of the Japan-Mongolia Friendship Association in Japan's upper chamber of parliament. He promised them that the Mongolian legislature would soon revise the investment law to improve the legal environment for all foreign investment in Mongolia. The Mongolian prime minister also gave a lecture to 800 Japanese parliamentarians, ruling LDP members, government officials and private businessmen on Mongolian-Japanese economic relations (japantimes.co.jp, September 14).
The year 2013 has been important for Mongolian-Japanese relations because of the state visits of the prime ministers of both countries. Their bilateral strategic relationship has evidently moved into concrete economic contracts in the power and construction fields. Japanese companies and banks have been persuaded to offer the Mongolians long-term low-interest loans for several big projects such as a new airport and Ulaanbaatar's metro. Nevertheless, concern persists in the international financial community that the debt the Mongolians are taking on is dangerously high. Furthermore, as the director of the Northeast Asia Division of the Japanese Ministry of Economy, Trade and Industry, Masashi Iwanaga, told journalists, the lack of a stabilized legal environment in Mongolia seriously troubles Japanese investors (english.news.mn, September 13). This fact continues to delay the full implementation of contracts, including the signing of a bilateral Free Trade Agreement.