Prospects For Regime Change in Belarus
Publication: Eurasia Daily Monitor Volume: 7 Issue: 140
By: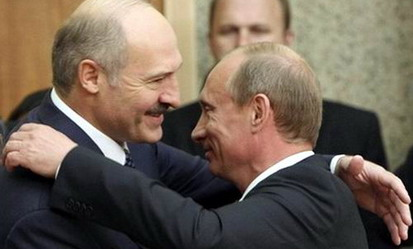 The approach of a new election always leads political analysts in Belarus to revisit a familiar question: is regime change possible or remote? Are Belarusians in general satisfied with the presidency of Alyaksandr Lukashenka? Will the current rift with Russia lead to the downfall of the leading politician in Belarus and, if so, who is likely to succeed him?
Before each election, Lukashenka adopts the posture of a man too busy to deal with the petty intricacies of a campaign. True to form, he stated in mid-July that his priorities at present are the forthcoming harvest campaign, decisions on the annual and five-year budgets, and the convocation of the so-called All-Belarusian People's Congress, an unelected body that is assembled prior to each presidential election as a means to approve the general economic policies of the leader. Traditionally also, he lambasts the opposition, and he has referred to them this time as "leeches" who simply take "grants" from foreign sources to enrich themselves. He had anticipated the nomination of two or three candidates, he commented, "but not ten!" All of them, he added, have to live off these grants because they do not work. They are thus homeless and jobless. Their goal of agreeing upon a single candidate to replace Lukashenka is a "fantasy" (Belarusian Telegraph Agency, July 16).
In this way, the president implies that the opposition is not a credible force and that its nominated candidates are little more than parasites. The election likewise becomes a tiresome diversion. To publicize such statements undermines the democratic process, particularly when the president monopolizes the media. He also continues his anti-Russian stance because he perceives that it has increased his popular standing among the electorate. Thus, during his recent visit to Ukraine for the celebration of President, Viktor Yanukovych's, 60th birthday on July 13, he met privately in the Crimea with Georgian President, Mikheil Saakashvili, and discussed the common interests of both countries. Although Lukashenka stated subsequently during a visit to the Homel region that there is no strategy to form a new alliance against Russia, it was undoubtedly interpreted in such a fashion in Moscow (Telegraf, July 14; Russia Today, July 16). The Georgians, unsurprisingly, widely publicized the meeting.
The most recent opinion poll (June) conducted by the Independent Institute for Socio-Economic and Political Studies (IISEPS) suggests that Lukashenka has a comfortable lead over his rivals. In addition, in response to a question as to whether life will improve after the retirement of Lukashenka, only 22.4 percent believed that this was the case, whereas 25.2 percent maintained that it would be worse, and 34.8 percent said that nothing would change. However, 62 percent of those surveyed declared that changes are needed in Belarus. In terms of the personal popularity of the president, the survey indicated that support for Lukashenka has increased from 42.7 percent to 45.6 percent as a result of the most recent gas conflict with Russia (Telegraf, July 6).
The survey also determined that the chief supporters of Lukashenka are women, and particularly those of pensionable age. Those least likely to vote for him are the younger generation, and especially those who have completed higher education. Among the opposition candidates, the leaders are said to be Alyaksandr Milinkevich (5.4 percent) and Alyaksandr Kazulin (4.4 percent). Asked which figure they would support for president, respondents opted for Lukashenka, followed by Milinkevich, Kazulin, Syarhey Haidukevich (he also ran in 2006 and is generally acknowledged as a supporter of Lukashenka) and Prime Minister, Syarhey Sidorski, in fifth place, despite the fact that he has not declared his candidacy for the 2011 election. The reason, according to former Minister of Labor, Alyaksandr Sasnou, is the familiarity of respondents with his name and public image (Narodnaya Volya, July 15).
Three deductions can be made from the IISEPS survey: first, although Lukashenka remains the most popular politician in the country, he would not win a first-round majority in a democratic election. Were an election to go to a second round (it has not happened since the first presidential election in 1994) then a rival candidate would, in theory, have full access to the media and have an opportunity to emerge as the clear rival for the future. Such a scenario is unthinkable for Lukashenka, who prefers to lump the opposition together as a contemptible and isolated minority group.
Second, an equal number of respondents favor potential alliances with the EU or Russia, but these are not overwhelmingly popular choices. The implication perhaps is a preference for harmonious relations with neighbors, while prioritizing domestic policies. Over 62 percent believe that improving the economic situation is more important than securing the independence of the country.
Third, the survey suggests that an increasing number of people believe that Belarus has weathered the economic crisis, despite the short-term deterioration of their financial situation. This represents the key issue for the opposition candidates to address. The leadership has evaded the full impact of a crisis by borrowing money (mostly from Moscow), maintaining old industries, and mounting a misleading publicity campaign highlighted by nationalistic slogans and directing venom at the leadership of Russia.
Ultimately, Belarusians are practical people and if they do not see prospects for improving their lives under an alternative, they will reelect Lukashenka, even though in many respects –as the survey reveals– they are not particularly satisfied with his leadership, or government agencies such as the militia, courts, and the taxation authorities.