Protests and Political Infighting in Abkhazia: Turbulence on Russia's Southwestern Flank
Publication: Eurasia Daily Monitor Volume: 19 Issue: 25
By: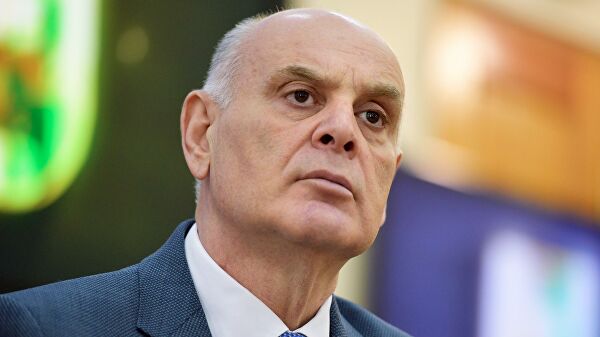 When Russian President Vladimir Putin recognized the so-called Donetsk and Luhansk "people's republics" (DPR, LPR) and ceremoniously signed association treaties with these Moscow-backed separatist Ukrainian regions on February 21 (see EDM, February 22), Georgia's own Russian-occupied territories—South Ossetia and Abkhazia—quickly welcomed the decision (Mfa.rsogov.org, Mfaapsny.org, February 22). Tskhinvali and Sukhumi have obediently supported Moscow's months-long manufactured crisis around Ukraine and full-scale invasion that began on February 24. Yet throughout this time, as the Kremlin's attention has been focused on Ukraine and, temporarily, turbulence in Kazakhstan, the political situation in Abkhazia went through its own series of spasms, thus creating a vulnerability in a strategic area of Russia's southwestern flank.
Last December, Abkhazia, whose border is less than 20 miles from Putin's "summer-time Kremlin" of Sochi, saw seemingly the strongest protests against the separatist statelet's "president," Aslan Bzhania. The incumbent Abkhazian de facto leader took office in April 2020, as a result of snap elections spurred by large-scale protests that had forced the resignation of his predecessor, the Moscow-supported Raul Khajimba.
The rally unleashed on December 21, 2021, was organized by the recently established People's Patriotic Union of Abkhazia (PPUA), composed of nine opposition parties and public figures known for masterminding demonstrations in the past. PPUA positions itself as a new opposition force dissatisfied with Bzhania's leadership because of his latest controversial decisions, including the planned selling of real estate and energy units to Russian citizens as well as the concept of "shared sovereignty" with Russia. The protesters several times unsuccessfully attempted to seize the key governmental institutions. They managed to penetrate the "parliament" and forced the Abkhazian leadership to negotiate with them. The PPUA demonstrators demanded Bzhania's impeachment by the "parliament," where he does not enjoy a majority, an extension of the terms of the "parliament" for a year, and the canceling of "parliamentary elections" scheduled for March 12. PPUA also called for a moratorium on selling real estate and energy units to Russian citizens, halting Bzhania foreign policy initiatives, abolishment of the prime minister's post, and switching from a fully majoritarian to a mixed parliamentary electoral system. Additionally, the rally organizers offered to conclude an agreement with the government about refraining from radical methods in the political arena.
The protesters, however, did not receive support from other political players or the wider public. The political party Aitayra sharply criticized PPUA, calling its actions destructive and subversive. They called on the law enforcement bodies to restore public order. One of the reasons behind PPUA's failure of was that its leaders discredited themselves while serving as officials by concealing the very problems they had proposed to address in their package of demands. PPUA disbanded the rally after receiving a promise from Bzhania to scrutinize the group's entreaties. Later on, the opposition withdrew the demand to impeach Bzhania (see EDM, December 8, 2021; Civil.ge, May 27, 2021 and December 21, 2021; Apsnypress, December 23, 2021). The lack of wide public support for PPUA likely compelled Bzhania's government to decline their appeals to postpone parliamentary elections. They will be held on March 12, as scheduled. As of early February, five registered parties nominated their candidates, and 115 initiative groups for nominating candidates had been registered by the Central Electoral Commission (Ekho Kavkaza, February 8).
Anger with Bzhania's government has been accumulating for months, mainly driven by the authorities' failure to cope with rampant crime and severe social-economic conditions. On December 2, Bzhania was forced to sack one of his confidants—Interior Minister Dmitri Dbar—following repeated demands by the opposition and war veterans for accountability over a series of high-profile criminal cases, including a September 30 shooting incident between police officials, lawmakers and war veterans. The opposition presented these cases as a marker of "systemic crisis" in the law enforcement bodies (Civil.ge November 21, December 2, 6, 2021).
The common feature of all large-scale political rallies in Abkhazia from 2003 to date, their varying immediate pretexts notwithstanding, has been the struggle of rival political clans to access financial and political leverage, with covert or open interference of Moscow as a "mediator" of periodic regime change in Sukhumi (Sputnik-Abkhazia, January 12, 2020).
The next round of protests came from civil society. On January 26, 2022, over 350 representatives of non-governmental organizations (NGO), civic activists, prominent public figures, and private citizens of Abkhazia signed a strictly worded petition against the impending Russian-style law on "foreign agents," imposed by Moscow as part of the 2020 Russian-Abkhazian deal on a common socio-economic program, which includes legislative harmonization. Since then, the number of signatories has increased to 3,615 (1.5 percent of the population of Abkhazia). The petition's writers and signatories express their "categorical disagreement" with Sukhumi's intention to adopt the law, which they consider "pernicious" for the Abkhazian state and detrimental to the "spirit and main values" of Abkhaz society; moreover, the adoption of the law is highly likely to harm the international contacts of the Abkhazian NGOs, limit their access to international platforms, and ultimately hinder the international recognition of Abkhazia. Nonetheless, the letter expresses a willingness to open a dialogue with the authorities (Apsnypress, January 27, 2022; see EDM, December 8, 2021, June 15, 2020, December 7, 2020; Abkhazworld.com, February 6, 2022).
The action represents the first vociferous protest of Abkhazian civil sector and other stakeholders in a decade, evidencing a growing of civic culture in this ailing region. It is worth pointing out that, during this period, Abkhazia saw the establishment of new civic organizations like Congress of the Abkhaz Nation, which advocates for a new political culture and proclaims defense of national identity and safety as its main goal (Apsnypress, February 2).
In the confrontation between the authorities and the newly emerged opposition, 58-year old Bzhania underwent urgent kidney surgery at a Russian clinic, supposedly in Krasnodar, where he was treated in 2020 for alleged poisoning by opponents before the pre-term presidential elections. Bzhania has been absent from Abkhazia since January 10 and not appeared in public, encouraging speculation on his health condition. On January 31, Bzhania conducted a conference call with the chiefs of Abkhazia's security agencies (Ekho Kavkaza, Accentnews.ge January 25; Apsnypress, January 31).
The relative easing of political tensions appears to be provisional, because most of the acute problems, including severe social-economic conditions and an unprecedented energy crisis, remain unresolved before the elections (Sputnik Abkhazia, February 5). As such, Abkhazia increasingly finds itself between a rock and a hard place, struggling to maintain its forged independence while having to decide how thoroughly to accept Russia's "helping hand." At the same time, the political situation in this corner of the Black Sea represents a potential headache for Moscow, whose attention is currently directed elsewhere.