Putin Angrily Denounces 'Anti-Russian Hysteria' in US
Publication: Eurasia Daily Monitor Volume: 14 Issue: 76
By: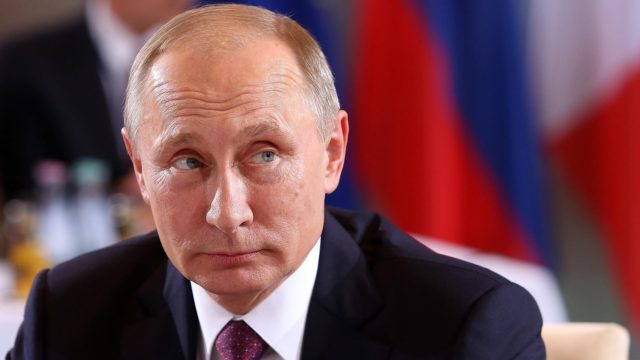 At the annual St. Petersburg Economic Forum last week (June 1–3), President Vladimir Putin repeatedly rejected accusations of Russian covert meddling in the 2016 United States presidential election (see EDM, June 5). Putin defended the Russian ambassador in Washington, Sergei Kislyak, who did apparently meet with different members of President Donald Trump's team during the election campaign and the transition period. According to Putin, Kislyak was simply doing his job as an ambassador. "Are you totally out of your mind?" seethed Putin, "There is zero evidence [of wrongdoing]. This is some kind of hysteria. You [Americans] cannot stop. Maybe you need some pills? Does anybody have any pills?" (Kremlin.ru, June 2).
Putin seemed genuinely angry and frustrated that the election-related scandals in the US over possible Russian meddling continue to drag on with no apparent end in sight. After Trump's election, hopes were high in Moscow that bilateral relations could improve. Trump boasted he would strike some important deals with Putin, and Moscow seemed ready to bargain in earnest. But now, according to Putin, internal US infighting has dramatically overshadowed international issues. Putin expressed frustration that Trump's domestic opponents have hijacked the show and are selfishly exploiting the Russian election meddling inquiry.
It turns out Putin does indeed have a serious grievance: Leaks from sources in Washington and Moscow indicate there was in fact momentum to swiftly move to rebuild relations and make deals that would have granted Russia much-desired sanction relief. The daily Izvestia quoted Deputy Foreign Minister Sergei Ryabkov (in charge of US-Russian relations) that Moscow and Washington will begin an intense dialogue about the conflict in eastern Ukraine's Donbas region as soon as the Trump administration appoints a special representative to deal with the matter. The pro-Kremlin Izvestia also quoted "unnamed sources in Putin's presidential administration" that Vladislav Surkov will be the point man from the Russian side on the Ukrainian issue. Moscow expects Washington to put pressure on Kyiv to comply with the so-called Minsk Two agreements in accordance with the Russian interpretation of the text. Trump is seen in Moscow as a pragmatic businessman, who is not much interested in continuing "ideologically motivated support of the present Kyiv regime" and may be ready to use Ukraine as a bargaining chip to win Russian cooperation on issues he considers more important, like North Korea or jointly fighting terrorism. The readiness of the Trump administration to open a dialogue on Ukraine has been apparently interpreted in Moscow as an encouraging signal of a desire to pragmatically solve issues and improve relations (Izvestia. May 30).
Last week, a top Ukrainian official in the Donbas conflict zone, who asked not to be quoted directly, told this author that he is deeply troubled by the above-cited Izvestia publication. He sees it as an attempt by Russia to scare Ukraine into submission by publicly implying the United States is ready to make deals with Russia over the Ukrainians' heads. Another, more terrifying interpretation, however, is that the Trump administration is indeed ready to sell out Ukraine. Last month, the White House announced that, on May 10, after meeting a Russian delegation led by Foreign Minister Sergei Lavrov and Ambassador Kislyak in the Oval Office, Trump met with former US Secretary of State and National Security Advisor Henry Kissinger (94). Allegedly, Kissinger is advocating a deal to improve relations with Moscow by tacitly recognizing a Russian sphere of influence in the post-Soviet space, which could include Ukraine as well as other republics. The Kremlin officially welcomed the possible involvement of the "wise and experienced" Kissinger in straightening out US-Russian relations (Militarynews.ru, May 10).
More recently, Secretary of State Rex Tillerson told reporters that Trump had ordered him to work on improving US-Russian relations, disregarding the Russian election meddling scandal and allegations of improper connections with Trump team members. According to the Kremlin propaganda mouthpiece Sputnik Radio, "both sides want to make progress, but "the continuing Russia investigation is forcing the Trump administration to be too cautious, and hardly anything may be achieved before the story blows over and Trump's hands are free" (RIA Novosti, June 6).
The Kremlin seems to have a solid incentive to continue to wait for team Trump to put its act in order and begin to deliver. But patience could be running short. If Washington is seen as dysfunctional and split by internal strife, the temptation may grow to increasingly disregard the feuding American establishment and launch more aggressive unilateral actions.
On June 6, US-led coalition jets hit a column of pro-Iranian (pro-Damascus) Shia forces, apparently including Hezbollah fighters, in southern Syria, close to the Jordanian and Iraqi borders. The attacked column was reportedly moving too close to Tanf—a strategically important point on the Baghdad–Damascus highway, which is, at present, occupied by US and other allied special forces, together with local friendly forces. Iran (apparently supported by Russia) is maneuvering to take over the entire length of the Baghdad–Damascus highway to obtain a secure land corridor via which to supply both Hezbollah and the Bashar al-Assad regime's forces. Reportedly, the US-led coalition attempted to us the line of communication with the Russian military to pressure the pro-Iranian forces to withdraw without a fight, but the Russians either did not manage or did not want to compel their allies to pull out. The reaction to the attack in Moscow was ferocious. Lavrov called the air strike an act of "aggression" and denounced the US military for "unilaterally declaring so called de-confliction zones in Syria that Russia will not recognize or honor" (Militarynews.ru, June 7).
The beginning of June 2017 has been marked by an increase in aggressive rhetoric coming from Moscow and by more armed clashes in Donbas and in Syria. According to independent pollster Levada-Tsentr, 69 percent of Russians consider the US an enemy and 50 percent believe Ukraine is an enemy (Levada.ru, June 5). These figures, of course, primarily reflect the effectiveness of Russia's state-controlled and state-sponsored propaganda. The poll also seems to accurately represent the attitudes dominant in the Kremlin, as evident from Putin's anti-American outburst at the St. Petersburg Forum (Kremlin.ru, June 2).