Putin Calls for Safe Zones in Syria Under Russian Supervision
Publication: Eurasia Daily Monitor Volume: 14 Issue: 60
By: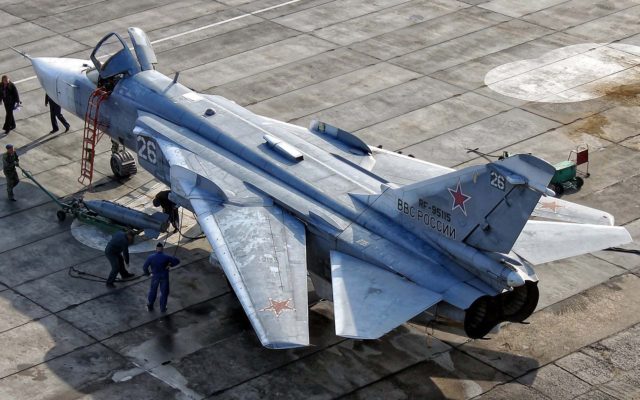 In an apparent attempt to revive the so-called "Astana peace process"—peace talks between the Syrian government and armed opposition in Kazakhstan's capital Astana, under the auspices of Russia, Turkey and Iran (see EDM, February 15, March 20)—Russian President Vladimir Putin announced a seemingly bold plan to establish safe zones in Syria. These areas would apparently be under the control of the moderate Syrian opposition but would also be "no-fly zones," where the Russian aerospace forces (VKS) and Syrian President Bashar al-Assad's air force would restrain from carrying out aerial bombardments (Militarynews.ru, May 4). The Geneva peace talks, involving al-Assad's government and the political wing of the Syrian opposition, and guided by the United Nations' Syria mediator, Staffan de Mistura, are completely deadlocked. The Astana talks were intended to revive the stalled peace process by involving the moderate opposition's military leaders directly and to deal with the practical matters of reinforcing a fragile ceasefire announced by Russia and Turkey at the end of December (see EDM, January 26).
Since the first Astana get-together last January, this separate peace process seemed to be going nowhere—deadlocked as any other Syrian conflict resolution discussion. But now, Moscow is pressing for a memorandum on the establishment of safe "de-escalation" zones. Putin has phoned United States President Donald Trump to gain his support; and Turkish President Recep Tayyip Erdoğan, during his summit with Putin in Sochi, on May 3, already announced his backing for the idea (Militarynews.ru, May 4). Western and Arab leaders have long been clamoring for the establishment of "no-fly" zones to protect the Syrian opposition and civilians from indiscriminate bombing by al-Assad's air force, but Russia has previously opposed such a solution. In February 2016, the Kremlin angrily rejected a proposal by German Chancellor Angela Merkel to create a no-fly zone along the Syrian-Turkish border extending to Aleppo, which was then besieged by al-Assad's and allied forces (TASS, February 18, 2016). After the fall of Aleppo in December 2016, and after his inauguration on January 20, Trump called for the establishment of safe zones in Syria to protect civilians. Moscow and Damascus did not reject Trump out of hand like Merkel: Russian Foreign Minister Sergei Lavrov agreed that safe zones may appear, if the conditions are right and if al-Assad consents (Militarynews.ru, January 31).
Damascus has announced it agrees with Putin's initiative to create de-escalation zones (Militarynews.ru, May 3). According to Russian paper Kommersant's sources, there will be four "safe" rebel-controlled de-escalation zones in Syria: the rebel-controlled province of Idlib, in the north; a zone north of Homs, in the center of the country; Western Ghouta, a suburb of Damascus, east of downtown; and also an area in the south, bordering Jordan. Military activities in these zones will cease, and peace will be ensured by the deployment of armed peacekeepers or observers, which apparently could be Turkish soldiers in the north, Jordanian in the south, as well as Russian military police battalions, manned by Chechen and other Russian North Caucasian Sunni Muslims. As the ceasefire regime consolidates, humanitarian aid will be provided and reconstruction work may begin (Kommersant, May 3).
Russia's chief negotiator in Astana and Putin's special representative on Syria, Alexander Lavrentyev, told reporters about "four zones" but apparently indicated that eventually more "zones" could be created in Syria. According to Lavrentyev, "four zones where al-Assad's forces are engaged in heavy fighting with the al-Nusra Front [renamed Jabhat Fateh al-Sham in mid-2016] and the moderate opposition, will be specially designated." In these four zones, the "moderate opposition will take over and fight the terrorists [the Islamic State and Jabhat Fateh al-Sham], supported by the guaranteeing powers [Turkey, Russia and Iran]." As the opposition rebels turn against the hard-line Islamists, their confrontation with al-Assad's forces will decrease, and the ceasefire will strengthen, Lavrentyev argued (Militarynews.ru, May 4).
According to Putin, despite the creation of safe zones, the war on "terrorists" in Syria will continue, while the Russian VKS and al-Assad's air force "may stop bombing the de-escalation zones if military activity on the ground ceases" (Militarynews.ru, May 4). These de-escalation zones will not be "no-fly" zones per se—the Russian VKS will apparently continue sorties unabated, while al-Assad's bombers will apparently be banned from overflying the designated safe areas, though they will not be "grounded" completely; there will be no outside policing of the partial no-fly compliance. Putin, in effect, is offering the Syrian opposition a tough deal: to die hard or sign up as de facto collaborators.
The Syrian opposition delegation in Astana is led by Mohammed Alloush, the leader of Jaysh al-Islam—a coalition of Islamist and Salafist units primarily operating in the Damascus area, in the cities of Douma and Eastern Ghouta. On May 4, the de-escalation memorandum was signed in Astana by representatives of Turkey, Russia and Iran. The Syrian opposition did not sign: Alloush did not appear at the signing, while other opposition representatives loudly protested Iran's signature on the memorandum (Interfax, May 4). Nonetheless, it was announced in Astana that the implementation of the memorandum would begin without delay. All hostilities within the designated zones between the moderate opposition and al-Assad's forces must stop, while the designated de-escalation zones will be surrounded by checkpoints and security zones (Interfax, May 4).
It is not clear whether Alloush will comply with the agreement or if al-Assad's forces will allow Jaysh al-Islam and its allies to turn Eastern Ghouta into a designated fiefdom. Nor is it readily apparent what the other major opposition fractions will do. Moscow wants to split the Syrian rebels and has been trying to establish contacts with Ahrar al-Sham in particular—a dominant Islamist force in Idlib province. The Russian ambassador in Damascus, Alexander Kinshak, recently praised Ahrar al-Sham as a force actively opposing Jabhat Fateh al-Sham. According to Kinshak, fighting a common enemy may consolidate the moderate Syrian opposition, including Ahrar al-Sham, Jaysh al-Islam and the Free Syria Army, with al-Assad's forces (Interfax, February 7).
Moscow wants to win the Syrian war and use this victory as a basis of a future dominant role in the Middle East. But this is impossible to achieve only through bombing: Moscow must split and undermine internal Syrian and international resistance to its actions. If Trump, Erdoğan and Merkel want "safe zones" in Syria for a public relations win and to curtail the flow of refugees, they may have them, the Kremlin apparently believes. Selected Syrian opposition warlords may, in turn, receive designated fiefdoms—"de-escalation zones." Such a strategy worked in Chechnya; it could work in Syria. Or at least that is seemingly the plan.