Putin Leans on Russian 'Grandeur,' Leaving Russians Vexed
Publication: Eurasia Daily Monitor Volume: 16 Issue: 117
By: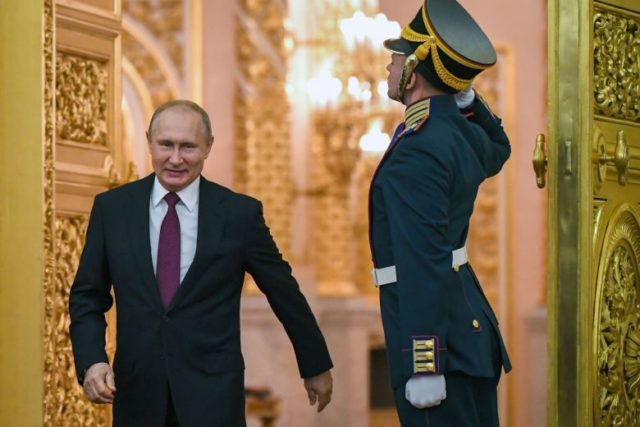 The end of summer 2019 found Russian President Vladimir Putin busy with high international politics. He is no longer riding with aging bikers in Crimea or making pilgrimage to the Valaammonastery together with Belarusian President Alyaksandr Lukashenka. Instead, he traveled to France and Finland as well as met with Turkish President Recep Tayyip Erdoğan, while preparing to greet prominent Asian guests at the Eastern Economic Forum in Vladivostok later this week (September 4–6). These high-level engagements are supposed to reaffirm Russia's status as a major international player, but the disgruntled domestic audience is paying scant attention to this new polish on the fading regalia of "greatness," resentful of the Kremlin's insufficient attention to its grievances (Rosbalt, August 27). Approaching the 20-year mark of his mastery over Russian politics, Putin regularly behaves as if the problems he chooses to ignorecease to exist; this approach at the top, in turn, undermines his subordinates, who discover that they lack the authority to act (Republic.ru, August 30).
Last week (August 24–26), United States President Donald Trump off-handedly proposed to admit Russia back into the G7 at the meeting of this exclusive club in Biarritz, France. Official propaganda presented this as a great success of Russian diplomacy (RIA Novosti, August 30). But in fact, Moscow was merely reminded that to again become a respectable party on the international stage, it must first discontinue its aggression against Ukraine and annul the annexation of Crimea (RBC, August 26). Putin cannot begin to contemplate the latter; though, he shows some flexibility regarding the former in order to profitably bargain with key European stakeholders (Meduza, August 30). The much-anticipated exchange of prisoners between Russia and Ukraine has, however, experienced another delay because the Kremlin has added a new demand for Vladimir Tsemah to be included in the list. Tsemah is a key witness in the case on the destruction of Malaysian Airlines Flight 17, which was downed in July 2014 by a Russian surface-to-air missile (The Insider, August 30).
The real reason for this setback may be Putin's reluctance to grant any success to his Ukrainian counterpart, Volodymyr Zelenskyy, because he feels quite uncomfortable with the youthful president in Kyiv, who gained a strong mandate for charting a new course in free and competitive elections (Moscow Echo, August 30). Putin was much more in his element treating Erdoğan to ice cream at the traditional MAKS international air show (in Zhukovsky), even if this delicacy did little to help reduce the differences between the mistrustful "strategic partners" (Kommersant, August 28). Erdoğan asked whether Russia's most modern Su-57 fighter was fit to fly and inquired about the price—likely trying to use this public inquiry as a bargaining chip to rejoin the US F-35 stealth fighter program, from which Turkey was suspended after purchasing Russian S-400 surface-to-air missiles (RIA Novosti, August 27). The main point of the Turkish leader's emergency visit, however, was to impress upon Putin that the Syrian offensive in Idlib province was endangering Turkey's security interests and provoking a forceful response from his country's armed forces (Nezavisimaya Gazeta, August 29). Putin remained non-committal, looking for safe ground for Russian forces between Israeli air strikes on Iranian assets near Damascus and US missile strikes on an al-Qaeda training camp in Idlib (Izvestia, September 1).
Moscow's military intervention in Syria was supposed to demonstrate the superior quality of modern Russian weapons systems; but the chain of accidents this summer, including the massive explosion in an ammunition depot in Achinsk, Krasnoyarsk region, and the fire aboard the AS-31 nuclear submersible in the Barents Sea, has damaged this show of military prowess. Moreover, the deadly accident with an unidentified nuclear-powered missile near Severodvinsk, Arkhangelsk region, on August 8, has further amplified the impression of reckless neglect and accumulating risks in the Russian Armed Forces (Svoboda.org, August 29). Official efforts to cover up the circumstances of the failed test produced a wave of concern and outraged revelations about the mishandling of the consequences of the small but lethal release of radioactivity (Carnegie.ru, August 28). The high command tried to erase the impression of gross incompetence by staging a synchronized launch of ballistic missiles from two strategic submarines exercising in the Arctic (Rossiiskaya Gazeta, August 24). But the only noticeable public reaction has been a significant increase in fears of a major war (Levada.ru, August 26).
More demonstrations of military might are scheduled for mid-September, when the strategic exercise Tsentr 2019 is due to unfold over a vast territory—from the Barents Sea to the Caspian (Nezavisimaya Gazeta, August 13). Commander-in-Chief Putin will oversee some carefully staged mock battles, but the domestic audience is unlikely respond with any surge of patriotic enthusiasm. Russia's protracted economic stagnation continues to sour the public mood. Putin ultimately expressed disappointment in the slow growth of personal incomes, but in fact they have been falling for five years and are set to shrink further in 2019 (Rosbalt, August 30).
Mounting poverty is exacerbated by the escalation of neglected ecological problems, which increasingly focus public anger (Forbes.ru, August 27). Putin's failure to address the disaster of devastating forest fires in Siberia this summer has raised comparisons with Brazilian President Jair Bolsonaro, who denies responsibility for the catastrophic blazing deforestation of the Amazon (Greenpeace.ru, August 29). Russian political elites are growing worried about the deterioration of societal attitudes and the merger of various sources of public discontent. But their feeble alarm signals cannot penetrate the bubble of autocratic self-righteousness fixed over the Kremlin (Vedomosti, August 28).
Putin may imagine himself to be a restorer and a guarantor of Russia's "grandeur," but he is notably out of touch with the concerns of his generation, worried about meager pensions. At the same time, he seemingly does not comprehend the dissatisfaction of the working-age population, which sees few prospects for a better life; and he fails to grasp the angst of the youth, prompted by the harshness of the illiberal establishment. Resorting to repression is a natural response of the power-centric regime. But as this summer has showed, each successful suppression of protests adds to the pool of discontent, while the fear factor is dissipating despite the brutal aggressiveness of numerous riot police actions. And the more that the right to vote loses any real meaning, the right to protest is being reclaimed with new determination. Putin's corrupt courtiers do not know what to expect from the coming autumn of foreboding.