Putin Reassures his Audience and Reduces Medvedev to Irrelevance
Publication: Eurasia Daily Monitor Volume: 6 Issue: 224
By: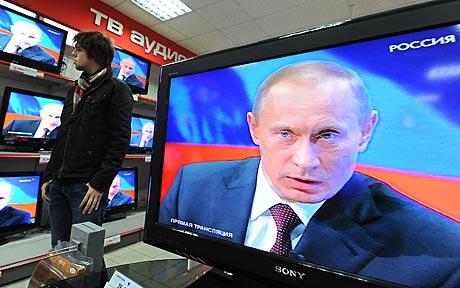 Vladimir Putin's annual talk-show has set a new record as he kept answering questions from carefully selected "common" Russians for more than four hours last Thursday, habitually demonstrating a perfect grasp of innumerable social problems and generously delivering gifts. Direct coverage continued non-stop on both national television channels and radio, but Putin refrained from making any big news staying on the message of reassurance that "the peak of the crisis is past" and the residual "turbulence" would be overcome. The underlying aim of this political therapy is, however, not so much to dissuade the majority of the population from staging protests or taking any interest in politics, but rather to demonstrate that in the position of prime minister, he remains in charge of distributing money and so, to all intents and purposes, continues to function as the head of state (Vedomosti, www.polit.ru, November 4).
Putin very carefully avoided any contradictions with President Dmitry Medvedev asserting that relations in their "tandem" were good and based on "common principles," which presumably would inform their decision about the 2012 presidential elections. Meanwhile, the "biggest mistake would be to adjust our current work based on the interests of future election campaigns." This neutral statement cannot hide the fundamental divergence of Putin's line on restoring the stability of the existing system and Medvedev's argument about the imperative of modernization created by the "primitive economic structure and humiliating dependence on raw materials." Even more striking is the difference between Medvedev's invectives against widespread "paternalistic attitudes" and "the inveterate habit of relying on the government" compared to Putin's unambiguous claim that only the government –and he personally– are able and ready to take care of all the dispossessed, unemployed and underpaid (www.gazeta.ru, December 3). There is no doubt that this is exactly what the Russians want to hear, and if Medvedev boasted about receiving several thousand responses to his "Go, Russia!" article, Putin recorded more than two million calls and messages.
Paternalism –even if false and deeply corrupt– easily wins over the discourse of innovation and responsibility, and Medvedev's point that "living beyond our means is immoral, unwise and dangerous" is demonstratively disproven by Putin's promise to increase pensions no matter what costs for the budget. The key issue with this triumphant paternalism is sustainability, and the Russian economy will probably allow it for another year or two providing that oil prices stay on the current plateau, although this horizon is uncomfortably close. Macro-economic indicators are open to interpretation, and Putin announced as "good news" that the GDP contraction would be only 8.5 percent against the previous estimate of 10 percent, while Finance Minister Aleksei Kudrin found some $15 billion extra income in the current budget (www.newsru.com, December 2). However, the continuing decrease of investments in fixed assets, reaching 18 percent compared with October 2008, prompting experts to cut their best estimates of GDP growth in 2010 to just 1 percent (Nezavisimaya Gazeta, November 30).
The only economic activity that has not been affected by recession is corruption, on which Putin did not say a word, and this "bureaucratic ransom" is certain to stifle any feeble growth that is generated by centrally-planned investments. Medvedev may argue at any length that corruption is caused by "excessive government presence in many significant aspects of economic and other social activities," but every answer that Putin gave so confidently amounted to an expansion of this presence. This demonstrated control over setting the real economic and social agenda, which has no place for modernization "fantasies," renders Medvedev's efforts at building a coalition of "modernizers" futile because even the minority group in Russia, for whom the internet and not television is the main source of information, cannot fail to see who is the "decider." One comment from this group briefly appeared on TV screens: "Putin should go, he is a failure as prime minister, but is he ready?" It was certainly not addressed directly, but Putin had an answer for those who expect his departure: "Don't hold your breath" (Ezhednevny Zhurnal, December 4).
One area that Medvedev has singled out as the launch pad for his modernization project is ensuring the independence of the courts, and it is exactly here that his attempt to make a difference has failed most plainly. If more incontrovertible evidence was needed, it appeared last week when two justices of the Constitutional Court –Anatoly Kononov and Vladimir Yaroslavtsev– were forced to resign for spelling out to media their "special opinions" about the domination of the executive power over the justice system (Kommersant, December 2). Putin did not neglect this area and elaborated on the case that is clearly of great personal importance for him –the plight of Mikhail Khodorkovsky. He found it useful to remind his audience that "the money that was once stolen from the people" had been returned to "the least well-off citizens of the Russian Federation," and accused Khodorkovsky of organizing five murders, including the woman who tried to protect her small business and the mayor of Nefteyugansk, who had "demanded that Yukos pay taxes." This factually wrong, but emotionally charged, "response" amounts to a direct instruction to the court where a new case against Khodorkovsky is falling to pieces (Ekho Moskvy, December 4).
Many commentators highlighted Putin's supposedly meaningful point that he "will think about" the 2012 presidential elections, but his barely hidden readiness to reclaim the position of supreme authority may turn out to be not that significant. There was perhaps just one slip of the tongue in his smooth performance, when answering a question about his surprise appearance in a talk-show for teenagers he assured that it "had nothing to do with approval ratings because, thank God, we do not have any elections" (the official translation on his website edits out this candor). Putin obviously foresees no problem with reducing Medvedev to his natural position of an obliging junior partner, but he may underestimate the corrosive impact of his increasingly bitter criticism of bureaucratic predation that constitutes the very essence of Putinism. The two co-rulers are not merely addressing different audiences, but effectively canceling each other out, and that makes Russia progressively ungovernable on the eve of a new crisis spasm.