Putin to Decide Next Moves in Standoff With West Over Ukraine
Publication: Eurasia Daily Monitor Volume: 11 Issue: 150
By: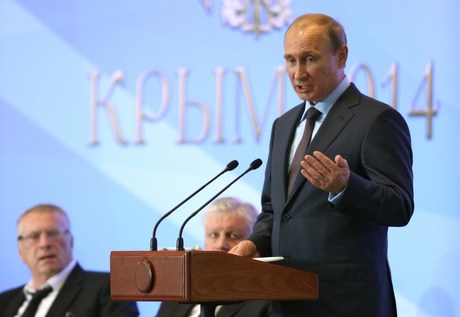 President Vladimir Putin gathered Duma deputies, national Security Council permanent members, Prime Minister Dmitry Medvedev—almost the entire Russian ruling elite—in Yalta, Crimea, to give a speech and a Q & A session on external and internal policies. The fighting in Ukraine's eastern region of Donbas between Ukrainian forces and Moscow-backed rebels is causing growing carnage. Russia and the West have been exchanging threats and sanctions. Meanwhile, the tone of Russian government officials aimed at Western countries seems to have reached levels of belligerency last seen during the darkest days of Cold War propaganda. Consequently, Russians have been awaiting Putin's Yalta speech hoping to receive some answers on where Russia is heading (RIA Novosti, August 14).
The network of arms control agreements that ended the Cold War standoff has been unraveling, making the world a more dangerous place. The 1987 Intermediate-Range Nuclear Forces (INF) Treaty, which banned all land-based nuclear missiles with a range of 500–5,000 kilometers is today in trouble. Washington has accused Russia of violating the INF by developing a long-range, land-based cruise missile. Most Russian arms experts agree this is the R-500, developed for the land-mobile Iskander missile-launch system. The Iskander-M version carries two precision-guided ballistic missiles with a reported range of 500 km. The Iskander-K carries four R-500 cruise missiles. The R-500 was reportedly developed by modifying the Soviet-era sea-based 3M10 Granat cruise missile, which has a range of 2,600 km. According to leading Russian arms experts "there is no official information about the actual range of the R-500, but it could be much more than a 1,000 km" (top.rbc.ru, July 29).
Deputy Defense Minister Anatoly Antonov—a career diplomat in charge of foreign relations and arms control within the defense ministry—angrily rejected the United States' accusations as "baseless and part of an anti-Russian propaganda campaign." Antonov charged Washington with running a "shameless information war" to smear Russia. The US did not produce any proof, according to Antonov, of any real Russian violations of the INF Treaty. Antonov also quoted Putin, who recently denounced Moscow's decision to sign the INF in 1987 "as questionable." According to Antonov, Russia has been complying with the INF Treaty, but "the situation in the world has changed." Still, Moscow is ready to continue discussions with Washington (Rossyskaya Gazeta, August 14).
Not only the US is being verbally abused by the Russian authorities. In an official statement, the Russian Ministry of Foreign Affairs accused the Australian government of falsely blaming Russia for involvement in the downing of Malaysian Airlines Flight MH17 over Donbas, which resulted in a loss of 298 lives. The Russian foreign ministry denounced as "absurd" Australian statements that a massive convoy of Russian trucks carrying humanitarian aid to Donbas "may be used as a pretext for a military invasion of Ukraine." Russia's foreign ministry also condemned Australian Foreign Minister Julie Bishop for "irresponsible attacks" on Russia and accused "some members of the Australian government with puffed up ambitions to have finally lost all adequate comprehension of the situation in and around Ukraine" (Russian Foreign Ministry, August 13). Since the 1940s and 1950s, Russian diplomats have hardly ever used such language in dealings with Western countries.
The convoy of some 280 trucks filled with humanitarian aid, sent to help Donbas under orders by President Putin, was last reported to be several kilometers from the Ukrainian border east of Luhansk—an area controlled by the rebels. The convoy may possibly cross into rebel-controlled territory without official Ukrainian authorization. Reports from Donbas tell of continued heavy fighting, of Ukrainian forces claiming to have cut the rebel forces into several separated centers of resistance and the tightening of the siege of the two main cities in the region: Donetsk and Luhansk. The rebels' organized resistance appears close to collapsing, and the authorities in Kyiv have threatened to deal with the Russian humanitarian convoy as an invasion force, if it crosses the border without the Ukrainian government's permission (Segodnya, August 14).
Before the Yalta meeting, the Duma Foreign Relations Committee chair, Alexei Pushkov, announced that only "a small step" separates Russia from war with Ukraine (top.rbc.ru, August 13). In his address, President Putin announced Russia will do all it can "to stop the bloodbath in Ukraine," but did not specify what its actions would entail in particular. He never clarified whether a Russian humanitarian intervention, led by the convoy of white trucks, was imminent or not (kremlin.ru, August 14).
Putin was more specific on other points: Russia will, under no circumstances, reverse the annexation of Crimea, which Putin considers to be "absolutely legal." Russian troops were initially present in Crimea, the president conceded, but they only helped organize a local referendum, "while the people decided to become part of Russia." Putin promised to build an adequate military force to defend Crimea. Outspoken nationalist politician and Duma deputy speaker Vladimir Zhirinovsky called in Yalta for the official restoration of the Russian Empire, to cancel any elections and for Putin to become supreme ruler, while military forces must be moved to the border "to threaten neighboring nations." Putin seemed amused by Zhirinovsky, noting that Russia had freedom of speech, but he added that Zhirinovsky "did not always reflect official policy" (Kommersant, August 14).
Putin promised to soon "surprise the West with our new developments in offensive nuclear weapons about which we do not talk yet." He also declared that Russia may consider abrogating international treaties it does not like "the same way as the US does"—in particular the INF. Putin accused the US of "abrogating a treaty limiting offensive nuclear weapons on national security grounds," though it is not clear what he was talking about (MK, August 14). Finally, the Russian head of state announced the possibility that, in the future, Moscow will not recognize the rulings of the European Court of Human Rights, "since its decisions are often politically motivated" (Kommersant, August 14).
Zhirinovsky may be a political clown most of the time, but his survival has always hinged on gaining Putin's favor. His demands, from an official podium, for the restoration of the Russian Empire as a militaristic super force, the crowning of Putin as emperor, and the threatening of other countries with war made Putin smile. Such bizarre belligerence allowed Putin to demonstrate to the Russian nation and the world his virtue as a moderate leader, compared to the Russian Duma opposition, and to announce that Russian foreign policy will be "peaceful." Soviet propaganda during the Cold War always peddled Moscow's peaceful foreign outlook, while Russia's sphere of influence was expanded by brute force.