Putin's Anti-Israeli 'Surge' in Syria
Publication: Eurasia Daily Monitor Volume: 15 Issue: 141
By: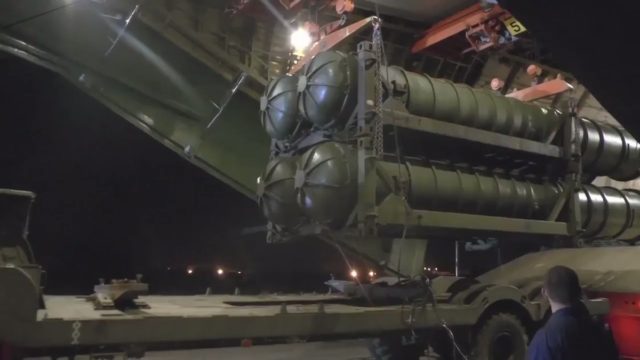 The Russian Ministry of Defense did not wait long to deliver its promised S-300 surface-to-air missiles to Syria. On the night of October 3, a huge An-124 Ruslan transport plane unloaded four mobile launchers, radars and command vehicles at Russia's local Khmeimim airbase. This demonstrative step was taken in response to the downing of a Russian Il-20 reconnaissance aircraft by a Syrian missile on September 17, which—as Moscow claims—was triggered by the Israeli air strike on a target close to the Russian base. While presented as a "gift" to the al-Assad regime, this deployment amounts to a significant surge in the three-year-old Russian military intervention in Syria. The more advanced S-400 missiles are already protecting Khmeimin, and a battery of S-300s provides cover for the Russian naval facility in Tartus, so the arrival of new launchers makes little difference in and of itself. However, Moscow now seeks to build an integrated air/missile-defense system covering most of Western Syria, which is a tall strategic order (RBC, September 24; Nezavisimaya Gazeta, October 3).
This surge goes clearly against President Vladimir Putin's desire to minimize the Russian military presence and exposure to risks in Syria, while maximizing Moscow's influence. He has several times declared "victory" in the Syrian war and repeatedly announced reductions in the Russian military grouping. This time, he also initially tried to explain away the Il-20 calamity as precipitated by a "chain of tragic circumstances" (Rossiiskaya Gazeta, September 18). The top brass, however, insisted upon and prevailed with putting the blame squarely on Israel, partly in order to cover up their own blunders in that tactical situation, but mostly to try to regain the strategic initiative in executing the stalled intervention (Novaya Gazeta, September 28).
Putin seeks to dispel the impression that he has given in to pressure from Defense Minister Sergei Shoigu and his generals by keeping his conversation with Israel Prime Minister Benjamin Netanyahu going (Rossiiskaya Gazeta, September 26). Yet, the high-level dialogue cannot eliminate the real driver of the conflict, in which neither Russia nor Israel is interested (Russiancouncil.ru, September 26). This driver is powered by the expansion of Iranian military involvement in Syria. Israel has firmly stated that air strikes on Iranian assets there will continue, no matter that Russia has for all intents and purposes committed itself to intercepting these strikes and has begun generating electronic interference to disrupt the operations of the Israeli Air Force (Newsru.com, October 3). Moscow has a narrow window to decide whether it is really committed to such hostile actions before the next strike, which might find targets closer to Damascus, where the reach of Russian air defense is still quite limited (Rosbalt, September 27).
Seeking to postpone this decision, Russian military command tries to advertise the fact that Moscow has succeeded in persuading Tehran to withdraw pro-Iranian militias as far as 140 kilometers away from the Golan Heights. But at the same time, the Russian top brass admits these forces are armed with operational-tactical missiles that can shoot significantly further (RIA Novosti, September 23). The reach of such missiles was demonstrated in the strike on a rebel stronghold in eastern Syria on October 1, delivered over 570 kilometers, from Iranian territory, in response to the terrorist attack during a military parade in Ahvaz, on September 22 (Kommersant, October 2). The Iranian message inherent in that missile strike was addressed to multiple recipients, and Russia has to reckon with the certainty of new Israeli airstrikes aimed at minimizing this missile threat to Israel (Rosbalt, October 2). Moscow's plan for expanding the areas where pro-Iranian forces are not present is hardly feasible because even in the westernmost Latakia province, which hosts key Russian assets, most (if not all) local or Syrian army forces are sponsored by or connected with Iran (Nezavisimaya Gazeta, September 30).
The strengthening of Iranian control over Bashar al-Assad's regime, which Russia has not been able to check, is unacceptable not only for Israel but also for the United States, which supports the governance of the Kurdish-led Syrian Democratic Forces in eastern Syria (Nezavisimaya Gazeta, October 1). Washington has warned Moscow against deploying new S-300 batteries in Syria; but Russian commentators have interpreted this warning as an attempt to prevent Russia from activating a newly strengthened air-defense system against a possible new US missile strike (Gazeta.ru, October 4). Despite all the tensions in US-Russian relations, the channels of military de-confliction in Syria have so far functioned efficiently. Although closer integration of Russian and Syrian assets, which Shoigu has put forward as an urgent task in need of completion, could derail this remaining safeguard between Moscow and Washington (Republic.ru, September 27).
Striking an assertive pose comes naturally to Russian generals, but they know from recent experience (see EDM, February 15, April 16, 19) that a direct challenge by US forces in Syria could bring to bear such a concentration of firepower that the joint Russian/Syrian air defenses would be completely overwhelmed. Putin has refrained in his recent public appearances from belligerent rhetoric on Syria and from fanning the anti-Israeli propaganda campaign, which—unlike the anti-Turkish campaign from late 2015—has generated minimal resonance (Novaya Gazeta, September 25). Experts might produce different calculations of costs and benefits of the Syrian intervention, but Russian public opinion is increasingly concerned about the money and lives spent on this ambitious enterprise (Snob.ru, October 1). Despite Putin's high-profile international activities, public confidence in his leadership keeps sliding, primarily due to accumulating domestic economic hardships (Levada.ru, October 4).
The ongoing surge in Russia's military intervention remains unlikely to eke out a victory, because the al-Assad regime cannot gain control over a big part of Syria to the east of the Euphrates, which is effectively under US protection, or over Idlib province, which is monitored if not outright controlled by Turkey. The main consequence of the Russian surge, therefore, is increased risk of a direct clash with US or Israeli air operations, for which Russian forces are never ready but always prone to overreaction. Meanwhile, the ambiguous "brotherhood-in-arms" with Iran is an ever more dangerous liability for the Russian forces on the ground, which are exposed to pressure and provocations from their perfidious allies. In attempting to strengthen the defensive capabilities, the Russian command persists with inviting new disasters, even if the next one might turn out to be one too many. Putin is afraid to show weakness but can hardly stomach more setbacks, which are the only certainty in the roadmap of strategic confusion.