Putin's Battlefield Success May Lead to Ceasefire, Legalization of Donbas Rebellion
Publication: Eurasia Daily Monitor Volume: 11 Issue: 154
By: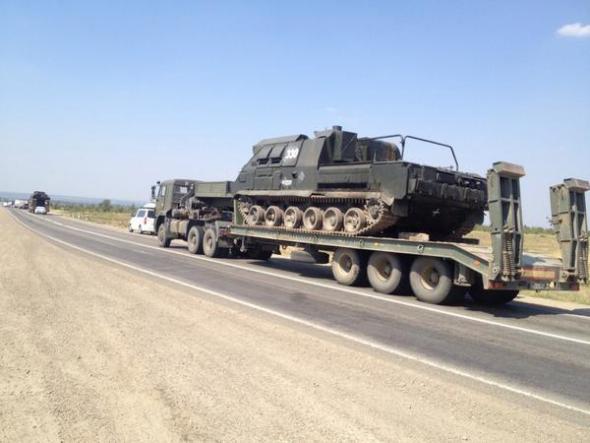 After a largely bloodless routing of Russia-backed separatist rebels in Ukraine's southeastern industrial port city of Mariupol in June, a combined force of regular and volunteer Ukrainian military units has been steadily pressing an offensive to crush the rebellion and regain control over the entire Donbas (eastern Ukrainian region including Donetsk and Luhansk oblasts). To avoid pitched battles within major cities—Donetsk with a prewar population of a million inhabitants and Luhansk with some half a million—the Ukrainian forces were fighting to surround and besiege them. Ukrainian army units, supported by border guards, were also pushing to secure the Donbas border with Russia. Without a constant supply of Russian volunteer fighters, weapons and munitions crossing into Donbas, the rebellion would soon peter out, Kyiv believed. By mid-August, however, the Ukrainian forces still did not fully control the entire border; yet, the siege of Donetsk and Lugansk was well underway. After heavy fighting and repeated infantry assaults on August 18, Ukrainian volunteer battalions captured the heavily fortified crossroads town of Ilovaysk, southeast of Donetsk, apparently cutting the last major supply link into Donetsk. Luhansk was surrounded by August 15, and Ukrainian volunteer units were battling their way into the city (newsru.ua, August 19).
The Donbas rebellion seemed to be on the verge of military collapse. But the constant inflow of weapons, supplies and volunteers from Russia was helping to keep the separatist forces alive. Artillery and multiple rocket launch systems (MRLS) barrages by Russian troops over the border were also harassing the Ukrainian military, but this was not enough to turn the overall course of battle. The volunteers arriving from Russia were often badly trained and organized, while the rebels were frequently led into battle by unprofessional, self-appointed warlords and suffered heavy casualties (Novaya Gazeta, September 3).
After the fall of Ilovaysk, the Ukrainian forces were exhausted and exposed. At this point a Russian regular force consisting of paratroopers (VDV) and mechanized units suddenly crossed the border on August 24–25 and attacked the Ukrainians from the rear. The entire Ukrainian joint-force operational group "South" was routed and torn to shreds, with some units running in panic and others holding their ground only to be mowed down. The Russian counter-offensive was supported by deadly artillery and MRLS barrages that, in the open steppe, wiped out entire units. Russian Israeli-made Searcher drones (produced in Russia under license under the name Forpost) were providing targeting information day and night. Ukrainian forces do not have any operational modern drones. The crushed Ukrainian army and volunteer units were surrounded in Ilovaysk and constantly pounded by artillery and MRLS. Yuri Lutsenko, an advisor to President Poroshenko and a former Ukrainian interior minister, told Ukrainian TV, "We did not expect a direct military intervention, [or] that a permanent member of the [United Nations] Security Council would blatantly violate international law and invade." Lutsenko, who is now chairman of a newly formed party "Bloc of Petro Poroshenko" that polls suggest may win the parliamentary Rada elections next month, added, "Our troops that were surrounding Donetsk were, in turn, themselves surrounded" (newsru.ua, August 30). The blockade of Donetsk was, thus, broken.
Around the same time, ten Russian VDV soldiers from the 331st paratrooper regiment of the 98th VDV division were captured as they moved into Ukraine after being deployed in the border area "for exercises." Russian authorities are strenuously denying Moscow's military involvement in Donbas, but the capture of the VDV soldiers publicly exposed the lie (newsru.ua, September 1). By August 31, Ukraine returned to Russia all of the ten captured VDV soldiers. In exchange, the Moscow-backed rebels released over 400 Ukrainian servicemen who had been surrounded and captured near Ilovaysk (Interfax, September 1).
As several thousand Russian servicemen were annihilating the Ukrainian joint-force operational group "South" near Ilovaysk, another Russian armored force crossed the border and, without much opposition, captured the border town of Novoazovsk near the Azov Sea coastline south of Donetsk region. Mariupol, with a population of over 700,000, thus came under threat (Kommersant, August 28). The siege of Luhansk was broken and Ukrainian forces withdrew from the surrounding area, including the strategically important Luhansk airport, which they held against multiple attacks since last May (Ukrainska Pravda, September 1).
The Ukrainian military and political leaders committed a major strategic blunder by misreading Russian intensions and underestimating the threat posed by Russian forces aggregated on the Ukrainian border. A military defeat that could crush the rebellion in Donbas is unacceptable to the Kremlin, and President Vladimir Putin is likely to do what it takes to prevent such an outcome. The Ukrainian commanders pushed their troops into a deadly trap, exposing them in an indefensible position close to the Russian border, in direct reach of superior Russian forces.
It does not make much sense for the Ukrainian forces to continue their campaign: No matter how successfully they press the rebels, Russia is always likely to intervene, and the Ukrainians are no match for the Russian regular military. A ceasefire could give Poroshenko time to consolidate his regime, and to reform and rearm his military to fight another day. At the same time, Putin seems keen to have a ceasefire in order to consolidate the position of the rebels while limiting the casualties of Russian regular troops, since Russian military casualties are unpopular and threaten to undermine the pretense of Moscow's military non-involvement in Donbas. A "frozen" conflict in Donbas could give Putin leverage to influence Kyiv and may weaken Western resolve to impose additional punitive sanctions (Nezavisimaya Gazeta, September 4). On September 3, after a telephone conversation, both Putin and Poroshenko called for a ceasefire. And the following day, Poroshenko and the rebels announced they are both ready to announce a ceasefire on September 5, after further talks in Minsk, Belarus (Interfax, September 4).
A ceasefire may seem in everybody's interest, but agreeing on the exact terms of implementation and delimiting zones of control may be tricky. Reports indicate that rebel troops, with possible Russian support, have already gone into action in a possible attempt to capture Mariupol, apparently before the ceasefire goes into effect (Interfax, September 4). Additionally, the desire by Ukraine to move closer to the North Atlantic Treaty Organization (NATO) to seek protection is angering Moscow. Russian Foreign Minister Sergei Lavrov warned that Ukraine's denunciation of its nonaligned status "could sabotage all attempts to reach a peaceful solution of the conflict" (Vzglad, September 4).