Putin's Diplomatic-Military Strategy in Syria: Spearheading a New Coalition
Publication: Eurasia Daily Monitor Volume: 12 Issue: 175
By: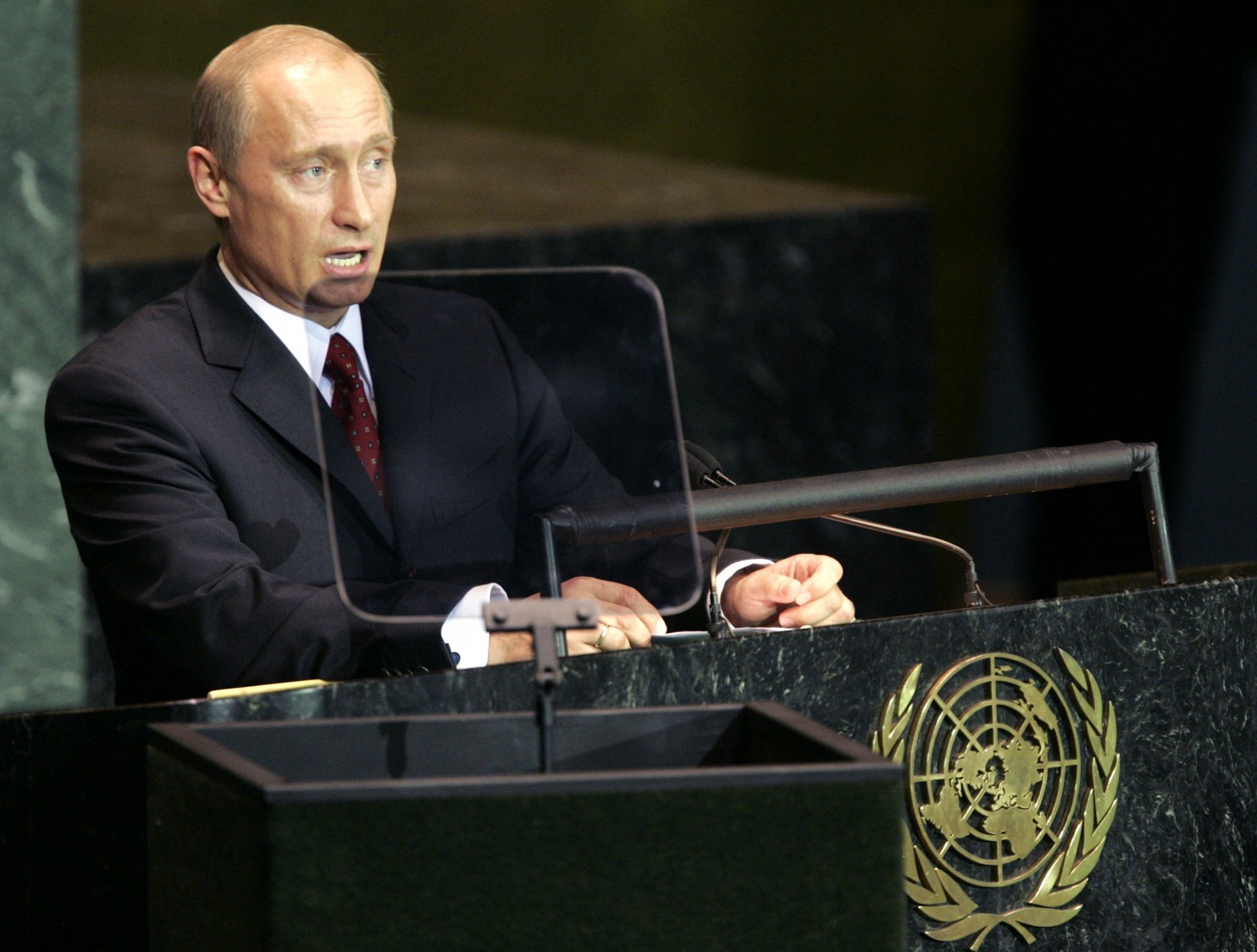 Russia's military build-up in Syria has provoked international speculation as to the motives and aims underlying what might prove to be the country's first out-of-area operation since the dissolution of the Soviet Union. Clues about this Syria gambit emerged during the strategic-operational military exercise Tsentr 2015, as well as in the nature of the deployment in Latakia and details of Moscow's diplomatic maneuvers; these were consistent with President Vladimir Putin's speech at the 70th meeting of the United Nations General Assembly, on September 28. Putin already had all the elements of this Syria policy carefully in place prior to offering to join the international coalition against the Islamic State (Interfax, September 29). In his following meeting with US President Barack Obama, on the sidelines of the UN, Kommersant claimed "95 percent" of their discussion pertained to Syria (Kommersant, September 29).
Despite denials by the Russian top brass of any link between Tsentr 2015 and the war-torn Middle Eastern state, there were clear features of the exercise that seemed to rehearse possible operations in Syria. The most marked of these were the unusual landings conducted at airfields in the Central Military District by Su-24M ground attack bombers. These assets, used by the Russian military to fly low over the battlefield in support of ground operations, rehearsed challenging landings: from a high altitude and approximately 15 kilometers from the airstrip, they practiced rapid descent in a manner consistent with evading man-portable air defense systems (MANPADS). The exercise for the first time perfected the use of an aviation group of 150 bombers and fighter aircraft (Mil.ru, September 29; see EDM, September 22). As the military build-up in Syria progressed, it emerged that the Russian Aerospace Forces deployed a squadron of Su-24Ms and an additional squadron of Su-25s and four Su-30SMs. The build-up points to the preparation of airstrikes in support of ground forces—but contrary to fears raised publicly, these are unlikely to be Russian troops.
A commentary in Nezavisimoye Voyennoye Obozreniye picked up on the Syria-linked theme in Tsentr 2015 and turned to consider the ground operations during the large-scale exercise. The commentary noted that in Orenburg, Putin had watched part of the exercise along with the top brass that played out the destruction of a "major armed terrorist group" using airpower combined with missile troops, airborne forces and artillery. Putin was shown operational-tactical systems and, reportedly, the use of missile systems striking targets over large distances (Nezavisimoye Voyennoye Obozreniye, September 25). As reports concerning the military build-up in Syria continued to offer fresh details, the diplomatic aspects of the Kremlin's policy began to receive more attention. Notably, an editorial in Nezavisimoye Voyennoye Obozreniye concluded ahead of Putin's speech at the UN that Washington faces two options: joining Russia in a "meaningful" fight against the Islamic State or accusing Moscow of "escalating" the conflict and berating Putin's support for Syrian President Bashar al-Assad (Nezavisimoye Voyennoye Obozreniye, September 25).
Indeed, the military-diplomatic evolution of Russian policy on Syria was highlighted by Alexey Nikolski, a security correspondent for Vedomosti. Nikolski noted that a Tu-154 "generalovoz"—a business jet used by Russian generals—had departed from Orenburg on September 21, and was bound for Latakia via Tehran and Baghdad (Livejournal, September 23). The author's defense ministry sources suggested that the Orenburg-Tehran-Baghdad-Latakia route was being used for Russian generals involved in coordinating military and intelligence operations against the Islamic State (Vedomosti, September 23). In this context, it is unsurprising that Baghdad confirmed the creation of a coordination cell on the Islamic State, bringing together Russia, Syria, Iran and Iraq.
Although the exact aims and role of the Russian Armed Forces deployed in Syria remained unclear, Putin's position was firming up ahead of his UN General Assembly speech. In Putin's view, the only way ahead in the conflict with the Islamic State depends on cooperation with al-Assad (Kommersant, September 25). Rampant speculation that Moscow might engage in a ground war in Syria, possibly in support of the al-Assad regime, was further inflamed by reports that Russian military personnel are reluctant to be sent to the Middle East, fearing another Donbas-style conflict (Gazeta.ru, September 19). Russian commentators increasingly warn against committing Russian troops to a ground offensive against the Islamic State. Army-General Yury Baluyevskiy, a former chief of the General Staff, not only argued against using Russian Ground Forces, but advocated instead simply increasing military-technical aid to the Syrian government (Interfax, September 23).
In this context, Putin ruling out ground operations during his UN speech is unsurprising, but it leaves open the question as to what Russian operations might look like in Syria. Although more Russian hardware has been sent to the country to bolster the Syrian army, much of the Russian deployment currently seems focused on force protection. However, combat power is rooted in airpower. Attack helicopters and squadrons of Su-24Ms and Su-25s would offer potential air cover for Syrian troops and possibly Iranian proxies, with Su-30SMs linking and covering these assets (Vedomosti, September 23).
The Russian General Staff simply does not place any level of confidence in the capability of airstrikes alone as a means to achieve victory against such an adversary, and Putin shares such views; the Russian military-political leadership learned the limits of this approach by analyzing the North Atlantic Treaty Organization's (NATO) air campaign in Serbia in 1999. In the absence of ground forces, any battle damage assessment (BDA) is rendered more challenging. Unsurprisingly, the Russian military media is full of negative observations about the limits of the present military campaign against the Islamic State, consequently portraying Putin's offer to join forces in Syria as equating to a real alternative approach (Nezavisimoye Voyennoye Obozreniye, September 25; Vedomosti, September 24).
Putin's offer to Obama to form a new anti–Islamic State coalition evidently contains mixed aims and potentially differing approaches. He has made this offer knowing that he can choose to boost the military deployment in Syria and somehow breathe life into a new alternative coalition: Russia, Syria, Iran and Iraq. This coalition is highly unlikely to break the Islamic State, but it might contribute to holding back its rise and prolong al-Assad's grip on power. Putin wants to end Russia's notional international isolation and create a real anti–Islamic State coalition that uses ground forces—mainly Syrian—and move away from regime change. Thus, both Putin's UN speech and his emerging Syria agenda is entirely consistent with Russian security policy, which places high stock on opposing color revolution and regime change. Moreover, as the numbers of Russian and Central Asian recruits into the Islamic State continues to grow, it seems that Putin is willing to act out of area before returning fighters become a more pressing security issue at home or in Central Asia.