Putin's New Cabinet: A Team of Technocrats and Loyalists
Publication: Eurasia Daily Monitor Volume: 9 Issue: 99
By: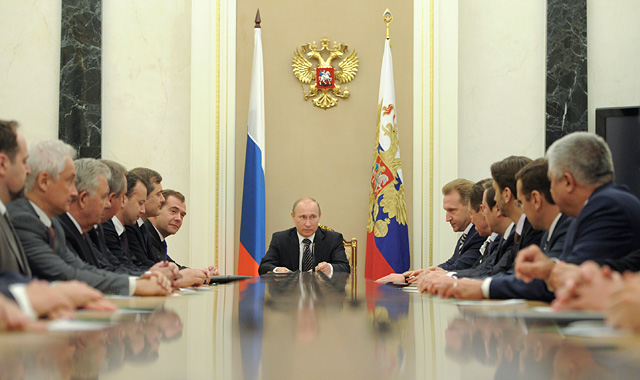 The relatively lengthy process of forming a ruling cabinet and administration after Vladimir Putin's inauguration on May 7, and the endorsement of Dmitry Medvedev as Prime Minister on May 8, ended with the creation of a seemingly cumbersome two-tier government. Medvedev's government (as promised) is 75 percent new, with Putin's veteran ministers replaced by younger former deputy ministers (RIA Novosti, May 21). However, of the seven "new" deputy prime ministers, five have previously occupied the same position. A number of key ministers – defense (Anatoly Serdyukov), foreign affairs (Sergei Lavrov), finance (Anton Siluanov) and judiciary (Alexander Konovalov) – did not change position. In addition, a throng of ministers from Putin's outgoing government were promoted to the Kremlin as presidential aides (Interfax, May 22).
In Russia, the position of a presidential aide is important, though it was not exactly so during the four years of Medvedev's presidency. Now things are apparently back to normal – that is, as they were during Boris Yeltsin's presidency from 1991 to 2000 and Putin's first two terms from 2000 to 2008 (Interfax, May 22). All major executive decisions in Russia are interdepartmental in nature, involving different ministries and other executive agencies and departments. The establishment of an interdepartmental consensus is necessary before legally-binding presidential orders or ukazes are issued. Presidential aides are in constant contact with the President and with concerned government agencies (ministries). The aides establish ad hoc interdepartmental committees on specific issues, report their work to the President, and then formulate and present the final text of executive orders for signature.
According to the Communist Party leader, Gennady Zuganov, "The main government will be working in the Kremlin, while Medvedev's cabinet will be junior," which signals the intent to continue previous policies (Interfax, May 22). Former Ambassador to Washington (1998-2008) Yuri Ushakov (65) was Putin's foreign policy aide from 2008 to 2012, though, according to the constitution, foreign policy is the sole domain of the President. Ushakov has been promoted to presidential foreign policy aide instead of Sergei Prikhodko, who occupied that position since 1998 – the longest ever serving presidential aide. Prikhodko has been appointed deputy chief of Medvedev's Prime Minister's office, but his influence on foreign policy decision-making apparently will be limited, while Ushakov may become the main foreign policy driving force in Moscow. As Foreign Minister, Lavrov will, of course, continue to run the diplomatic service, while Putin, aided by Ushakov, will formulate a Russian foreign policy that may become much more anti-Western.
There were some casualties in the government rearrangement. Ex-Transport Minister Igor Levitin was appointed presidential adviser, which in the Kremlin power pyramid is an insignificant honorary position, incomparable with that of an aide. Typically, advisers meet the President several times a year, not several times a week. Advisers file reports that tend to be lost without a trace within the maze of the Kremlin bureaucracy. Another clear casualty of the rearrangement is the former Interior Minister Rashid Nurgaliyev, who became deputy secretary of the Security Council – a backwater position that is typically the precursor to honorary retirement (Interfax, May 22).
Putin's long-time confidant from St. Petersburg, Igor Sechin (51), as deputy chief of Putin's administration (2000-2008), is believed to have spearheaded the assault on and nationalization of the Yukos oil company that resulted in putting Yukos CEO Michael Khodorkovsky, together with a number of associates, behind bars. From 2008 to 2012, Sechin was deputy prime minister in charge of Russia's oil and natural gas industry. Now Sechin is leaving government service to become the CEO of Russia's biggest state-controlled oil company, Rosneft. Experts expect that, under Sechin, Rosneft will begin a series of major acquisitions, forming a virtual state-controlled oil monopoly. Zarubezhneft and Surgutneftegaz are mentioned as possible first targets (Vedomosti, May 23). Sechin's appointment as oil mogul institutionalizes the merger of Putin's clan with big oil.
Lt. General Vladimir Kolokoltsev (51), Moscow police chief since 2009, is the new Interior Minister. Kolokoltsev, a career policeman, reportedly has a good reputation among the police rank and file (https://rusnovosti.ru/news/203669/). Since mass anti-Putin demonstrations began last December, the Moscow police led by Kolokoltsev relentlessly charged demonstrators when ordered, but also used kid gloves when ordered to behave courteously (www.lenta.ru, May 21).
In a sudden move that has stunned commentators and many in the ruling elite, Putin appointed Igor Kholmanskikh (42), Uralvagonzavod tank-factory floor manager from Nizhy Tagil, to serve as Presidential Envoy to the Ural Federal District. This position does not carry much real power, but is considered highly honorary: the Ural's presidential district representative is the senior official overseeing 6 Federal subjects (roughly the equivalent of US states), 10.5 percent of the nation's land and 8.7 percent of its population. The Presidential Envoy is provided a lavish palace as a residence and this position has been previously reserved for top state officialdom. Last December, Kholmanskikh, during a live nationally broadcast television interview with Putin, announced that if the Moscow police fail to do their job to subdue protest rallies, he is ready to lead a posse of factory workers to "defend stability." In a televised meeting in Putin's residence near Moscow, the President praised Kholmanskikh for his "active public position" and expressed hope that he "will defend the interests of ordinary people." Kholmanskikh accepted the appointment saying: "I will not let you down" (Interfax, May 18).
In a possibly connected move, the chairman of the board of Uralvagonzavod, Eugeni Shkolov (56), has been appointed Putin's aide responsible for top personnel appointments within all branches of government and connected business (RIA Novosti, May 23). Shkolov reportedly worked as a KGB agent during the Cold War in former East Germany together with Putin (Nezavisimaya Gazeta, September 14, 2005).
This week, the ruling United Russia party pushed through the Duma the first reading of a draconian bill, aimed at effectively banning any public opposition activity by increasing fines for disturbing order during rallies and marches by a thousand fold (EDM, May 17). All opposition factions voted against, while the Just Russia leader, Sergei Mironov, deplored the bill as "an attack on people's freedom" and "an attempt to intimidate protesters." Mironov, together with other members of his party, donned during the discussion a white ribbon – the symbol of the prodemocracy movement that Putin publicly compared with a condom during his TV interview last December (Itar-Tass, May 22).
Mironov (59) is Putin's long-time associate from St. Petersburg. From 2001 until 2011, he was the Speaker of the Federation Council – the upper house of parliament – officially the third-ranking official in Russia's hierarchy after the President and Prime Minister. The trickle of former Putin loyalists abandoning the administration may turn into a torrent as street protests persist. The sudden promotion of Kholmanskikh may reflect Putin's fears and his desperate search for loyalty wherever possible.