Putin's Non-Starter in Arms Control Marks the Nadir of Russia's Status
Publication: Eurasia Daily Monitor Volume: 17 Issue: 146
By: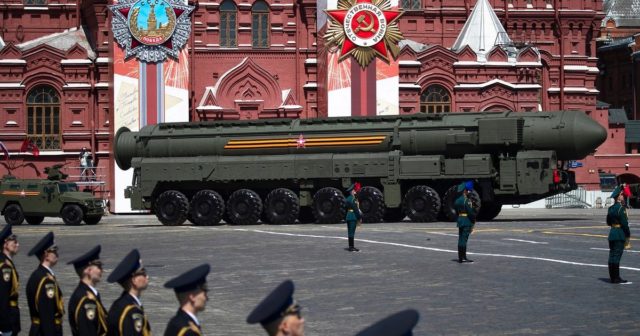 The virtual meeting of the Russian Security Council last Friday (October 16) started with a surprise meant to signify a major foreign policy initiative. Namely, President Vladimir Putin instructed Foreign Minister Sergei Lavrov to present to the leadership of the United States with the suggestion to extend the Strategic Arms Reduction Treaty (New START) for one year without any conditions or revisions (Kremlin.ru, October 16). The fast-approaching expiration of this treaty, which entered into force in February 2011 for a period of ten years, is indeed a major concern for many international actors and experts, and Putin's carefully rehearsed proposition appeared to be the most natural stopgap step (Kommersant, October 17). This apparent no-brainer had, nevertheless, in a matter of a few hours, flopped as a non-starter.
Robert C. O'Brien, President Donald Trump's National Security Advisor, flatly turned down Putin's proposal, pointing out that it fails to acknowledge the US condition on freezing the two countries' nuclear arsenals for the period of extension of New START (RBC, October 16). Russia has been advancing a massive program of modernization of its strategic forces and deploying new non-strategic weapons systems; so prolonging the agreement, which does not limit these costly efforts, makes little sense (Svoboda.org, October 12; see EDM, September 24, 29). In the tense talks on strategic stability matters, Russian negotiators worked on the assumption that the Trump administration needed a successful deal in order to score an important point in the tight US election campaign (Rosbalt, October 14; see EDM, October 15). But Putin has seriously misjudged the significance to US politics of his seemingly irrefutable offer (Nezavisimaya Gazeta, October 14).
In fact, it is Russia that desperately needs the renewal of the treaty, which fixes its status as an equal to the US, in order to preserve its ranking as a "Great Power" on the international arena. Russian prestige has sunk to a record low because of several recent scandals, including the attempted poisoning of Alexei Navalny, the defiant leader of the anti-Putin opposition (Newsru.com, October 16). This crime constitutes a violation of the convention prohibiting the development and use of chemical weapons, and European states announced new sanctions against Russian officials in response (Riddle, October 10). This irked the Kremlin: Lavrov declared that it would be impossible to do business with the European Union or even to continue normal political dialogue (Ezhednevny Zhurnal, October 15). As if to reinforce this lamentation, Moscow withdrew from consultations with the Netherlands and Australia on the missile hit that destroyed Malaysian Flight MH17 out of Amsterdam as it flew over Ukraine's occupied Donbas territory in July 2014, resulting in 298 lives lost (Novaya Gazeta, October 16).
In another recent incident, the Norwegian parliament was struck by a cyberattack, which was duly investigated, traced back to Russia, and described by Norway's Prime Minister Erna Solberg as unacceptable (Moscow echo, October 13). The Russian foreign ministry issued the usual denials and added ominous accusation against Norwegian authorities of trying to destroy bilateral relations (RIA Novosti, October 15). Two Tu-160 strategic bombers performed a long flight over the Barents and Norwegian seas in order to add convincing power to these heavy hints (Izvestiya, October 14).
The demonstrations of nuclear might are as useless in persuading the Europeans to tolerate and overlook Russian transgressions as they are unhelpful in prompting the US to accept a hollow compromise on strategic arms control. What shapes attitudes in Europe and hardens the determination to oppose Russia's pressure is the two-month-long uprising in Belarus, which President Alyaksandr Lukashenka has been unable to suppress by police power or by promises of constitutional reforms (Newsru.com, October 14). Putin may see that Lukashenka's value as a key ally has shrunk, but the Russian leader's heartfelt and fearful conviction remains that street protests cannot be allowed to prevail, so he is stuck supporting the fellow autocrat (Republic.ru, October 15). This fixation on countering revolutions was suddenly shaken in Kyrgyzstan, where rigged elections caused an explosion of public anger and the collapse of the government (Meduza.io, October 16). The Kremlin sought to back President Sooronbay Jeenbekov, but the latter opted to resign rather than employ lethal force against the protesters (The Insider, October 16).
Moscow had little time to figure out how to manage this crisis because the attention in the Kremlin was divided between Belarus and the Armenian-Azerbaijani war in the South Caucasus, where Russia's first attempt to negotiate a "humanitarian" ceasefire failed in a few hours, while the subsequent one was broken over the past weekend (Moscow Times, October 16). Undercutting Russia's habitual capacity to restrain the belligerents is Turkey's unequivocal support for Azerbaijan's desire to enforce a military solution for the long-deadlocked dispute over Karabakh (Nezavisimaya Gazeta, October 10). Turkey has plentiful experience with Russian applications of military power in Syria and is apparently not impressed with air strikes and long-range Kalibr cruise missiles, assuming that its air bridge for delivering supplies and, reportedly, mercenaries to Baku is perfectly safe (Kommersant, October 17).
For Russia, this inability to act in the region where it has long been perceived as the dominant power has become a test of its claim for the desired "Great Power" status—and it has yet to find a truly convincing way to prove itself (Russiancouncil.ru, October 14). Key European states, France in particular, as well as the US have shown a readiness to back Russian initiatives on the cessation of violence in the South Caucasus and on restoring governance in Kyrgyzstan. But the West now has to acknowledge the limited usefulness of this dialogue (VTimes, October 14).
The Russian leadership has only started to internalize the consequences of this exposure of its weakness, which is certain to deepen due to the unfolding economic recession. Since Russia's swift annexation of Crimea in spring 2014 and the forceful intervention in Syria in autumn 2015, the Kremlin became used to believing in its capacity to project power in various "hybrid" ways. So the discovery of the limits of such military activism is sobering and disturbing. Strategic capabilities and nuclear weapons are the main remaining sources of the country's strength, but it is difficult to turn them into useful instruments of policy. Arms control has traditionally been a major means of squaring this circle, yet Russia has invested so much in undermining its norms and rules that it cannot expect old agreements to provide frameworks for new deals.