Qaddafi and Zyazikov: Reality Checks for Russia's Petro-politics
Publication: Eurasia Daily Monitor Volume: 5 Issue: 210
By: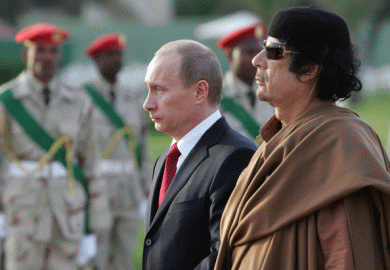 The vast tent that graced the Kremlin garden over the weekend was not a part of the preparations for President Dmitry Medvedev's address to the parliament, which is scheduled, after embarrassing delays, for November 5 (Vedomosti, October 30). It was a special arrangement for the visit of Libya's eccentric leader Muammar Qaddafi, who insists on the protocol of his Bedouin lifestyle (Vremya novostei, www.gazeta.ru, October 31). Qaddafi stayed in Moscow for three days, and Medvedev hardly had much joy in the lengthy negotiations.
Official "non-information" about a "wide range of topics" and "new dynamism" barely cloaked the disbelief in the Russian leadership that they had fallen for the oldest trick in Qaddafi's well-worn business book. Paying a visit to Libya in the final weeks of his presidency last April, Vladimir Putin thought that he had struck gold. Russia agreed to write off Libya's old Soviet debt estimated at $4.5 billion (but in reality, worthless) in exchange for new contracts on building the Sirt-Benghazi railway, joint development of oil and gas fields, and arms sales. In the past months, however, Alexei Miller, the CEO of Gazprom, and Vladimir Yakunin, the head of Russian Railways, who are both Putin's courtiers, have discovered that the documents signed were declarations of intent rather than binding contracts. The only "real thing" was the cancelled debt; and now Qaddafi wants new credits for purchasing Russian armaments, first of all the S-300PMU and Tor-M1 surface-to-air missiles (www.newsru.com, October 31). He might indeed be rather short on cash as Libya has just transferred $1.5 billion to the special fund for compensating the American victims of terrorism, prompted by the visit to Tripoli of U.S. Secretary of State Condoleezza Rice in September (www.rbc.ru, November 1).
In order to sweeten the pill for Medvedev and Putin, Qaddafi presented an offer to build a Russian naval base in Benghazi, following the recent port visits of the nuclear cruiser Petr Velikii (on its way to Venezuela) and the frigate Neustrashimy (on the way to the "pirate coast" of Somalia). The proposal might appear very exciting to those who want to demonstrate Russia's rejuvenated military might, but there is one particular problem—the Russian Navy will not have any combat ships for deployment in the Mediterranean in the foreseeable future (Kommersant, www.grani.ru, October 31). The problem of withdrawing the naval base from Sevastopol looms large in Russian-Ukrainian relations, but the shrinking Black Sea Fleet can only linger somewhere near the home coast (Expert, October 22).
This sobering reality check now has to be made with an eye to the guidelines and priorities of Russia's foreign and domestic policies, inasmuch as the basic premise that the overwhelming inflow of petro-rubles could only increase has suddenly been overturned. The plain fact that Russia is a country with very different state capacity when oil prices are below $70 per barrel than it was when they came close to $ 150 has not as yet been absorbed by its elite. Medvedev boldly remains in denial, arguing that the accumulated reserves would compensate for all "temporary difficulties" and that Russia would emerge from the crisis as one of the new centers in global "financial architecture" (RIA-Novosti, October 31). These reserves, however, have shrunk from $600 billion to $480 billion without any positive effect on the economy, while oligarchs, regional governors, and other clients keep asking for more money (www.newsru.com, October 31). At the Shanghai Cooperation Organization meeting last Thursday, Putin endured desperate pleas from Kyrgyzstan and Mongolia but consoled them with a lecture on "multi-polarity," leaving it to China to open new credit lines (Rossiiskaya gazeta, October 31).
Upon his return to Moscow, Putin called a ministerial meeting on economic matters at his residence in Novo Ogarevo, where the key issue was not pumping more rubles into banks but cutting down government expenditures and investment programs (Kommersant, November 1). This return to financial discipline is partly driven by the irritation about the instant "emigration" to the West of the disbursed rescue packages that have grown to an astounding total of $200 billion. There is also, however, a suspicion maturing into realization that the fall in budget income is not a deviation but a solid trend that will last for years to come. This emerging economic pragmatism brings with it the first signs of new political realism, for instance, the release from prison after a year-long investigation of Deputy Finance Minister Sergei Storchak. The trial is still pending, but the TV channels showed his greeting by friends and family as if a hero had returned from enemy captivity (Vremya novostei, October 22).
Even more sensational was Medvedev's removal of Murat Zyazikov, Ingushetia's president, who was installed by Putin in April 2002 and presided over a profound destabilization of this tiny republic. Public discontent increased to the level of a latent civil war after the murder of an opposition leader Magomet Evloev last September, but Putin maintained that acknowledging his mistake and sacking a "loyalist" would be tantamount to showing weakness under pressure (Nezavisimaya gazeta, September 8; www.gazeta.ru, October 31). Medvedev's decision, clearly forced by escalating public demands, was greeted by festivities in Ingushetia; but an even greater problem is looming after the appointment of Colonel Yunus-Bek Evkurov, an outsider with no administrative experience, as the new president. Clan struggle and massive social problems across the North Caucasus have been controlled by channeling in incalculable federal funds, but this method is no longer sustainable.
Qaddafi might have demonstrated to Putin and Medvedev in his tent that an unlimited amount of public veneration could be bought if a leader were economical with oil revenues. Russian elites, however, are committed to policies that are anything but economical, so that the extravagant squandering of the rich and powerful is camouflaged by wasteful spending to prove that the country is a "great power" and is justified by generous social programs. A dose of common sense is always helpful, but plenty of bitter medicine has yet to be swallowed, and that will take some stomach, at a time when flexible spines are the prime quality of Putin's cadre.