Qaddafi Tries to Secure Loyalty of Circassians of Misrata
Publication: Terrorism Monitor Volume: 9 Issue: 12
By: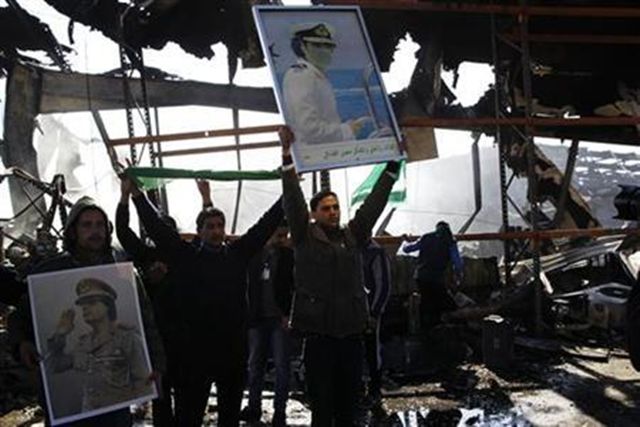 Forces loyal to embattled Libyan leader Mu'ammar al-Qaddafi have battled for days to take the coastal city of Misrata. Qaddafi's efforts to take Misrata shed light on the little known role of Circassians in Libya, descendants of the Muslim tribes of the northwest Caucasus region who gathered themselves around this settlement in the 19th century.
On March 8, Qaddafi delegated a diplomat to meet Circassian community leaders in the Jordanian capital of Amman. The leaders were asked to mediate in order to convince the Circassians in Libya to take Qaddafi's side in the ongoing struggle for Libya. Jordan is home to a significant Circassian diaspora community with close ties to the Jordanian royal family.
An informed source told Jamestown that after the Libyan ambassador to Amman resigned in protest of Qaddafi's actions, the deputy ambassador contacted members of the Circassian Tribal Council of Jordan (CTCJ), stating that a private jet was ready to fly them to Libya to mediate between the regime and the Circassian community in Misrata, which lies 210 km east of Tripoli. The source told Jamestown that an airplane belonging to Qaddafi spent two nights in Amman's Queen Alia International Airport. Most Circassians in Libya dwell in the area around Misrata, where their numbers are estimated at roughly 15,000. There are also substantial communities in Tripoli and Benghazi [1]
Although there are several theories on the first Circassian settlement in Libya, the roots of the Circassian presence in Libya most likely go back to Muhammad Ali Pasha's treacherous 1811 massacre of most of Egypt's Mamluks at the Citadel in Cairo. Most Circassians in the Middle East are descendants of the vast migration of Circassians at the point of Russian bayonets from their traditional Caucasus homeland in the 19th century. However, there was also a substantial Circassian community in Egypt, where Circassian Mamluks ruled from 1382 to 1517. The Circassians remained part of the Egyptian military and political elite until the Arab nationalist revolution of 1952.
Most of Egypt's Mamluk warrior class were purchased as slaves in Circassia and brought to Egypt to undergo intensive martial training before being given their freedom as part of Egypt's foreign-born ruling class. Of those Mamluks not present at the treacherous massacre at the Citadel, some headed west to found the settlement of Misrata (lit. "those who migrated from Egypt") while others escaped Muhammad Ali's troops and unsympathetic Arab tribesmen to head south to the Dongola region of the Sudan. Muhammad Ali, however, was determined to destroy the Mamluks to the last man, and nine years later sent an army under his son Isma'il to flush out the 300 or so surviving Mamluks at Dongola, who were by that point at war with the powerful Sha'iqiya tribe. On hearing of the approach of Isma'il's army, the remaining Mamluks dispersed in several directions. The largest group headed west, where the Sudanic sultanates took their turns depriving the warriors of their goods and armor before expelling them. In desperation, the survivors struck out into the desert, headed for Ottoman Libya. Some apparently succeeded in reaching their comrades in Misrata, where they are remembered by the prominent family name Dankali [i.e. Dongolawi]. [2]
The Circassians in Libya are organized into several families and they are well integrated into the Libyan social and tribal system. A Libyan woman originally from Misrata, who spoke on the condition anonymity, told the author that Circassians are well-respected people in Misrata, where they are prominent as merchants. Their features are different than other Libyans, particularly their hair and eye color. [3] However, it appears that the Circassian language and most of the customs and traditions have been lost. [4]
Qaddafi received a delegation from Jordan's Circassian Tribal Council in 2009, headed by Circassian community leader Adnan Mawloud. Qaddafi showed a deep respect for the Circassians and their historical suffering, as he called it, praising their role in host countries such as Jordan and describing them as brave and faithful people while noting their preference to be called by their traditional name, Adigya.
Qaddafi mentioned the Circassians' contribution in all countries in which they settled, but failed to note the Libyan Circassian ethnic minority. [5] A source aware of that meeting told Jamestown that Qaddafi refused the Jordanian Circassian delegates an opportunity to visit their brothers in the Libyan cities. The Qaddafi-worshipping Libyan state press recorded that the Circassians regarded Qaddafi "as a national leader with deep vision and philosophy that is worth appreciating and listening to" (LibyaOnline.com, June 2, 2009).
Unlike Circassian communities in other parts of the Middle East, Libyan Circassians do not hold high ranking positions in Qaddafi's military and security structure. Drawing on their martial traditions, Circassians became and remain an important part of the security and military structures in many of the countries to which they immigrated in the 19th century, such as Jordan, Turkey and Syria. This, however, has not been the case in Qaddafi's Libya.
Anis al-Sharif, a London-based member of the political committee of the Libyan Islamic Movement for Change, explained this situation as arising from Qaddafi's fear of creating "centers of power" inside his military and security intuitions. He has, therefore, relied on special units of the military led by his sons, such as the 32nd Mechanized Brigade, popularly known as the "Khamis Brigade." Al-Sharif also described militias based on individuals loyal to Qaddafi personally that allow the Libyan leader to avoid relying on particular tribal or ethnic groups. The rest of the military has been kept weak in order to avoid a repeat of the coup attempts that have attempted to overthrow his rule.
As an example, al-Sharif cited the 1975 military coup attempt by some 20 officers, most of whom were from Misrata and led by ethnic-Circassian Major Umar al-Meheshi. An original member of the 12-man Revolutionary Command Council that took power in 1969, he formed the conspirators' first cell in Misrata. [6] Meheshi fled to Tunisia and eventually to Morocco, where he was unsuccessful in rallying resistance to Qaddafi. Al-Meheshi was handed back to Qaddafi in 1984 as a good-will gesture preceding the signing of an accord between Morocco and Libya. He has not been heard from since, though he is alleged to have been kicked to death by Qaddafi's aides while Qaddafi waited in the next room. [7]
It seems that Qaddafi sent his delegate to Jordan in order to gain the support of Circassians in Misrata, which would have helped him consolidate his position in Tripolitania (northwest Libya) by eliminating a stronghold of resistance. The move confirmed the social-political importance of the Circassian community even though they are not influential within the military and security structures of Libya. In the meantime, the struggle for Misrata continues; a battle that Qaddafi himself has described as "decisive" for the future of Libya.
Notes:
1. Nart Magazine 63(27), Circassian Charity Society, Amman, September 1998.
2. See Andrew McGregor, A Military History of Modern Egypt: From the Ottoman Conquest to the Ramadan War, Praeger Security International, Westport Conn., 2006, pp.59-70.
3. Author's phone interview, March 18, 2011.
4. Amjad Jaimoukha, The Circassians: A Handbook, Curzon, Surrey England, 2001, p.119.
5. See the transcript: https://libya11.com/showthread.php?t=1921 June 4, 2009.
6. Author's phone interview with Anis al-Sharif, March 19, 2011.
7. Lillian Harris, Libya: Qadhafi's Revolution and the Modern State, Westview Press, Boulder, 1986; New York Times, November 13, 1985.