Ramzan Kadyrov Squashes the Idea of an Independent Ichkeria
Publication: Eurasia Daily Monitor Volume: 6 Issue: 108
By: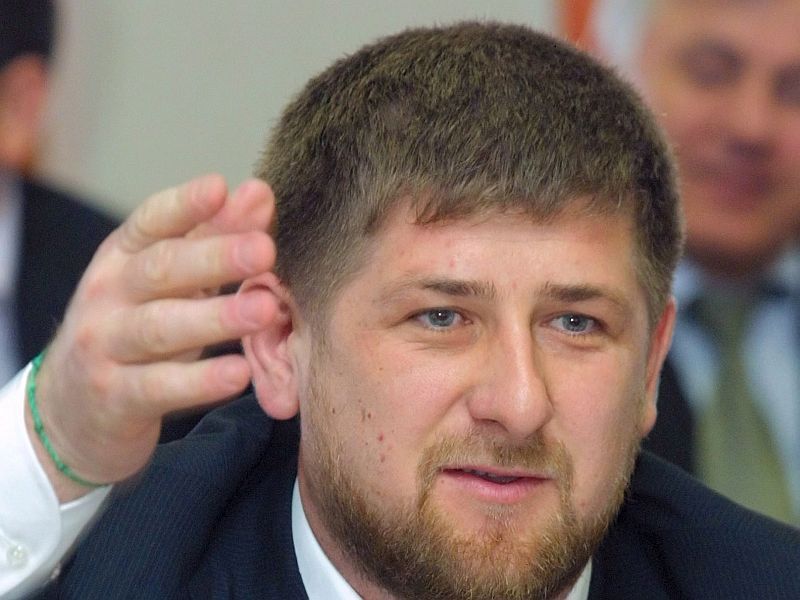 For the second time in the last three months, Chechen President Ramzan Kadyrov has forced former leaders of the separatist Chechen Republic of Ichkeria to admit the error of their earlier ambitions to build an independent Chechen state during Aslan Maskhadov's presidency in front of the television cameras. On May 29, Chechen television, which is available worldwide via satellite, aired the second live episode of "Points of Leverage," a program focused on the penitent former political and military leaders who were once opposed to Russia's presence in Chechnya.
The first episode aired back on February 18 of this year (https://chechnyatoday.com/ru/<wbr></wbr>content/view/2250/302/) and highlighted the visit of one of the expatriate leaders of the Caucasus Emirate and its official representative in Europe, Bukhari Baraev, who is better known as the father of Movsar Baraev, the leader of the hostage-taking operation in Moscow's Dubrovka theatre in October 2002. Kadyrov presented Baraev's visit to Chechnya as a strike against the separatist forces and proof of the success of his policy seeking to repatriate Chechens who left home due to disagreements with Russian policies in Chechnya. While the first broadcast surprised and shocked many of Ichkeria's supporters, the follow-up program that aired on May 29 generated little interest, and those discussing the program online said they did not watch it until the very end. Yet the program and its guests were worth a look.
In contrast with the first episode, the second program aimed at more than merely giving Aslan Maskhadov's former associates a chance to criticize their leader's policies on live TV. This time, the episode's producers set a more ambitious agenda for the program guests: to condemn and publicly admit the error of calling for jihad – a war against Russia – and to acknowledge that Aslan Maskhadov acted inappropriately when he ordered the dismissal of Akhmad Kadyrov as the chief mufti of Chechnya before the start of the Chechen war in 1999 and in turn then offered Ramzan Kadyrov their personal apologies. All of these goals were fully met thanks to the personal efforts of President Kadyrov who led the televised discussion and left the program host overshadowed (https://www.chechnya-media.<wbr></wbr>com/upload/index.php?link=20).
The main guests of the second episode included, among others, the former mufti of Chechnya Bey-Ali Tevsiev, who arrived from Austria under Ramzan Kadyrov's personal protection; former deputy prime minister of Maskhadov's government in charge of the negotiations with Moscow in October-December of 1999 Lom-Ali Alsultanov; former deputy prime minister of Maskhadov's government Kazbek Makhashev, who oversaw the Chechen diaspora abroad; former prosecutor general of Maskhadov's government Salman Albakov; the former mufti of Chechnya and chairman of the Sharia court during Maskhadov's presidency, Sultan Mirzaev. All the participants fielded Kadyrov's questions by swearing that they have never made a personal enemy out of his father Akhmad Kadyrov and, naturally, could never be personal enemies with President Kadyrov himself.
As always, the discussion did not overlook Akhmed Zakaev, who still refers to himself as the head of the Chechen Republic of Ichkeria government in exile. Kadyrov noted again that he is looking forward to Zakaev's return to Chechnya, and that Zakaev may useful to his homeland because, unlike the insurgents, he was never involved in killing anyone. However, these statements run counter to the official position of the Russian Prosecutor General's Office, which considers Zakaev a dangerous separatist who is still wanted by Interpol (https://www.interpol.int/<wbr></wbr>public/Data/Wanted/Notices/<wbr></wbr>Data/2001/21/2001_47321.asp). Clearly, the policies voiced by Ramzan Kadyrov in Chechnya do not always agree or match Moscow's views.
The former leaders of Ichkeria who took part in the program tried their best to avoid blame by pointing fingers at Aslan Maskhadov and Shamil Basaev. Kadyrov summarized the discussion by stating that it was the incompetence of Maskhadov's government, and specifically its inability to resist the radical faction of jamaats and the Congress of Chechnya and Dagestan, that led to tragedy. Basaev's incursion into Dagestan was presented as a preplanned catalyst designed to push Chechnya into conflict with Russia. Seen from that point of view, Russia's role is not quite clear – logically, it would follow that it was the hand of the Kremlin that was pushing Basaev and his radical supporters to launch the Moscow-designed game between Russia and Chechnya.
The former mufti of Chechnya Bey-Ali Tevsiev officially recanted the statements he made at Grozny's Central Mosque in October 1999 when he called for jihad against Russia in President Maskhadov's presence. Tevsiev said that the call to jihad was a deadly error, that he had no right to do it and that Maskhadov had personally forced him to make this decision, which became the reason for his hasty flight from Chechnya.
As for mufti Sultan Mirzaev, Ramzan Kadyrov forced him to admit that the decree removing Akhmad Kadyrov as Chechnya's mufti had been unlawful because appointments and dismissals of muftis is the prerogative of the ulema (Islamic scholars) council; the president did not appoint the mufti and therefore could not depose him. However, in the spirit of "nothing but the truth" (which all the speakers were calling for), it was odd that no one mentioned that during the war the constitution was suspended, and all powers were transferred to President Maskhadov.
Aslan Maskhadov's decree sentencing Akhmad Kadyrov to death could not be located either. The closest the program came to the subject was during comments made by the former separatist prosecutor general, Salman Albakov, who claimed he had never seen the decree but had heard of it, and also claimed he never ordered that the decree be implemented, because no prior investigation into Ahmad Kadyrov's innocence or guilt had taken place.
Former Ichkerian Deputy Prime Minister Lom-Ali Alsultanov spoke about a meeting between Akhmad Kadyrov and Aslan Maskhadov after the latter returned from Moscow. According to Alsultanov, during that meeting, Akhmad Kadyrov urged Maskhadov to issue an official condemnation of the Chechen rebel incursion into Dagestan, to expel all foreigners from Chechnya, and to dismiss Shamil Basaev from his position and launch criminal proceedings against him. Maskhadov allegedly responded by asking for more time. Alsultanov said that during their conversation Maskhadov received a telephone call from then Kremlin chief of staff Aleksandr Voloshin, who suggested joint action against those behind the incursion into Dagestan. These were the terms under which Russia was allegedly prepared to engage in dialogue with Maskhadov. According to Alsultanov, Maskhadov did not trust Voloshin and asked to speak directly to then President Boris Yeltsin. However, Moscow insisted that Maskhadov first move must be against Basaev and Chechnya's radical jamaats.
The discussion, while focused on Akhmad Kadyrov, repeatedly returned to the idea that Ichkeria's failure was caused by the faults of its leaders, including the current leader of the Caucasus Emirate, who essentially abandoned Ichkerian ideas in favor of an Islamic state for the North Caucasus. By changing the goals and ambitions of those who worked for years for an independent Ichkerian state, Dokka Umarov undermined the entire foundation of Ichkeria by annulling the constitution of the Chechen Republic of Ichkeria. Today the idea of Ichkeria lives on among those who have refused to recognize the Caucasus Emirate and its emir, Dokka Umarov. However, having separated, these two factions pose no threat to their opponents. The lack of trust and cohesion will become a stumbling block on the road to recreating a common idea of the Chechen people.
The recent TV program will hardly be the last such step by those who rush to join Ramzan Kadyrov. The only thing that gives pause at this moment is to recall that those who are eagerly swearing loyalty to Kadyrov today once offered the same oath to Djokhar Dudaev and Aslan Maskhadov.