Reaping the Whirlwind: Drones Flown by Non-state Actors Now Pose a Lethal Threat
Publication: Terrorism Monitor Volume: 15 Issue: 17
By: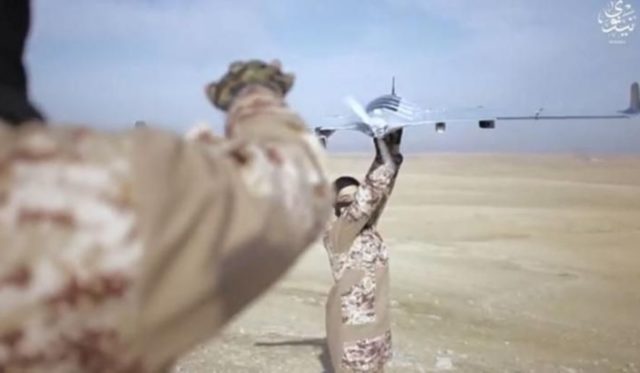 Non-state actors have long been subject to surveillance and even attack by armed drones flown by states they threaten. In recent months, however, there has been growing evidence of non-state actors turning the tables and using armed drones to conduct attacks against the forces of the states that threaten them.
Recent Strikes
In June of this year, a U.S.-led special operations force fighting against Islamic State (IS) militants near the al-Tanf outpost on the Syria-Iraq border was struck by a missiles fired from a drone — an Iranian Shahed-129, roughly the size of a U.S. Predator (Asharq al-Awsat, June 9).
This marked an abrupt escalation from the usual IS attacks with off-the-shelf commercial drones dropping grenade-sized munitions — attacks which began in 2015 and appear to have sharply accelerated in early 2017 (Remote Control Project, January, 2016: 11). [1] In February 2017 alone, IS claimed to have executed 15 drone attacks in Iraq in just two days, a claim that was supported by aerial-view images. [2]
In January, Houthi rebels in Yemen used an unmanned maritime craft to strike a Saudi warship in the Red Sea, killing two sailors and injuring three others (New Arab, January 31).  Houthis have also recently been using Iranian-built Ababil drones to destroy Saudi radar stations used by U.S. Patriot missile batteries, leaving Saudi Arabia vulnerable to missile attack (The National, March 22).
Video footage from August 2016 demonstrates that Hezbollah has integrated mini-drones into their arsenal and are using them to drop munitions on rebels in northern Syria (AMN, August 9, 2016).  This videotaped effort aimed to build on Hezbollah's successful September 2014 drone attack, which killed an estimated 23 "Syrian rebels" (Remote Control Project, January 2016: 11).  In another incident in October 2016, two Kurdish soldiers were killed and two French injured by an IS drone that exploded after attacking troops in northern Iraq (al-Jazeera, October 12, 2016).
Terrorist Drone Fleets
The threat embodied in these strikes is compounded by the rapidly improving quality and variety of the drones possessed by non-state actors. Hezbollah, for example, has been reported to maintain a small fleet of upwards of 200 UAVs comprised of several different types of drones, including the military grade Iranian Mirsad-1 and Ababil platforms, some capable of carrying a 40 to 50 kilogram explosive warhead (Haaretz, August 8, 2006; Ynet News, November 25, 2013).
Hezbollah has also used a drone it dubs "Ayub," which analysts suspect is actually the Iranian Shahed-129. In 2012, it used this drone to execute a daring surveillance flight over the Israeli nuclear research center in Dimona (Middle East Eye, March 20). IHS Jane's reports that many of Hezbollah's drones are flown from a UAV airfield in the northern Bekaa Valley, Lebanon, which features a UAV ground command station (Remote Control Project, January 2016: 11).
Meanwhile, Houthi rebels in Yemen have been supplied with Iranian Ababil-T aerial drones — though they call them Qasef-6 and claim to have developed them independently — which come "equipped with a high explosive warhead" (The National, March 22). They also possess marine drones capable of inflicting considerable damage on warships (Congressional Research Service, March 21).
It has not been confirmed that the Iranian Shahed-129, which attacked U.S special forces while they battled IS militants in June, was being flown by IS itself, but it seems to be a likely inference. If correct, it means IS possesses a combat drone capable, according to Iranian state television, of "flying as far as 2,000 [kilometers] to carry out any type of combat mission … [with a] flight endurance of 24 hours, and a flight ceiling of 24,000 feet" (Fars News Agency, February 4, 2016).
Hamas' al-Qassam Brigades also claims to have developed three UAV platforms, two with combat payloads and one for surveillance (Remote Control Project, January 2016:11).  Hamas has even posted a video and images of a drone in its possession that has four small rockets or missiles under its wings (Twitter, July 14, 2014).
A number of other non-state actors are reported to possess more limited but still significant drone capabilities. The Donetsk People's Republic (DPR) militias in eastern Ukraine, for example, reportedly possess and deploy sophisticated Russian-made Eleron-3SV drones for intelligence, surveillance, and reconnaissance (ISR) campaigns (Lugansk News, August 3, 2015). A number of al-Qaeda linked groups in Syria and Iraq have also carried out attacks with commercial drones, including the al-Qaeda front group Jund al-Aqsa (MEMRI, February 21).
Other non-state actors that have used commercial drones for surveillance operations include the Revolutionary Armed Forces of Colombia (FARC) and the drug cartels of Mexico. Meanwhile, a number of other groups, including al-Qaeda in the Arabian Peninsula (AQAP), the Turkestan Islamic Party and Jaysh al-Fath in Syria, have used drones to film attacks their fighters have carried out in order to produce propaganda films (MEMRI, February 21).
Surprising Pace of Proliferation
The speed and breadth of the development and deployment of drones by non-state actors has exceeded the expectations of many, although not all, drone experts. One thing that was accurately anticipated was the rapid diffusion of commercial off-the-shelf drones and their use to carry out attacks with small explosives. Even in this regard, however, terrorist groups have been surprisingly resourceful and creative, deploying swarms of small drones to maximize damage and disruption, and deftly employing drone footage in their propaganda campaigns to document successful attacks. [3]
However, what has most clearly defied expert expectations has been the rapid diffusion of combat drones like the Ababil and Shahed-129 to non-state actors like Hezbollah, Hamas and the Houthis. The main explanations for this are the rapid development of the Iranian combat drone program, and the willingness of the Iranians to rapidly distribute its combat drones to its terrorist proxies.
Something similar can be said of the rapid diffusion of combat drones to states like Saudi Arabia, Egypt, Iraq, Jordan and the United Arab Emirates (UAE).  It is in large part attributable to the rapid development of the Chinese combat drone program, as well as the willingness of the Chinese to sell their drones to countries with dubious human rights records.
These two patterns of surprisingly rapid diffusion collide in some theatres of conflict, such as Yemen, where the Saudis and Houthis are deploying their drones directly against one another, sometimes in unexpected ways, such as the Houthi adoption of drone kamikaze missions against Saudi radar installations (The National, March 22). One effect of the rapid diffusion of combat drones to both states and non-state actors has been to encourage an intensifying arms race in drones.
Learning New Tactics
Naturally, states newly threatened by terrorist drones have sought to develop new tactics to neutralize the threat. The Israelis appear to have responded to growing drone and missile threats from Hezbollah and Hamas by tightening detection and interception capabilities (especially around the Iron Dome), aggressively scrambling fighters to shoot down drones, fighting occasional land campaigns to try to destroy terrorist capabilities on the ground and possibly trying to interdict new supplies of drones (Times of Israel, December 14, 2014).
The United States and its other allies have also developed tactics to respond to the threat of drone attacks in Syria and Iraq.  For example, soldiers from the U.S. Army's 82nd Airborne Division around Mosul have steadily increased counter-drone operations since March 2017, at a time when IS was becoming increasingly lethal with the devices (Asharq al-Awsat, June 9).
The methods the 82nd Airborne Division employed include: the use of a spotter looking for incoming drones, usually operating from a vehicle, with radios and a computer to communicate with aircraft overhead; U.S. troops moving around Mosul continually deploying their vehicle-mounted Anti-Unmanned Aerial Vehicle Device (AUDS) in locations that allowed it to cover the Iraqi front lines; other equipment to stop drones, including handheld rifles designed to disrupt the control signal sent to the aircraft; and a focus on reactive mobility — for example, in one case, according to an Syrian Democratic Forces fighter, U.S. forces were preparing for a set of strikes after receiving coordinates from their Syrian counterparts when they identified an incoming drone threat  — they decamped and rapidly redeployed to a new location to continue their planned strikes (Asharq al-Awsat, June 9; Washington Post, July 26, 2016).
Interestingly, some of these U.S. counter-drone tactics are notably reminiscent of al-Qaeda's reaction to U.S. drone strikes as reflected in both recovered al-Qaeda internal documents and observed behavior.  For example, four of al-Qaeda's "22 Tips of Dodging Drone Attacks" read as follows:
Placing a group of skilled snipers to hunt the drone;
Jamming of and confusing of electronic communication;
Using general confusion methods and not to use permanent headquarters;
Discovering the presence of a drone through well-placed reconnaissance networks and to warn all the formations to halt any movement in the area.
By the same token, al-Qaeda and other terrorist groups targeted by U.S. drones are likely to learn from U.S. counter-drone tactics. In other words, there is now a tactical race toward adaptations to neutralize enemy drone capabilities that parallels the technological race to develop and/or access new drone capabilities.
Increased Pressure on States
The upshot of all this is that some non-state actors including terrorist groups have become capable of conducting lethal combat drone strikes with surprising rapidity (and this pattern is likely to accelerate); and there is an intensifying competition to develop tactics to diminish the threats posed by drones from which non-state actors are likely to quickly benefit.
The effect of these dynamics is to further increase pressure on leading drone-employing states, like the United States, to develop new technological capabilities and limit their diffusion. They are also, ironically, under pressure to improve counter-drone tactics and technologies, ideally in ways that are not easily duplicated by non-state actors. In short, non-state actors have considerably increased the pressure both on the battlefield against states deploying drones and in the larger race to leverage benefits from the technology.
Notes
[1] Steep rise in IS claims of weaponized drone attacks (February 06) BBC Monitoring Middle East; ISIS expands reach of drone fleet (May 02, 2016) Defense News
[2] Steep rise in IS claims of weaponized drone attacks. (February 06) BBC Monitoring Middle East
[3] Salama, V. (October 13, 2016). New challenges in Syria as militants weaponize drones. Chronicle – Herald; Steep rise in IS claims of weaponized drone attacks (February 06) BBC Monitoring Middle East