Relatives of Slain Ingush Opposition Leader Killed and Injured in Blast
Publication: Eurasia Daily Monitor Volume: 6 Issue: 233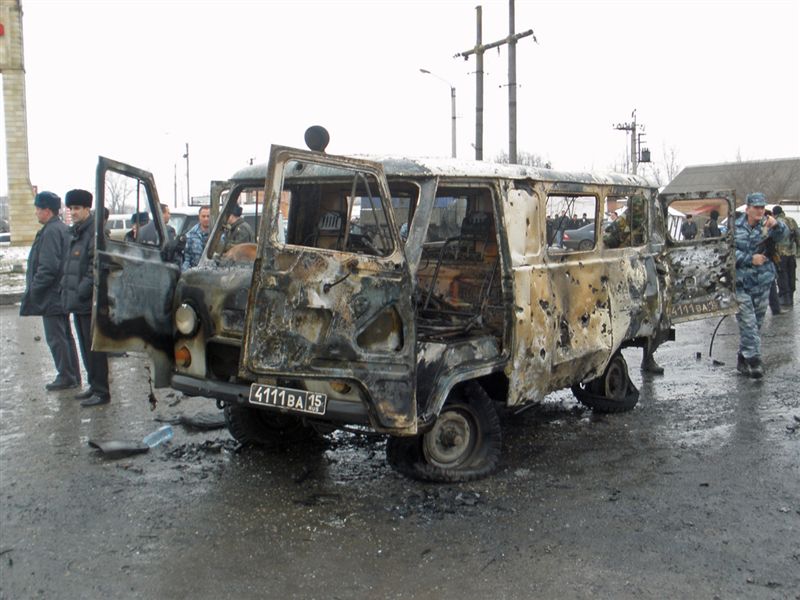 A suicide car bomber attacked a police checkpoint in Nazran, Ingushetia, yesterday (December 17), wounding 23 people –10 internal troops, three members of the patrol-sentry service of Ingushetia's interior minister and 10 civilians, including three children. Law enforcement sources were quoted today as saying that they had identified the suicide bomber as 23-year-old Batyr Dzhaniev and that the motive for the attack was revenge for the death of his mother –the mother-in-law of slain Ingush opposition leader and human rights activist Maksharip Aushev– in an explosion on December 16 (www.kavkaz-uzel.ru, December 17-18).
Russian news agencies reported on December 16 that two people had been killed and two wounded when a car blew up in Nazran, Ingushetia, after it was shot at by police. Ingushetia's interior ministry was quoted as saying that the incident took place when the car's driver tried to do a quick U-turn when the vehicle suddenly came upon a police post and the policemen manning the checkpoint opened fire on the car in order to stop it, after which some sort of explosive device inside the car detonated. The blast reportedly had the power of 5-7 kilograms of TNT.
Later on December 16, Ingush opposition leader Magomed Khazbiev identified those killed and wounded in the car explosion as the family of Maksharip Aushev, the Ingush opposition leader and rights activist who was shot to death when his car was ambushed in Kabardino-Balkaria on October 25 (EDM, October 26). According to Khazbiev, shortly before the explosion, the car in which Aushev's widow was traveling along with her mother and two brothers had been stopped by special services staff members wearing masks and helmets, who ordered them out of the car and carefully searched the vehicle for around ten minutes. Khazbiev said the explosion took place as soon as the driver and passengers were allowed to get back into the car and drove off, and that the blast had killed the mother and older brother of Aushev's widow while seriously wounding Aushev's widow and her younger brother (www.kavkaz-uzel.ru, December 16).
Kommersant yesterday (December 17) identified those inside the VAZ-21099 car at the time of the blast as 27-year-old Fatima Dzhanieva, the pregnant widow of Maksharip Aushev, along with her two brothers and mother. The newspaper reported that one of Fatima Dzhanieva's brothers, 24-year-old Muslim Dzhaniev, who was driving the car at the time of the explosion, was killed along with her mother, 51-year-old Leila Dzhanieva, and that Fatima and another brother, 23-year-old Amirkhan, were hospitalized with serious injuries. Kommersant quoted an investigator as saying that a bomb had been placed underneath the driver's seat or on the bottom of the car beneath the driver's seat. "Clearly, this was a well-planned attack," the investigator told the newspaper (Kommersant, December 17). It should be noted that the Novosti Ingushetii portal named the slain brother of Aushev's widow who was behind the wheel at the time of the blast as 25-year-old Ruslan Dzhaniev, not Muslim Dzhaniev, as Kommersant reported (www.kakaz-uzel.ru, December 16).
The Moscow Times today (December 18) quoted Kaloi Akhilgov, a spokesman for Ingushetia's President Yunus-Bek Yevkurov, as denying that the blast was caused by a bomb in the car. Akhilgov said the car was running on propane gas, which exploded when police fired at the car.
On December 12, Maksharip Aushev's brother, Mussa, complained that the investigation of Maksharip's murder had made no evident progress despite the fact that President Yevkurov and Russian Prosecutor-General Yury Chaika had taken the case under their personal control. Mussa Aushev also alleged that his brother's killers were "people from the security services, the FSB" – the Federal Security Service (EDM, December 16).
At the time of his murder in October, Maksharip Aushev had renewed his criticism of extra-judicial killings and other abuses by siloviki in Ingushetia despite the fact that he maintained close relations with President Yevkurov. Following his death, Kavkazsky Uzel reported that Aushev had told the website about an attempt to abduct him in the city of Magas on September 15, saying that it had been carried out by unidentified armed people traveling in armored personnel carriers and that it was "a miracle" he had been able to escape. The former chief editor of the Ingushetiya.ru opposition website, Roza Malsagova, said that Aushev knew his life was in danger in Ingushetia and had been hiding in Turkey on the advice of his friends. He had traveled home for the marriage of his son and planned to leave Ingushetia for Europe when he was murdered (EDM, October 26).
On December 9, US Secretary of State Hillary Clinton posthumously named Maksharip Aushev as one of the two 2009 recipients of the Human Rights Defenders Award (EDM, December 16).
Meanwhile, Kavkazsky Uzel reported that Ingush opposition leader Magomed Khazbiev is currently abroad, but plans to return to Russia despite appeals from many human rights activists that he remain abroad. According to the website, Moscow Helsinki Group Chairwoman Lyudmila Alekseyeva has strongly urged Khazbiev either to leave Russia altogether or to remain abroad for a longer period in light of the murder of Maksharip Aushev and the 2008 murder of another Ingush opposition figure, Magomed Yevloev.
However, Khazbiev said he plans to return to Ingushetia. "Ingushetia is my homeland; I do not plan to leave it or run away anywhere," Kavkazsky Uzel quoted him as saying, adding "I will do everything possible so that there are no enemies of my people digging their fangs into the body of the people like parasites. And I will achieve that. You see, two days ago in Washington they conferred an award on Maksharip, and today they killed his family: the enemies awarded themselves. There you have it –a dirty game" (www.kavkaz-uzel.ru, December 16).
Meanwhile, unidentified gunmen fired at a car carrying four officers of the Ingush branch of the FSB in Nazran yesterday (December 17). According to official reports, two of the FSB officers were killed and one wounded in the ambush. According to unofficial reports, however, all four FSB officers were killed (www.kavkaz-uzel.ru, December 17).