Resurgent Russian Nationalism Flies in the Face of Putin's Imperial Eurasian Union Plans
Publication: Eurasia Daily Monitor Volume: 10 Issue: 185
By: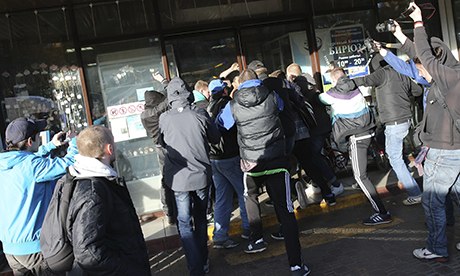 The fatal stabbing of an ethnic Russian, Yegor Shcherbakov, 25, in front of his girlfriend on October 10, allegedly by an Azerbaijani citizen living in Moscow, Orkhan Seynalov, 31, has led to mass rioting in the southern Moscow working-class suburb of Biryulyovo on October 13. Protesters, reportedly steered by nationalist agitators, accused the authorities and the police of colluding with "non-Slavic migrants" who allegedly dominate Biryulyovo. Protesters chanted "Russia for the Russians"; stormed a local shopping mall, smashing windows; overturned cars; erected street barricades; and pelted riot police with projectiles. A large local fruit and vegetable warehouse complex or "base" ("plodoovoshnaya baza") in Biryulyovo that is allegedly non-Russian owned and employs "illegal migrants" was attacked. More than a thousand riot police or OMON were deployed to quell the riot and some 400 arrests were made; 6 police and some 20 demonstrators were reported injured. Order was eventually restored and most of the detained protesters were released without charge, but this sudden anti-migrant pogrom has had serious repercussions that continue to reverberate in Moscow (https://en.ria.ru/russia/20131014/184131781/380-Held-Overnight-After-Anti-Migrant-Riot-in-Moscow-Suburb.html).
The authorities are visibly unnerved by the violent "anti-migrant" xenophobia spreading within the Russian population. The director of the independent polling institution Levada Center, Lev Gudkov, noted: "We have been for five years reporting significant increases in xenophobia and ethnic tension in Russia that may lead to pogroms." Ethnic tensions are aggravated by social inequality and rampant corruption—"the public believes the police and the authorities will not defend them." Moscow—a boom city in which some 20 million live or work—receives the lion's share of Russia's oil, gas and other natural resource profits, attracting millions of migrants (more than any other Russian region) creating social and ethnic tensions that are ready to explode (https://www.ng.ru/politics/2013-10-15/1_birulevo.html?print=Y).
Moscow's City Hall has accused "extreme nationalist forces of provoking the riots" (https://www.interfax.ru/print.asp?sec=1496&id=334620). A massive manhunt was mounted by the Ministry of Interior (MVD) and by the Federal Security Service (FSB) to find and apprehend the Azerbaijani suspect Seynalov, who was allegedly filmed by a security surveillance camera during his fatal encounter with Shcherbakov. After a tipoff from the FSB, Seynalov was arrested in Kolomna, some 120 kilometers southwest of Moscow, by MVD special forces (spetsnaz) in a spectacular operation filmed on Russian state TV. He was videotaped being kicked by police after he was handcuffed and immediately flown by helicopter to Moscow police headquarters. There, humiliated and bent over, he was brought before the federal MVD minister general, Vladimir Kolokoltsev, who stared Seynalov in the eye and congratulated the spetsnaz on apprehending the unarmed suspect (https://www.kommersant.ru/doc/2321645). Azerbaijan responded by issuing a protest note, demanding Seynalov receive due legal treatment, be allowed a lawyer and not be beaten up by police, "since this may cause ethnic tensions" (https://www.interfax.ru/print.asp?sec=1446&id=335343).

Some 50 fruit and vegetable warehouse complexes or "plodoovoshnaya baza" were built in Moscow during Communist rule as logistical and storage centers to accumulate and distribute to state-owned retail outlets fruits and vegetables to feed Moscow's population during the long Russian winter. As a scientist working in the Soviet Academy of Sciences research institute in the 1970s and 1980s, this author was regularly mobilized together with co-workers to spend a day or two a month at such "bases," sorting through aging potatoes, cabbage and onions, grapes from Central Asia and Moldova, or an occasional trainload of melons. The Biryulyovo plodoovoshnaya baza was one of the largest of these "bases." It was privatized as Russia turned to capitalism and became a highly profitable logistics hub for supplying Moscow retailers. Real estate prices in the Biryulyovo neighborhood are low by Moscow standards; many "non-Slavic migrants" rent or buy housing there, and many of them become naturalized Russian citizens or have valid residence status. It is not unusual for these migrants to have worked at the now closed plodoovoshnaya baza (https://www.ng.ru/politics/2013-10-15/3_etnoprestupnost.html?print=Y).
Moscow city mayor, Sergei Sobyanin, has announced the Biryulyovo "base" will be closed for good, apparently without any compensation to the owners and "this is a good signal to those, who put their profits above the law and the interests of Muscovites." Russia's Consumer Protection and Sanitary Inspectorate (Rospotrebnadzor) chief, Gennady Onishchenko, regularly used by the Kremlin to impose politically motivated sanctions under the pretext of presumed health or sanitary risks, announced: "Refrigeration equipment and everything [at the Biryulyovo 'base'] is out of order; it is unfit to safely keep foodstuffs and must be permanently closed" (https://www.interfax.ru/print.asp?sec=1448&id=335396).
The top managers of the Biryulyovo "base," alleged to be its main owners, have been detained and charged with "organizing illegal migration." The detained managers are from Dagestan and, indeed, "non-Slavic," but are, by birth, Russian citizens. The honorary chairman of the company controlling the Biryulyovo "base" is Magomed Tolboyev, an influential Kremlin-connected ethnic Dagestani, a resident of Moscow, and a former military jet ace test pilot and "Hero of Russia." Tolboyev has told journalists that he is the true owner of the warehouse complex and will fight to keep it. Fruit and vegetable owners that leased storage space at the closed Biryulyovo "base" cannot remove their merchandise, and millions of dollars' worth of produce is rotting. Sobyanin has promised to close similar "bases" in and around Moscow to "stop criminalized business" and build three new mega logistics centers to provide for the city. Another forced major redistribution of wealth seems to be underway in Moscow (Kommersant, October 17).
Opposition leader Alexei Navalny has accused President Vladimir Putin of provoking the Biryulyovo riots by his misguided policy of "empire building," which incites mass immigration (https://navalny.livejournal.com/868200.html). Navalny, whose five-year sentence on trumped up charges of embezzlement was suspended by an appeals court in Kirov this week, has in effect been given a five-year-long probation by the court. He has posted a public petition on an official government website, calling on authorities to impose a visa regime against former Soviet Central Asian and South Caucasian republics. The petition has gathered more than 20,000 signatures of the 100,000 needed to send it to the Duma. This month, Putin told journalists a visa regime with countries of the Commonwealth of Independent States (CIS) is unacceptable: "A visa regime with CIS nations will push away former Soviet republics, while we must bring them closer. We must regulate migration, but we need the migrant workforce" (https://www.kremlin.ru/transcripts/19382). Still Sobyanin, obviously conscious of Muscovite public opinion, has called for a tightening of immigration regulations that would impose something at least akin to a visa regime on CIS countries (https://www.newsru.com/russia/16oct2013/policy_print.html). Resurgent and widespread Russian nationalism, which the Kremlin itself helped inflame in recent years, today is chipping away at Putin's imperial plans to reintegrate former Soviet republics into a new Eurasian Union and is undermining the unity of the multi-ethnic Russian Federation itself.