RUSSIA AND CHINA: UNITED BY FOREIGN POLICY, DIVIDED BY ENERGY PRICES
Publication: Eurasia Daily Monitor Volume: 5 Issue: 100
By: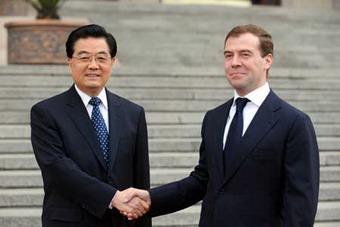 The Kremlin has repeatedly pledged to forge what it calls a "strategic partnership" with China, and President Dmitry Medvedev came to the Chinese capital to reiterate these pledges. But while Moscow's and Beijing's respective positions have converged on international issues, bilateral economic ties have apparently remained affected by disagreements on energy.
In their joint official pronouncements, both nations have been using vaguely worded anti-Western statements. Medvedev and his Chinese counterpart Hu Jintao signed a joint declaration on May 23, urging nations to combat international terrorism according to international law and "without double standards." The statement came as an apparent reference to what the signatories viewed as illegitimate Western maneuverings, based on double standards (Interfax, ITAR-Tass, May 23)
Medvedev hailed the joint declaration as an example of what he described as ongoing top level foreign policy dialogue between Moscow and Beijing. Apart from the joint declaration, both nations signed a series of deals worth about $1 billion, including an agreement between Russia's Techsnabexport and China's nuclear energy agency (Interfax, May 23).
The joint declaration also urged the prohibiting of weapons in outer space and suggested signing a binding international agreement on this. Efforts to create a global missile defense system did not help sustain strategic stability and hindered international non-proliferation efforts, the declaration said (Interfax, RIA-Novosti, May 23).
The statement apparently echoed earlier demands by Russia and China that the United Nations Disarmament Conference, suspended in 1994, be re-launched as a special committee for the prevention of arms race in space. In February 2008 Russia and China announced that they had drafted a treaty to prohibit the deployment of weapons in outer space to be discussed by the United Nations Disarmament Conference. Moscow and Beijing are understood to view the deployment of weapons in outer space, including plans for a U.S. missile defense system, as a threat to their respective nuclear deterrents.
Following talks in Beijing, Medvedev said that Russia would prioritize high-tech sectors, including nuclear energy, aerospace and nanotechnology, in its trade relations with China. Medvedev also said that bilateral commerce would exceed $60 billion before 2010 (Interfax, May 23).
Medvedev's statement came in an apparent reference to his predecessor's earlier pledges. In January 2006 then Russian President Vladimir Putin announced plans to raise bilateral trade to $60-$80 billion a year by 2010.
In 2007 Russia's trade with China reached $40.3 billion, according to Russian government data. Meanwhile, the figure was put at $48.16 billion or 44.3 percent up from the previous year, according to Russian foreign trade estimates and Chinese statistics. For the first time since the Soviet collapse in 1991, China recorded a healthy $8.76 billion surplus in its trade with Russia. Discrepancies between Russian and Chinese statistics have been explained by the so-called "gray" trade phenomenon — semi-legal cross-border commerce.
In the meantime, Russian oil exports to China were going down, apparently because the China National Petroleum Corp (CNPC) remained reluctant to accept the import prices of crude oil supplied to China by Rosneft. In 2007 oil deliveries to China mainly by the state-run oil company Rosneft totaled 14.5 millions tons, down 9 percent in terms of volume.
Nonetheless, Medvedev announced ahead of his trip to Beijing that Russian energy supplies had reached $6.7 billion in 2007, or up from $500 million in 2001. He said that Russia and China had agreed to build an off-shoot from the Eastern Siberia-Pacific oil pipeline (ESPO) to China. Medvedev also said that negotiations between Rosneft and CNPC were nearing completion, but did not elaborate (Interfax, May 22). In April 2008, Russia's Industry and Energy Ministry made it clear that negotiations on the ESPO pipeline spur were stalled because Rosneft and CNPC remained divided over oil export volumes and prices.
Russian and Chinese companies tentatively agreed on the ESPO off-shot when Putin visited China in March 2006. Two years ago, Putin promised to export Russian gas to China from both Eastern and Western Siberia, up to 30-40 billion cubic meters of gas a year from each region. He also pledged to build a $10 billion new pipeline, tentatively called Altai, due to be commissioned in 2011.
Also in March 2006, Gazprom CEO Alexei Miller and CNPC head Chen Geng signed a memorandum on the delivery of Russian natural gas to China, a follow-up of partnership deal signed in October 2004. Miller also said Gazprom had agreed on a price formula for gas deliveries with its Chinese partners.
Interestingly, ahead of his trip to Beijing, Medvedev said both sides had been considering exports of Russian gas to China from Eastern and Western Siberia, adding that "technological details are still being discussed." Medvedev also said that "negotiations were ongoing to finalize the price formula of Russian gas supplies to Chinese consumers" (Interfax, May 22). Therefore, Russia and China apparently struggled to agree on the gas price formula, thus forcing the Altai gas pipeline project to remain on a drawing board.