Russia and Japan Try (Again) for a Rapprochement
Publication: Eurasia Daily Monitor Volume: 9 Issue: 187
By: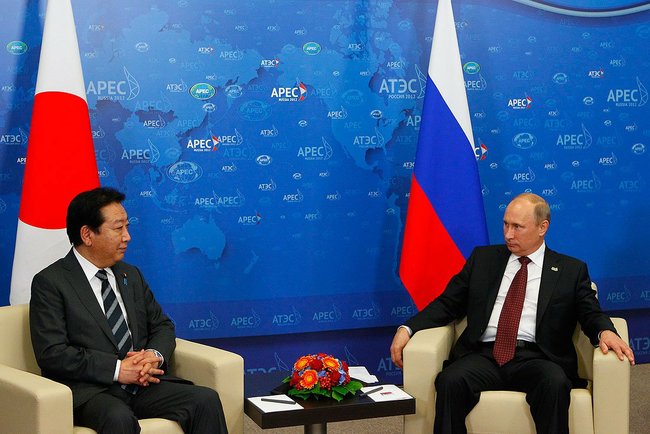 For several months, although Russia has insulted Japan by strengthening its claims to the Kurile Islands and even reinforcing them militarily, Moscow and Tokyo have been trying to initiate a new rapprochement. Despite the missteps over disputed territory, there are several factors that make such a renewal of friendly relations likely. First, China's overweening pressure on Japan since 2010 may certainly be driving Tokyo to look for new support, particularly as Russia is regarded as one of the countries with a large supply of rare earth minerals, which China has attempted to block Japan from buying. Second, China's growing propensity to attempt to intimidate its neighbors over maritime boundaries and other issues has drawn quiet but visible Russian resistance in Southeast Asia, and Moscow certainly would not view a Sino-Japanese clash with equanimity. Third, Russian elites still believe that Japan and Russia are complementary economies and that Japan seeks greater access to Russian energy despite Russia's terrible commercial record as well as the Kurile Islands obstacle. The strong demand for Russian energy that Moscow imputes to Tokyo is only partially true. However, Russia realizes it must sell energy to multiple Asian partners, not just China, to be taken seriously in its high-priority quest for great power status in Asia.
Accordingly both sides have indicated their desire to negotiate on outstanding issues. Most recently, Russian Foreign Minister Sergei Lavrov stated that Russia was prepared to discuss a peace treaty with Japan on the basis of the UN charter (Interfax, September 5). Lavrov also simultaneously indicated Russia's willingness to discuss "any matters" that are of interest to Japan—i.e. the Kurile Islands and China—and to seek an agreement on the disputed islands that is mutually acceptable (Kyodo World Service, September 5). At the recent APEC summit meetings in Vladivostok, Japan and Russia signed a series of agreements as part of a meeting between Prime Minister Noda Yoshihiko and President Vladimir Putin. These accords deal with fish and seafood poaching in territorial waters, a locally important issue; a memorandum of understanding (MoU) between Gazprom and Japan's Ministry for Natural Resources and Energy; as well as a contract to build a large timber complex in the Krasnoyarsk area (Interfax, September 6).
The biggest economic issue where agreement could be reached regards the provision of Russian gas to Japan. Moscow has large-scale ambitions to provide gas to several of its Asian neighbors, but those plans have remained suspended due to long-standing differences with China and the difficulties surrounding the realization of Moscow's long-held dream of a Trans-Korean gas pipeline. That leaves Japan as the only major Asian player with whom progress might be possible in the immediate future. The MoU signed by Gazprom and Japan's Ministry of Natural Resources and Energy appears to create a situation where Japan could participate in the construction of a natural gas liquefaction plant in Vladivostok. While that could add to Japan's receipt of more liquefied natural gas (LNG) from Russia beyond what it already gets from Sakhalin, it would also greatly increase Russia's capability to compete in the global gas market. For Russia, the Gazprom-led Eastern Gas Program—of which LNG production is an important element—is vital to its larger goal of becoming a major energy provider to East Asia and concurrently a major Asian power in its own right (Interfax, September 8).
Furthermore acceptance of such Japanese help is part of the larger program of "modernization partnerships." Russia hopes to solicit foreign investment in areas such as the Russian Far East from countries including Japan to achieve Moscow's geopolitical goals. Russian officials do not hide that they seek Japanese investment, as Moscow certainly would not like to be left dependent on exclusively Chinese investment in its Asian provinces and energy facilities—hence the discussions about investment projects that took place at the APEC summit with Tokyo (Interfax, September 5). At the same time, Japan does not want China, which would like to obtain reliable sources of energy in general and LNG in particular, to have unconstrained access to the Russian Far East (Interfax, September 5, 8).
Thus Japan, too, has proposed energy and investment initiatives with Russia. Specifically it has revived the idea of inviting Gazprom to take part in a project to build a gas pipeline from southern Sakhalin to Japan's east coast. The pipeline would run from Prigorodnye on Sakhalin, across the island of Hokkaido, and run southward along Japan's east coast via the prefectures of Aomori, Iwate, Myagi and Fukushima. It would be 1,300–1,500 kilometers long and could carry 16–20 billion cubic meters of gas. Its estimated cost is $550 million–$700 million. For Japanese officials, this proposal is advantageous as this pipeline would supply non-liquefied gas to Japan, which currently lacks regasification terminals but where demand for gas can be guaranteed. And the pipeline can be integrated with projects like natural gas power plants. At the same time, Russia would thus gain a role in gas processing and sales as well as preferential entry into various other projects. Japan's investment would be repaid by the tariffs for pumping gas, and Japanese officials are ready to begin construction of the pipeline right away. But Gazprom still believes that the Vladivostok LNG plant is the main priority (Interfax, September 26). Thus, for the moment, despite much talk about rapprochement and investments, there is as yet nothing tangible to speak of other than atmospherics. But as time goes by, and if Chinese pressure on either or both countries becomes too overbearing, we may yet see some positive developments either in energy or in a broader geopolitical settlement between Russia and Japan.