Russia and Kazakhstan Boost Bilateral Trade and Energy
Publication: Eurasia Daily Monitor Volume: 8 Issue: 64
By: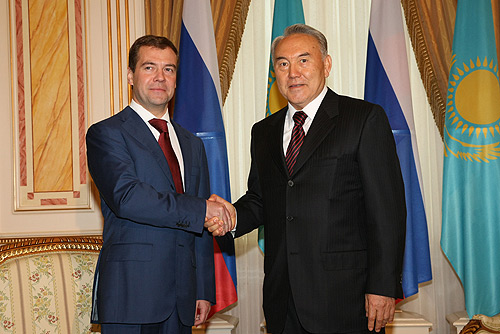 The leadership of both Russia and Kazakhstan has announced plans to further develop their energy partnership. However, the two former Soviet allies remain slow to finalize some of their energy projects. Meanwhile, bilateral trade and Russia's trade surplus has increased.
During a meeting in Moscow on March 17, Russia's President Dmitry Medvedev and his Kazakh counterpart, Nursultan Nazarbayev, pledged to develop bilateral economic ties. They discussed a joint action plan for 2011-2012, including oil and gas transit, development of the Caspian shelf, nuclear energy and transportation cooperation (Interfax, ITAR-TASS, RIA Novosti, March 17).
Medvedev and Nazarbayev also discussed bilateral "strategic" projects, including the Western China-Western Europe system of highways, the joint use of Baikonur space center and the construction of the new Baiterek space launch site.
The Kremlin also made no secret that Nazarbayev continues to enjoy Moscow's support. Medvedev reportedly wished his Kazakh counterpart success in the presidential election on April 3. "I hope everything will be fine and we will continue our interaction during upcoming bilateral and multilateral meetings later this year," Medvedev said, thus reiterating Moscow's support for Nazarbayev (Interfax, ITAR-TASS, RIA Novosti, March 17).
Moreover, Russia and Kazakhstan pledged joint support for Kyrgyzstan but refrained from making any specific commitments. During the talks between the two presidents, Russia and Kazakhstan reiterated their support for ongoing efforts to stabilize Kyrgyzstan, Medvedev's foreign policy aide Sergei Prikhodko announced on March 18. However, Kyrgyzstan's request for a $200 million loan from the multilateral fund of the Eurasian Economic Commonwealth depends on the policies of Kyrgyzstan's government, Medvedev said.
In 2010, trade between Russia and Kazakhstan amounted to some $15.3 billion. Last year, Russian exports to Kazakhstan reached $10.82 billion or up 49 percent, while imports from Kazakhstan were $4.48 billion or up 63 percent, according to Russian customs statistics. Therefore, Russia continued to enjoy a healthy trade surplus of more than $6 billion last year.
In 2008, trade between Russia and Kazakhstan amounted to $20 billion but it was down at about $13 billion in 2009. However, Russia's trade surplus with Kazakhstan amounted to $3.68 billion in 2009. According to Kazakh estimates, in the past five years Russia invested $3.5 billion in Kazakhstan, while Kazakh investments in Russia amounted to $1.5 billion.
However, some of the earlier bilateral pledges to pursue energy projects proved to be unrealistic. In September 2009, Medvedev and Nazarbayev pledged to integrate the power supply systems of both countries, while Nazarbayev promised to increase electricity supplies from Kazakhstan to Russia's Siberian regions to help to tackle power shortages in Siberia in the wake of the Sayano-Shushenskaya hydropower plant disaster in August 2009.
In March 2010, the Russian energy ministry said that the energy companies of Russia and Kazakhstan agreed to finalize and sign an agreement on electricity sales until 2013. However, the deal has proved to be slow to materialize. Meanwhile, both sides promised to prioritize the Caspian Pipeline Consortium (CPC) that owns the Baku-Novorossiysk pipeline. During a meeting in Moscow on March 17, 2010, Nazarbayev told Prime Minister, Vladimir Putin, that Kazakhstan would continue exporting oil via Russian territory. Nazarbayev pledged to expand the CPC so as to export up to 67 million tons of oil per year (Interfax, March 17, 2010).
The CPC has been operated at relatively low rates due to Kazakhstan's failure to commit more oil to the pipeline. In April 2006, Russia and Kazakhstan agreed to more than double oil deliveries via the CPC from 28 million tons annually in 2005. In May 2008, Moscow and Astana agreed to increase the capacity of the CPC from 32 million tons per year up to 67 million tons per year by 2012. Moscow has long urged Nazarbayev to agree to a long-term deal under which Kazakhstan would commit to exporting more oil via Russian pipelines. However, a binding oil transit deal between Russia and Kazakhstan has proved elusive.
During the latest talks in Moscow, both sides avoided discussion of another major bilateral project: the Orenburg gas plant. In March 2005, Russia's gas giant Gazprom first indicated its plan to set up a joint venture with Kazakhstan's state-owned company KazMunaiGas to process at the Orenburg plant the natural gas from Karachaganak field, near the Russian border in northwestern Kazakhstan.
In December 2007, KazMunaiGaz announced it expected the creation of the Orenburg joint venture in mid-2008. In September 2009, Russian officials insisted that the Orenburg gas processing plant would process 17.6 billion cubic meters (bcm) per year of Kazakh gas by 2012. Yet, despite repeated optimistic pronouncements, the implementation of the Orenburg project apparently lags well behind the original schedule.