Russia and Kazakhstan Consider Reviving Bilateral Trade
Publication: Eurasia Daily Monitor Volume: 7 Issue: 51
By: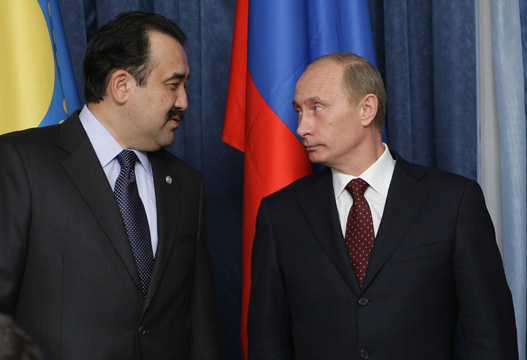 Moscow and Astana have reiterated their earlier pledges to boost bilateral economic and energy partnership. However, the two former Soviet states have proved slow to complete existing energy projects, while bilateral trade has also declined. During a meeting in Moscow, between Russian Prime Minister, Vladimir Putin, and his Kazakh counterpart, Karim Masimov, Putin argued that bilateral trade was down at around $13 billion in 2009 due to the global economic crisis.
In 2008, trade between Russia and Kazakhstan amounted to $20 billion. Nonetheless, Putin urged the further development of bilateral trade and noted that Kazakhstan remained Russia's third largest post Soviet trade partner. In 2009, Russian exports to Kazakhstan amounted to $9.15 billion, according to Russian customs statistics. Therefore, Russia continued to enjoy a healthy trade surplus as Kazakhstan's exports to Russia only reached $3.68 billion.
In response, Kasimov pledged to develop bilateral energy cooperation, notably Kazakh electricity sales to Russia. He also suggested boosting ties in the nuclear industry and space sectors (Interfax, ITAR-TASS, RIA Novosti, March 3). However, no agreement was announced on earlier plans to create a joint nuclear power company.
Meanwhile, in the immediate aftermath of the talks between Putin and Masimov, Russian and Kazakh utility entities moved to intensify cooperation. On March 5, the Russian energy ministry said that Russian and Kazakh energy companies including Inter RAO UES, FSK UES and KEGOC, had agreed to finalize and sign by March 15, an agreement on electricity sales until 2013 (Interfax, ITAR-TASS, March 5).
In September 2009, Russian President, Dmitry Medvedev, and his Kazakh counterpart, Nursultan Nazarbayev, pledged to develop the bilateral energy partnership, and agreed to create a joint company to implement civilian nuclear power projects. Medvedev suggested integrating the power supply systems of both countries, while Nazarbayev promised to increase electricity supplies from Kazakhstan to Russia's Siberian regions to help tackle power shortages in the aftermath of the Sayano-Shushenskaya hydropower plant disaster in August 2009.
Moscow sent an economic delegation to Astana ahead of the meeting between Putin and Masimov. On March 2, Masimov met Russian Deputy Prime Minister, Igor Shuvalov, in Astana. During his Central Asian tour, Shuvalov pledged to contribute to energy projects in the region (Interfax, ITAR-TASS, March 2). However, in their official statements, Putin and Masimov made no mention of two major bilateral projects: the Orenburg gas plant and the Caspian Pipeline Consortium (CPC).
In March 2005, Russian gas giant Gazprom first announced its plan to set up a joint venture with Kazakhstan's state-owned company KazMunaiGas to process at Orenburg gas plant the natural gas from the Karachaganak field, near the Russian border in northwestern Kazakhstan. In December 2007, KazMunaiGaz stated that it expected the creation of the Orenburg joint venture by mid-2008. In September 2009, Russian officials insisted that the Orenburg gas processing plant would process 17.6 billion cubic meters (bcm) of Kazakh gas annually by 2012.
However, also last September, Kazakh officials argued that Gazprom's joint venture with KazMunaiGas to process natural gas at Orenburg might be further delayed due to the development of the Karachaganak gas field taking longer than expected. The venture's future was expected to be clarified by the end of 2009, but subsequent bilateral meetings failed to issue any clarification, and five years after the original announcement, the final joint venture deal remains elusive.
During the meeting in Moscow on March 3, both sides also failed to address bilateral cooperation in the CPC which owns the Baku-Novorossiysk pipeline. The CPC has been operating at relatively low rates, partly due to Kazakhstan's reluctance to commit more crude oil to the pipeline.
In April 2006, Moscow and Astana agreed to more than double crude oil deliveries via the CPC from 28 million tons per year in 2005. In May 2008, they agreed to increase the capacity of the CPC from 32 million tons per year to 67 million tons per year by 2012. Moscow has long urged Nazarbayev to agree to a long-term deal, under which Kazakhstan would commit to exporting more crude oil via Russian pipelines. However, a binding oil transit deal between both countries has also failed to materialize.
Furthermore, Astana has repeated its interest in alternative pipeline routes. On March 2, following talks in the Kazakh capital with the Romanian President, Traian Basescu, Nazarbayev suggested creating a new route through Azerbaijan and Georgia to the Black Sea in order to funnel Kazakh oil from the giant Kashagan field to Romania by tanker, delivered from the Black Sea port of Constanta to Trieste in Italy (Interfax, RIA Novosti, March 2).
The new route would serve as part of the EU-supported international transport program: Transport Corridor Europe-Caucasus-Asia (TRACECA). Therefore, Kazakhstan has apparently sought to limit its dependence on Russian oil pipelines. Subsequently, energy and oil transit deals between Russia and Kazakhstan continue to prove elusive.