Russia and Kazakhstan Prioritize Multilateral Cooperation
Publication: Eurasia Daily Monitor Volume: 8 Issue: 204
By: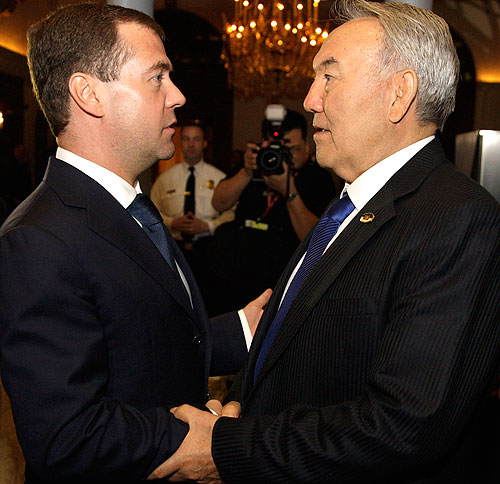 In an apparent departure from earlier promises to develop their bilateral energy partnership, Russian and Kazakh leaders plan to re-focus on multilateral cooperation within the Customs Union and the Common Economic Space (CES).
On October 22, Russian President Dmitry Medvedev and his Kazakh counterpart Nursultan Nazarbayev held telephone talks to discuss the Customs Union and the CES issues. On October 26, Medvedev, Nazarbayev and Belarusian President Alyaksandr Lukashenka held trilateral telephone discussions on their upcoming summit meeting in the second half of November that is due to approve further economic integration between the three nations (Interfax, ITAR-TASS, RIA Novosti, October 22-26).
While the Customs Union focuses on international trade matters, the CES, to be launched from the beginning of 2012, envisages closer economic ties between its member states. Belarus, Kazakhstan and Russia already approved Kyrgyzstan's membership in the Customs Union. Moscow has also been keen to convince neighboring Ukraine to join the Customs Union.
Meanwhile, Kazakhstan's leader has suggested that the CES should be followed by the Eurasian Union, the planned grouping that would envisage even closer economic and political ties. In an article published on October 26 by the Russian daily Izvestiya, Nazarbayev dismissed claims that his idea of the Eurasian Union was aimed to counter perceived Chinese expansion. On the contrary, China is a strategic partner of Kazakhstan, Russia and Belarus, he wrote. Nazarbayev also denied his plan had isolationist overtones.
In addition to multilateral cooperation, Russia and Kazakhstan pledged to diversify their bilateral economic ties. At a meeting on October 19 in St. Petersburg Prime Minister Vladimir Putin told his Kazakh counterpart Karim Masimov that the bilateral economic partnership was not limited by energy matters, and also includes hi-technology based cooperation. In response, Masimov hailed the high level of trust between the two governments (Interfax, ITAR-TASS, RIA Novosti, October 19).
Moscow also reiterated its earlier pledges to forge a so-called "grain OPEC" on the basis of the Customs Union. On October 26, Russian agriculture ministry officials suggested coordinating the grain exports of Belarus, Kazakhstan and Russia, and limiting overseas sales, if necessary (Interfax, ITAR-TASS, RIA Novosti, October 19).
The bilateral element also includes major projects, notably the Western China-Western Europe system of highways, the joint use of Baikonur space center and the construction of the new Baiterek space launch site. During a meeting in Moscow on March 17, 2011, Medvedev and Nazarbayev agreed to develop oil and gas transit, the Caspian shelf, nuclear energy and transportation projects.
Russian officials have constantly called for increasing foreign trade with the country's former Soviet partners. After a meeting with Nazarbayev in Astana, Russia's special presidential envoy in the Customs Union and Industry and Trade Minister Viktor Khristenko said that the annual bilateral trade would reach $20 billion in 2011 or 40 percent up year-on-year (Interfax, RIA Novosti, September 27). In 2010, trade between Russia and Kazakhstan amounted to some $15.3 billion, including Russian exports of $10.82 billion, and imports from Kazakhstan worth $4.48 billion, according to Russian customs statistics. In 2008, trade between Russia and Kazakhstan amounted to $20 billion but it was down at about $13 billion in 2009.
However, some of the earlier agreements to pursue bilateral energy projects tended to remain only on paper. In 2009, Medvedev and Nazarbayev promised to integrate the power supply systems of both countries, while Nazarbayev wanted to increase electricity supplies from Kazakhstan to Russia's Siberian regions. However, the deal has been slow to materialize so far.
Both sides have also struggled to revive the operation of the Caspian Pipeline Consortium (CPC) that owns the Baku-Novorossiysk pipeline. The CPC has been operated at relatively low rates due to Kazakhstan's failure to commit more oil to the pipeline. In May 2008, Russia and Kazakhstan agreed to increase the capacity of the CPC from the current 32 million tons per year up to 67 million tons annually by 2012. As the deadline nears, an actual deal to increase the capacity of the CPC appears to remain elusive.
During the latest talks in St. Petersburg, both sides once again refrained from mentioning the Orenburg gas plant. In 2005, Russian gas giant Gazprom first indicated plans to set up a joint venture with Kazakhstan's state-owned company KazMunaiGas to process at the Orenburg plant the natural gas from the Karachaganak field, near the Russian border in northwestern Kazakhstan. Russian officials insisted that the Orenburg gas processing plant would process 17.6 billion cubic meters (bcm) per year of Kazakh gas by 2012. But the Orenburg project has also yet to materialize.
Therefore, despite the ongoing flurry of institution-building activities in the Customs Union, CES and probably the Eurasian Union, Russia and Kazakhstan appear to be slow to implement their previously announced bilateral energy projects.