Russia and NATO Explore the Limits of the "Agreeing to Disagree" Posture
Publication: Eurasia Daily Monitor Volume: 6 Issue: 229
By: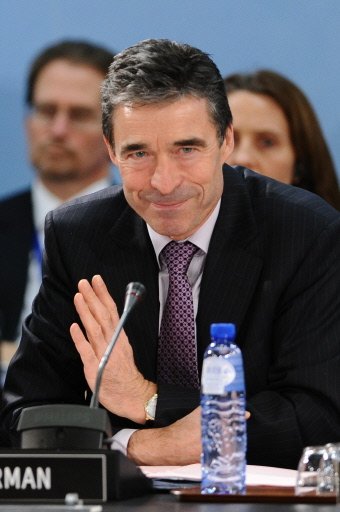 The habitually derisive tone of reporting on NATO's "aggressive intentions" and "deepening divisions" in the mainstream Russian media noticeably changed last week after the unexpectedly fruitful meeting of the NATO-Russia Council; Secretary-General Anders Fogh Rasmussen was particularly praised for securing this success (Rossiyskaya Gazeta, December 7). Russian Foreign Minister Sergei Lavrov confirmed that Russia has resumed full-scale cooperation with the Alliance, and the Russian Ambassador to NATO Dmitry Ragozin, not known for his diplomatic finesse, boasted that every point he had insisted upon was indeed inserted into the approved documents (RIA-Novosti, www.newsru.com, December 4).
This apparent success did not require that much hard work from Russian diplomats. When objections were raised against expanding the agenda to consider Russian proposals for upgrading the European security system, Ragozin resolutely walked out of the preparatory meeting and blamed improbable Canada for organizing a "Cold War" faction within the Alliance (Nezavisimaya Gazeta, December 2). The demarche convinced the malcontents that there was no way to avoid at least a pro-forma discussion of President Dmitry Medvedev's proposal for a new European security pact. The draft published a fortnight ago on the presidential website is remarkably narrow in scope and focuses on establishing a mechanism of consultations/conferences that could address worries of any member-state about possible threats to its security from other parties (RIA-Novosti, December 10). It falls far short from Medvedev's ambition to reshape the European security architecture and would hardly "breathe new life" into the work of the OSCE, as Lavrov lauds (Vremya Novostei, December 2).
Seeking to avoid sterile debates on this non-starter, NATO agreed with Lavrov to prepare a document that would identify common security threats, which should not be that difficult in the short list of "usual suspects," including nuclear non-proliferation, terrorism and piracy (climate change would hardly qualify). It is doubtful, however, that such a document could alleviate Polish concerns stirred by the joint Russian-Belarusian military exercises in September and prompting a request for deployment of US troops as a "shield against Russian aggression" (www.newsru.com, November 18). Neither would it address Moscow's persistent claims that US mini-bases in Bulgaria and Romania constitute a threat to Russia's security, as Lavrov reiterated in Brussels (RIA-Novosti, December 4).
The first test for this common understanding of threats is shaping up in the fast-moving talks on a firm response to Iran's defiant rejection of the international initiative on exporting its low-enrichment uranium to Russia and France and receiving fuel for reactors (Nezavisimaya Gazeta, December 7). Moscow might agree (providing China grants consent) on some tightening of symbolic sanctions, while keeping its hands free for delivering on the promise to switch on the Bushehr power plant by March 21, when Iran celebrates Novruz –the start of a new year (www.gazeta.ru, November 30). Before that, however, Russia would have to make certain informal commitments regarding Iran in the final stretch of talks with the US on a new strategic arms control treaty, which should be ready before Christmas (Kommersant, December 7).
Another crucial test involves Russia's readiness to help the Alliance in making the decisive and desperate effort in enforcing order in Afghanistan, particularly since the planned increase of coalition forces would require a further expansion of military transit. In Moscow, this effort is inevitably perceived through its own experience illuminated by a gloomy anniversary: it was in mid-December exactly 30 years ago that the Soviet Politburo issued the order on the invasion of Afghanistan (RIA-Novosti, December 11). Estimating NATO's chance for success as low-to-non-existent, Russia has little incentive to be a part of this failure, but certainly does not want to be seen as a spoiler. Its preference for a protracted entanglement is strengthened by concerns about the Alliance's role in the South Caucasus, where Georgia remains the focus of irreducible disagreements. The NATO-Russia Council has managed to bracket those out, but Tbilisi exploits every opportunity to refresh the conflict (Ezhednevny Zhurnal, December 8).
The real measure of success in the diplomatic "reset" of NATO-Russia relations is in the resumption of military cooperation, and here the Alliance might discover that the value of accumulated experience, including in the Balkans, is diminished by the disappearance of institutional memory on the Russian side due to the severe reshuffling of the top brass in the course of the on-going military reform. The task of "socializing" the new cohort of instinctively suspicious and seriously stressed generals might require time, but the long-postponed reform could also open new opportunities for building ties. One of them shapes up in military education, which happens to be one of the main avenues of perestroika, with old academies moved away from Moscow and transformed into new education centers. NATO could offer a variety of cadets' and professors' exchange programs and help in equipping new schools with computers and other hardware about which the military are so fond. Another opportunity can be found in military-technical cooperation, and besides the long-and-slow-going plan for joint theater missile defense, NATO can take a closer look at the problems that bedevil the Russian military the most. One of those could be the satellite navigation system GLONASS that currently matures into the second most embarrassing Russian failure after the Bulava submarine-based missile, which last Friday lit a beautiful Aurora Borealis over Northern Norway in yet another "partially successful" test (Kommersant, December 11).
Russia's rapprochement with NATO and START-making with the US are closely linked with Medvedev's "modernization" course, or perhaps, discourse because in practical terms it is not really going anywhere. Hence the doubts in Brussels and Washington over the sustainability of the "unfrozen" partnership, perhaps accentuated by Lavrov's point about the need for the Alliance to draw conclusions from the "events" of August 2008 (RIA-Novosti, December 4). Russia's own reflections on that "small-and-successful" war remain righteous and self-assertive, and that leaves defiant Georgia in a very vulnerable position. When the need to explain away the fiasco of "modernization" becomes really acute in Moscow, the risks of a forceful Western response would hardly be seen as prohibitively high and the benefits of cooperation with NATO are unlikely to tip the balance against another experiment in power projection. Challenging the "aggressive Alliance" always comes so naturally to Vladimir Putin and he will hardly deny himself such joy on the comeback trail to the summit of power –unless the idea of "change" gains momentum beyond his "conservative" estimate.